News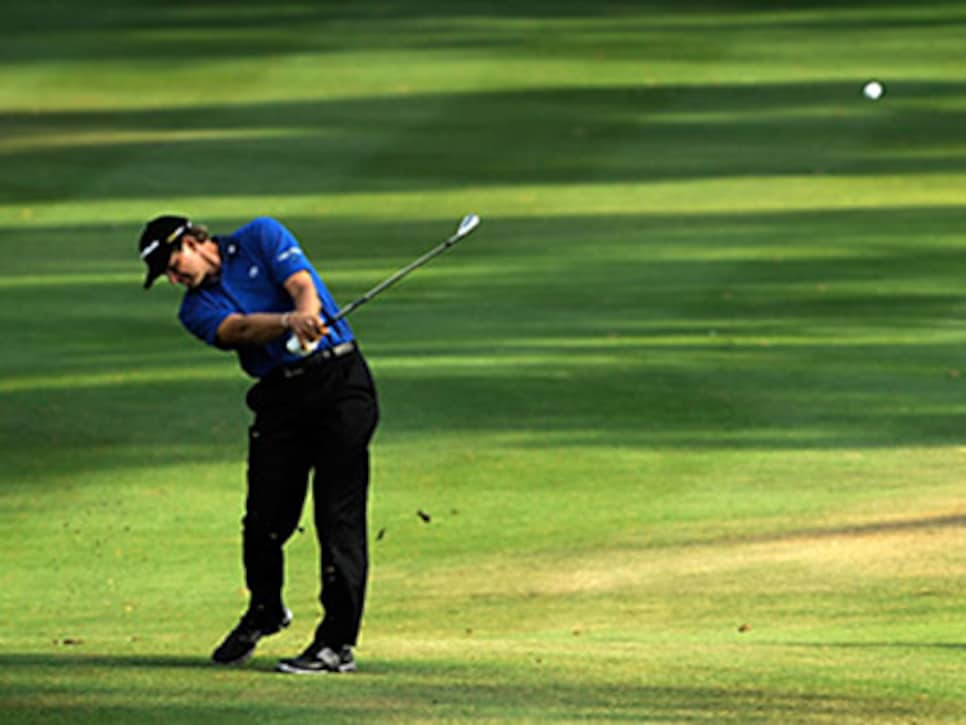 Retief Goosen took a major step toward rejoining the game's elite with his win in the Transitions Championship.
Add Retief Goosen to your list of front-runners for the upcoming Masters.
The 40-year-old South African scrambled his way to victory Sunday in the Transitions Championship for his first PGA Tour win since the now-defunct 2005 International. It marked his third worldwide win in the last five months.
The two-time U.S. Open champion made a great up-and-down for par at 17 on Sunday, chopping out of deep greenside rough. Then, after a perfect drive and fine approach at the difficult par-4 18th, he ran his slick, downhill birdie attempt nearly five feet past the hole. Goosen steadied, narrowly slipping his par putt inside the left edge to earn a one-stroke triumph over Brett Quigley and Charles Howell III.
"I was trying to leave it short," Goosen said of the birdie try. "You know you've just got to get it going, but it's hard to hit it that soft."
Goosen has overcome an eye injury and has stepped up his fitness routine, shedding about 20 pounds from a season ago. While his putting has been inconsistent, it was stellar at the Transitions Championship. He didn't three-putt and was a remarkable 55-of-55 from inside five feet.
What it all means: Goosen qualifies as an immediate contender for the season's first major not only because of his performance at Innisbrook, but also given his impressive track record at Augusta National. Going back to 2002, Goosen has seven consecutive top-20s there, including two T-3s and a couple of runner-up finishes, in 2002 and 2007. Most ominous for the competition is that a player who made a name for himself with clutch putting in major championships appears to have regained his stroke.
Birdie of the week: Tom Lehman. The 50-year-old former British Open champion surged to the top of the leader board Saturday by carding four-straight birdies on the back nine to fire a 4-under 31. Given the firm, fast conditions, it was the best golf he has played in years. Lehman faltered on Sunday with a 75, but still tied for eighth.
Bogey of the week: Kenny Perry started the Transitions Championship with a 4-under-par 67, then stayed up late to watch alma mater Western Kentucky on television in the NCAA Championship. He blamed lack of sleep for shooting 74 on Friday.
Shot of the week: Goosen's second shot to the par-5 11th on Sunday. He knocked it 18 feet and buried the eagle putt to grab a lead he wouldn't relinquish.
Runner-up: Charlie Wi, who chipped in for birdies at the par-4 second and par-3 fourth holes Sunday. He stumbled coming in with three back nine bogeys, but still tied for fourth.
Stepping up: Nick Watney already has one win this year and has played well in his last three tournaments. If he can improve his third-round scoring, watch out. Watney is seven-for-seven recording a sub-par score in his second round, but in the third round, has three sub-par scores, one even-par round and three rounds over par, the latest a 74 on Saturday. He eventually tied for 12th.
Stat of the week: Here's a list of active players with the most starts on the PGA Tour without a victory: Jay Delsing (555); Larry Rinker (525); Skip Kendall (387); Robin Freeman (381); Marco Dawson (372); Brett Quigley (340); Dave Rummells (340); Jay Williamson (329); Kelly Gibson (329); Scott Gump (329); Harrison Frazar (329).
By the way, with Quigley's tie for second place at Transitions Championship, only Tim Clark has banked more money on the PGA Tour without winning. Quigley surpassed $10 million on Sunday.
Quote of the week: "Well, I'm not sure if you ever had tendonitis. It's a pain in the rear." -- Lehman, who was sidelined five months while battling tendonitis in his right elbow.
Tiger's Take: Woods on up-and-coming teenagers Rory McIlroy, Danny Lee and Ryo Ishikawa: "I think it is a different time. You know, I grew up here in America where the college system was more prevalent. Guys go to college either for one or four years, whatever it is, but they usually go. On the international level, that's not always the case. You look at a lot of the European players, even during their big hey day of the European Ryder Cup teams, not a lot of those guys went to college. It's just a different mentality. They go to the club pro ranks, do that for a year or two and them try and become a professional golfer. Guys, I think develop at an earlier age and a faster rate, because, one you have technology and you have video cameras, better analysis, better instruction that we have ever had, and they have aids and progress these kids at an early age; and you give them the right tools, the clubs fit them. You don't have to fit the club to your swing. Or the other way around, you don't have to fit your body to the club."
__Chip shots:__Rich Beem, competing on a sponsor's exemption, tied for 12th at the Transitions Championship ... Woods and Rocco Mediate will compete in the same tournament for the first time since the U.S. Open at Torrey Pines last year. Mediate closed with a 67 Sunday ... Two-time heart transplant recipient Erik Compton will be in the field at Bay Hill ... Davis Love III will try to vault into the top 50 at Bay Hill and earn an exemption to the Masters. He failed to qualify for Augusta last year, snapping a streak of 70-straight major appearances.
Mark Soltau is a contributing editor to Golf Digest and editor of TigerWoods.com.