News
Lehman Still Ready For Prime Time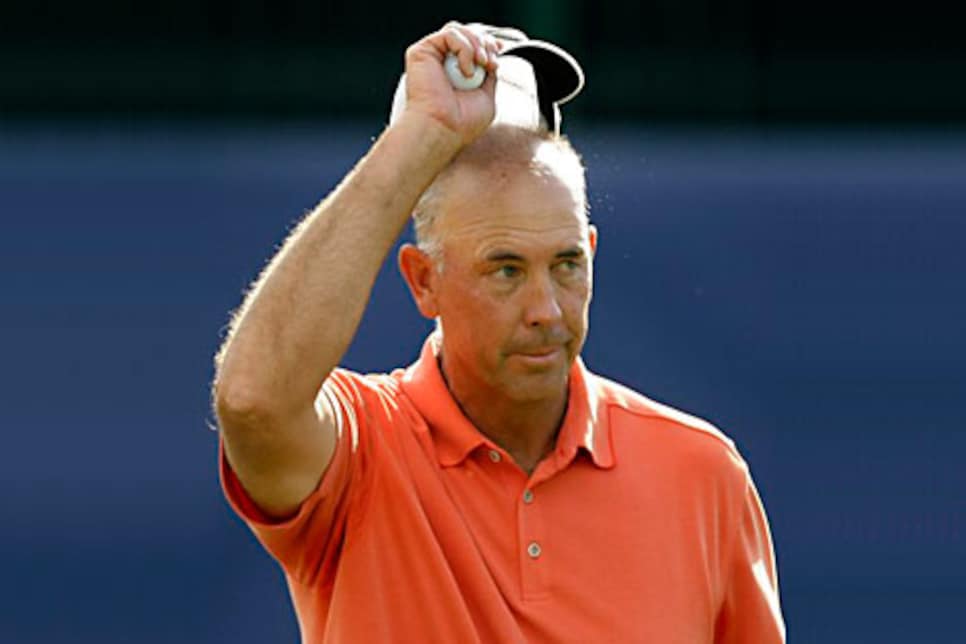 The 1996 PGA Tour Player of the Year's last win was the 2000 Phoenix Open.
Lehman ran off four straight birdies and shot 31 on the back nine at Innisbrook to grab a one-shot lead over Retief Goosen. Lehman will try to become only the seventh player in his 50s to win on the PGA Tour.
Goosen, a two-time U.S. Open champion, kept his composure on firm, crusty greens usually only seen in June. The greens were brown in spots and hard all over, reminding him of Shinnecock Hills in 2004 when he won his second major.
Lehman, who was at 8-under 205, missed five months last year with tendinitis and missed the cut in his first four starts this year before a tie for 49th against a weak field in Mexico last month.
"I really enjoyed myself today," Lehman said. "The front nine was a comedy of errors. On the back nine, things got going."
The highlight of his birdie streak came at the par-3 13th, a tee shot over the water and onto a putting surface that is so hard the ball kicks up dry soil when it lands. The ball stopped inside a foot away for the easiest birdie he had all day.
The last time Lehman was atop the leaderboard after 54 holes was in the fog-delayed Buick Invitational in 2005, when he finished in a tie for second behind Tiger Woods.
Winning the Transitions Championship might be just as difficult -- partly because of the tough Copperhead Course, and partly because of the cast of challengers who are chasing him.
Masters champion Trevor Immelman is starting to play like one with his return to Augusta National around the corner. He had a 70 and was in the group at 5-under 208 that included Stuart Appleby (71), Jonathan Byrd (71) and Charles Howell III (71), an Augusta native suddenly presented with a chance to win and get into the Masters.
Steve Stricker and Nick Watney, tied for the lead going into the third round, both struggled.
Stricker took bogey on the par-5 fifth hole when he missed a 6-foot putt, and the man regarded among the best in golf with the short stick three-putted twice for bogey on the back nine. He shot 73, ending his streak of 10 straight rounds at par or better.
Watney made a 35-foot birdie putt to escape trouble on the opening hole, and got out of another jam on the fifth when he bounced a chip below the branches of a bush, across the rough and onto the green to within 4 feet for birdie. But he missed it badly, took double bogey on the next hole and tumbled to a 74, leaving him at 3-under 210.
Even so, Watney was among 17 players who were within five shots of the lead. And making up ground on the leaders could be a matter of making pars if the conditions continue to stay dry.
"You are going to lose some shots eventually," Immelman said. "It's just the nature of this course. Sometimes you don't even have to hit a bad shot and you make a bogey."
Lehman, who has not won in nine years, figures that works in his favor.
The course is not terribly long, but allows hardly any room for error with the irons. This is a place where he can manage his game without worrying about anyone overpowering him.
"It's not an easy golf course to go out and shoot 63, which means that for me, just keep on playing my game and be patient," Lehman said.
Lehman's right elbow hurt so bad last year that he couldn't take the club back much farther than his waist. When he recovered, it took him awhile to realize that his swing was completely out of sync. His father, swing coach Jim Flick and friend Dennis Trixler all told him to slow down, and Lehman slowly got back toward his game.
But for the first few months, he couldn't wait to be eligible for the 50-and-over Champions Tour.
"My game was in shambles," he said. "It was making 50 look all the more appealing, quite frankly."
"I just turned 50. That actually works in my favor," Lehman said. "You realize there's a lot more important things in life than a golf tournament -- although this is very important."
Divots:@ Joe Durant and D.A. Points were the only two players to make the cut of the six players who earned a spot in the field through the opposite-field event in Puerto Rico last week. Durant was at 4-under 209. ... Only one player in the top 14 on the leaderboard has won on the PGA Tour in the last year -- Masters champion Trevor Immelman. ... Ryo Ishikawa, the 17-year-old from Japan, shot a 75 and was 14 shots out of the lead.