News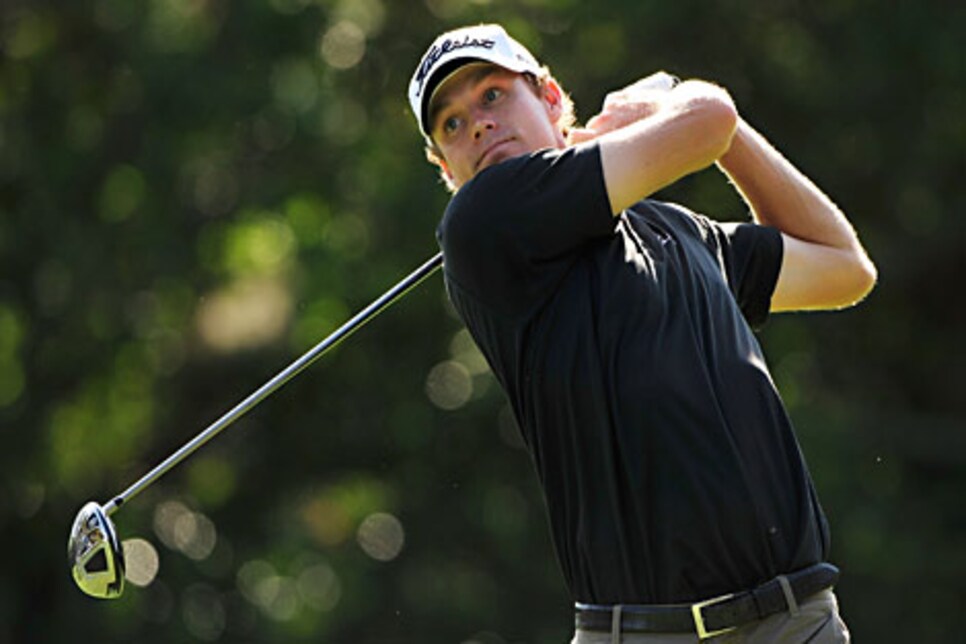 Watney came back strong from his one-shot loss at the CA Championship.
PALM HARBOR, Fla. (AP) -- Nick Watney is playing so well that he doesn't even realize it.
"I guess I'm playing very well, but it really seems like this is just what I'm supposed to be doing," Watney said.
It will be the third straight weekend round that Watney will be in the final group. He played with Mickelson the last two rounds at the CA Championship, and it might not get any easier at Innisbrook.
Stricker, who also had a bogey-free 67, is playing quite well this year, too.
Take away one bad patch -- a 77 in the last round to lose the Bob Hope Classic, followed by a missed cut in Phoenix -- and Stricker has shot par or better in every round this year. This was his 10th straight sub-par round.
"I know that I've been playing well," Stricker said. "I know I've been shooting some good scores. But no, I haven't paid attention to that. I look at my stats and I realize I was up there in the stroke average. Obviously, I must have been shooting some decent scores."
They were at 6-under 136 on a Copperhead Course that is among the strongest tests on tour. It has become even tougher with sunshine that is baking out the greens and strong wind in the afternoon that makes it field more like June than the Florida swing.
"You don't play this course thinking you're going to make a bunch of birdies," Charles Howell III said after a 66 put him in the large group at 5-under 137. "At least I don't. Maybe that's my problem."
The bigger problem is finding separation at a tournament that doesn't seem to allow it. Some two dozen players were within four shots of the lead going into the weekend.
Jonathan Byrd reached 8 under through 11 holes until he kept finding the bunker and making bogeys. He had to settle for a 70 and joined Howell in the group at 137 that included two-time U.S. Open champion Retief Goosen (68), Stuart Appleby (67) and former Ryder Cup captain Tom Lehman (69), who turned 50 last week.
"This is a golf course that it kind of scrunches the field a little bit," said Joe Ogilvie, who joined that group after a 66. "You're not going to see a guy ... well, (Jim) Furyk might get it to 10 under ... but you're not going to see a guy shoot 62 on this golf course."
Furyk opened with a 65 for his first lead on the PGA Tour in nearly 20 months. He was 13 shots worse on Friday while playing in the afternoon, and had to two-putt from 30 feet on his final hole simply to make the cut. He wound up with a 78 to finish at 1-over 143.
Ryo Ishikawa, the 17-year-old from Japan, had a 73 to finish at even-par 142 and make his first PGA Tour cut. He missed the cut in his PGA Tour debut last month at Riviera.
Masters champion Trevor Immelman had consecutive sub-par rounds for the first time since the season-opening Mercedes-Benz Championship, shooting a 70 to join the group at 4-under 138 that included Rich Beem and Steve Flesch, who each had 67.
Stricker made his blunder early in the tournament when he took double bogey on the second hole from a plugged lie in the bunker and a three-putt, which really irritated him. But he has been solid ever since, and was especially happy about two birdies on the par 3, the last one coming on No. 8 with a 5-iron to 15 feet.
"If you play the par 3s well here this week -- play them at even par or better -- you're doing well," he said.
Watney seems to be everything well at the moment. He attributes most of that to a putting aid called "Inside Down the Line Putting Track" which swing coach Butch Harmon asked him to try. That was in October, and Watney has been rolling ever since.
First came his victory in the Buick Invitational with birdies on two of the last three holes, then a spirited duel with Mickelson in which Watney came up an inch short on a birdie putt at Doral to force a playoff.
"I'm keeping the game pretty simple and putting well," Watney said. "Hopefully, that will continue."
Divots: Nick Watney wrote the initials "LM" on his cap in honor of Lee Markarian, a friend in Fresno, Calif., who had triple bypass surgery on Thursday. "Just so he knows I'm thinking about him," Watney said. ... Bob Estes had a 78 to miss the cut, but what really stung was an insect. After taking a penalty drop in the trees on the 11th hole, he felt something sting him while hitting his next shot. Estes said the stinger stayed in his neck until someone used a piece of tape to extract it. ... Brandt Snedeker missed the cut for the fifth time in seven starts this year.