News
Ochoa's Home Court Advantage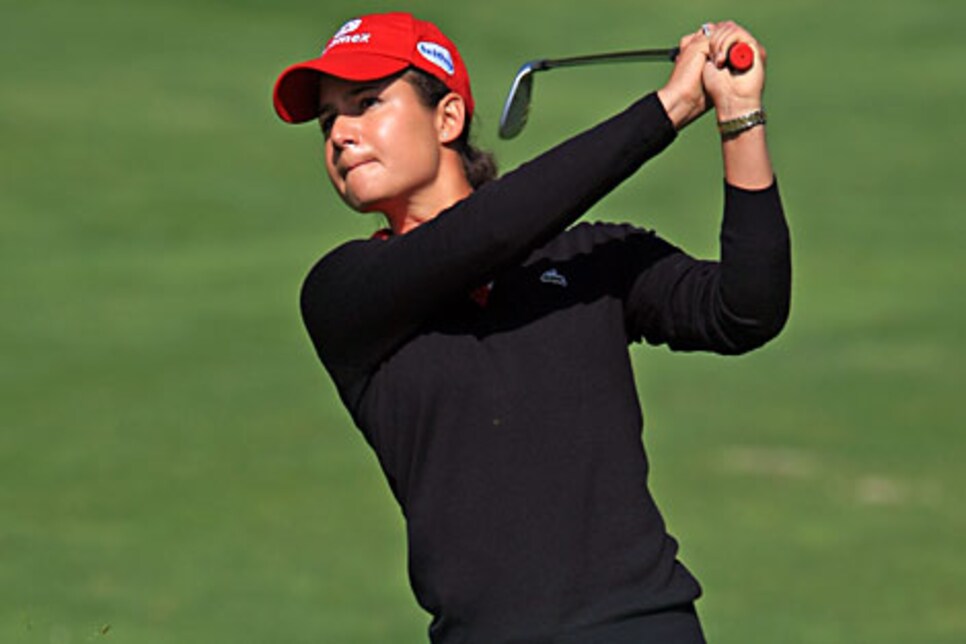 The BosqueReal course has given Ochoa trouble in the past. Last year she open with a four-over 76.
HUXQUILUCAN, Mexico (AP) -- Lorena Ochoa normally comes home to Mexico in March and faces a course that befuddles her: the scrubby, rugged BosqueReal carved into the mountains outside of Mexico City.
The LPGA's No. 1 player got the best her nemesis Friday, shooting a 7-under 65 to tie the course record and take a two-shot lead in the Mastercard Classic, the first of three tournaments in Mexico this year.
Ochoa has always struggled on the hilly course, and has yet to win this tournament in four attempts. Last year, she opened with a 4-over 76 -- her worst score in nearly a year -- and ended up tying for eighth.
But this weekend could be different. Ochoa had five birdies and an eagle on the 541-yard ninth hole, with a green surrounded by water.
"I saw it like in slow motion," she said of the eagle. "I was thrilled because it was on the 9th, in front of so many people cheering. The adrenaline started pumping."
Still, she said BosqueReal wasn't easy.
"I got a lot of bad lies here," she said. "Also some mud in my ball. But I managed to make birdies anyway."
Ochoa held a two-stroke lead over Na Yeon Choi. Brittany Lang, Yani Tseng and Pat Hurst shot 68s and were tied for third.
The tournament's defending champion, Sweden's Louise Friberg, had one of the day's worst scores with a 9 over.
This tournament is Ochoa's third of the season. She won the Honda LPGA Thailand for her 25th tour title, then tied for sixth in Singapore.
Ochoa will be back in Mexico for two other tournaments this year. The Corona Championship is next month in Morelia and the Lorena Ochoa Invitational is in November in Guadalajara, Ochoa's hometown.
The Mexican champion and national hero normally draws large crowds at home, especially young girls who dream of following in her footsteps. But Friday's play on a warm, windy day didn't draw as many fans as past years.
Ochoa said she didn't mind.
"To all those who came here, I am very grateful," she said. "That is why I love to play in Mexico, in front of my people."