News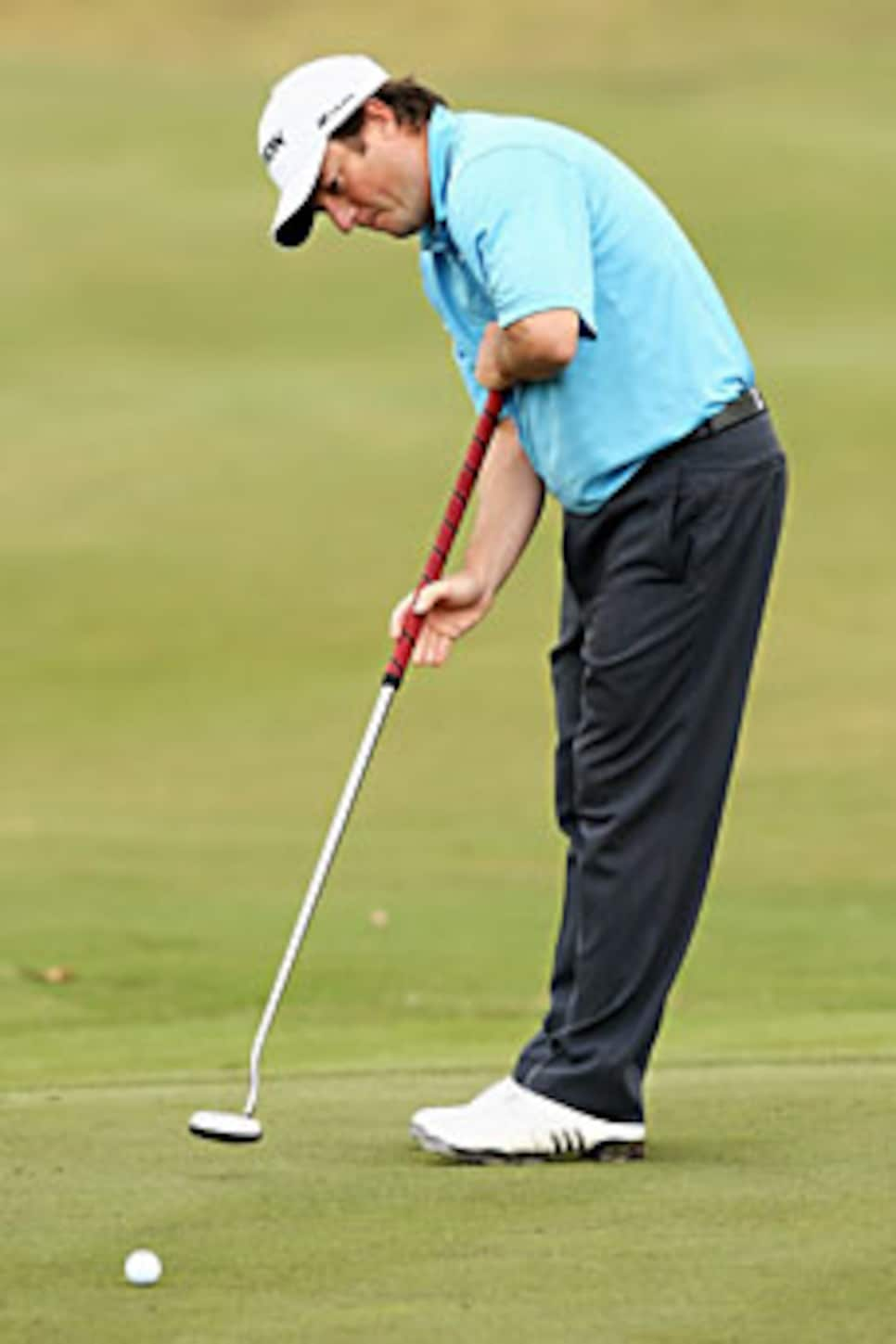 While players like Tim Clark swear by long putters, the statistics are fuzzy on whether they provide an advantage.
It's an equipment debate that may have more legs than that of distance ruining the game: Are long and/or belly putters an unfair advantage and should they be allowed? Seems to me it's a debate that may not really be worth debating. A look at last week's WGC-CA Championship showed just five players -- Stewart Cink, Tim Clark, Billy Mayfair, Carl Pettersson and Vijay Singh -- using the longer flat stick. And a peek at their putting stats doesn't exactly have me scurrying to try the broomstick.
True, Clark currently ranks T-33 in putts per GIR. But after that you have Pettersson (95th), Mayfair (T-137), Cink (T-175) and Singh (186th). Unfair advantage? Pardon me, I don't think so. Those numbers may be why the general consensus of tour pros on the long putter seems to be this: If you want to use it, knock yourself out.
"I never felt like it was illegal or I was cheating when I used it," said Kenny Perry, who used a long putter before returning to a more conventional length. "It helped me when I went back to the short putter. The long putter swings and it releases, and I have a tendency to want to stop my stroke. It's more of a training aid."
A training aid. It's that kind of talk that leaves some players feeling almost guilty about using the long putter, even though they are more successful with it, including Jay Williamson (who played in Puerto Rico last week), who has gone on and off with the long putter for nearly 15 years.
"I don't want to use it, but I'm a better player with it, so I can't fight it," said Williamson after nearly winning the John Deere Classic with the long boy last year. "It just doesn't seem athletic to me. It almost seems like cheating. But it's not. If it was cheating, everyone would be using it. I've stayed awake at night trying to figure out how to putt better. But I know at the end of the day that I have a better chance to make a putt with a long putter than with a short putter."
Which is why Will MacKenzie isn't sure he likes the idea of the long putter.
"I think it would be cool if they made it illegal," said MacKenzie, who has used the long putter in the past but has reverted to conventional-length.
"But if they're going to let us use it, then yeah, by all means go ahead if you want. From about five feet it's deadly. But I think it's almost a disadvantage from about 50 feet, and you have a lot of 50-footers out here."
Such thinking is why players such as Sergio Garcia and Tom Lehman have put their broomsticks back in the closet and returned to conventional-length putters.
"Lets face it, It just feels and looks a little weird," said MacKenzie. "Everybody wants to go conventional and do it the old-fashioned way. That's what we all want to do. But we go through phases, and if you go out there and win a tournament or something with the long putter or the claw or the belly, you know, you're going to keep doing it."