News
Furyk Finally Breaks Out In Front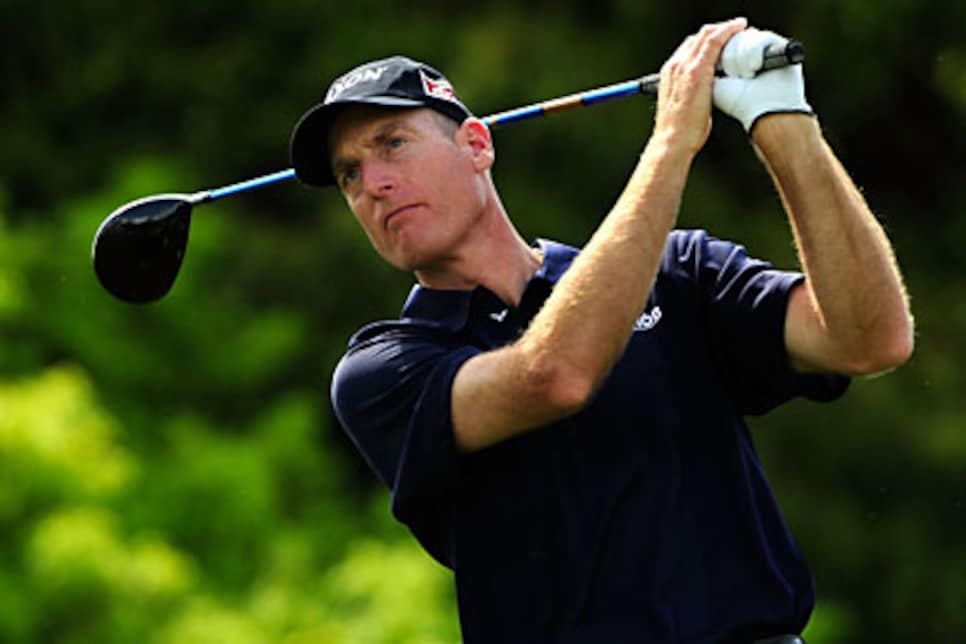 Building on a strong showing in the CA Championship, Jim Furyk has a one-stroke lead after the first round at Innisbrook.
PALM HARBOR, Fla. (AP) -- After a late start to the year, Jim Furyk might be getting up to speed.
"Something I can try to build on," Furyk said.
Stephen Ames was one shot behind after a 66 on a Copperhead Course that was demanding as ever, but one he enjoys far more than the Blue Monster last week at Doral that favors the big hitters.
The group at 67 included Kenny Perry, who sandwiched birdies on the tough 16th and 18th holes around his only bogey on the round. The 48-year-old Perry is playing his eighth event of the year and is worn out. Innisbrook is not exactly a working vacation.
"It's tough out there. It's U.S. Open conditions," Perry said. "There's no breather holes out there."
Ryo Ishikawa, the 17-year-old from Japan making his second PGA Tour start, birdied his opening two holes but never got any lower and settled for a 69, leaving him in much better shape than at Riviera, where he missed the cut.
"I was more relaxed compared with my first event," he said. "The key was the first hole."
Furyk took a five-week break to start the year. Having to failed to win last season -- only the third time in the last 14 years he gone an entire PGA Tour season without winning -- he decided not to start until Pebble Beach. His scores have improved each week, and Furyk really hit his stride last week at Doral with four rounds in the 60s to finish third.
"I was a little nervous about being rusty," he said. "It had been a long time since I played. I seemed to get back into the flow quickly."
The bigger problem has been getting back to winning.
His last victory was at the end of July in 2007 at the Canadian Open. Stranger still is that Furyk, who has 13 career victories, has not been atop the leaderboard after any round since then.
He hasn't been played poorly. His putter has been the culprit, the case with so many other players, and the few times he did give himself a chance in the final round, he simply didn't hole enough putts.
"The reality is, I didn't win. That's what everyone emphasizes, and I understand why," he said.
But he worked hard on his aim with the short stick, and is gaining confidence. Furyk didn't need much help when he started his round on the back nine, making all his birdies from short range.
Then came a sweeping, 35-foot birdie putt that dropped for a 31 to open the tournament, and he birdied the next two holes to separate himself from the early starters. The only bogey came on a poor bunker shot on the par-3 eighth, and Furyk was fortunate not to drop another shot at the end.
The Transitions Championship often gets forgotten in the Florida Swing because it falls between a World Golf Championship and the Arnold Palmer Invitational next week, but players were reminded again that Innisbrook is a gem.
Along with its natural characteristics -- gentle changes in elevation, winding tree-lined fairways rarely found in these parts -- the greens became more firm as a warm sun baked out the Copperhead Course.
Furyk and Ames were among the early starters. Equally impressive was the play of some guys in the afternoon, starting with Perry.
"It's so hard to make birdies on this golf course," Perry said.
Furyk wasn't the only player who might have taken some momentum with him from Miami.
Masters champion Trevor Immelman has struggled mightily since his month break after Abu Dhabi, and he might have been forcing it with his defense of a green jacket approaching. Somewhere between the range and the golf course, he lost confidence in his swing. But he had a 72-69 weekend at Doral, played nicely at the Tavistock Cup, and his 68 in the first round was his lowest score of the year.
"It was nice to play like myself again for a change," Immelman said. "I started feeling a little bit better the last 10 days or so. It was nice to actually go out there and do it on the golf course."
The large group at 68 included David Toms, coming off a two-week break and starting his three-week bid to get into the Masters. Toms is at No. 66 in the world ranking and needs to get inside the top 50 after Bay Hill next week. That might require a third-place finish, and Toms certainly had few complaints with a bogey-free round.
The longest par putt he faced all day was from 4 feet on his last hole, and getting around Innisbrook without too much stress is rare.
"It's a lot like major championships out here," Toms said. "You've got to play your way around, and sometimes you can't go at certain pins. There's just not a ton of birdies out there."