News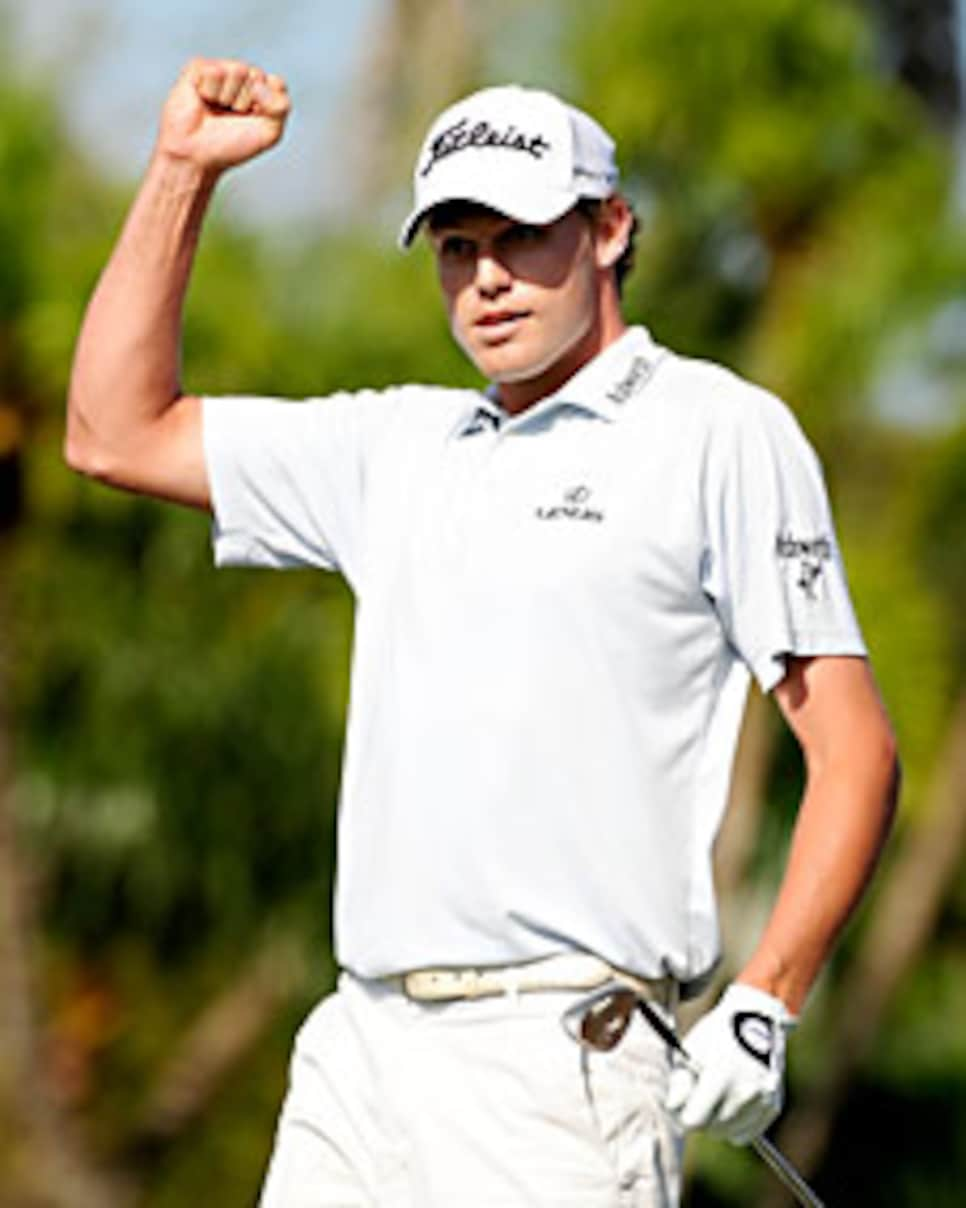 He finished just a shot behind winner Phil Mickelson at Doral, but the mild-mannered Nick Watney didn't receive nearly as much attention as Henrik Stenson last week.
Henrik Stenson is still getting mainstream play for his striptease at Doral. Wednesday it was the E! Network. Monday morning it was "Morning Joe", the general consensus on MSNBC that the Swede was taking part in an indulgent publicity stunt. Even Tiger Woods got in the act, presenting Stenson with a pair of Nike briefs during the Tavistock Cup.
Reactions have varied in the golf world, from humor to disgrace. The PGA Tour didn't have a problem with it, or at least a specific bylaw to address what Stenson did, referring inquiries to the European Tour. I was told in an e-mail from a high-ranking European Tour official, "The Henrik incident has been dealt with by George O'Grady's office and the matter is closed." Since "incident" was the word used and George O'Grady is the European Tour executive director, I trust the photos won't make the yearbook.
While Stenson's measures were extreme, it certainly wasn't the first time a golfer shed some laundry in the interest of saving a stroke. Doug Barron played a shot with his shirt off at Innisbrook in 2006, but kept his pants on. Ian Baker-Finch stripped down to his dark blue boxer shorts in the 1993 Colonial, but kept his shirt. The CBS announcer was home in North Palm Beach this weekend, getting ready for the Masters when he started getting text messages and phone calls.
"The main thing was, what was he thinking -- down to the jockeys or the jocks as we call them at home?" Baker-Finch said Thursday. "My reaction was nothing negative or positive. Just a laugh, really."
Baker-Finch didn't get fined, but he did get a letter of reprimand from Commissioner Deane Beman, saying it fell under the general category of conduct unbecoming. But since the tournament had received so much favorable publicity, it was excused. Stenson, meanwhile, hasn't been a member of the PGA Tour since 2007.
"My reaction (to Stenson) was a little bit of shock," Baker-Finch said. "Why take it all off? That could be the biggest publicity stunt of all time for him. He's going to get something out of it. What I did, it was nothing like that."
The day of his episode, Baker-Finch was playing with Nick Price. Like Stenson, he saw his ball roll down a bank and into a hazard. The difference is he kept on his shirt and wore boxers. He was thinking there was no way he was going to ruin his beautiful wool pants.
"Back in those days, shirts were a lot longer, and my shirt almost covered my boxers,'' he said. "It's a big difference from taking it all off all and going in with just your tighty whiteys."
Watney's steady rise continues: Nick Watney drove an old Chevy in college that emitted so much smoke from the tailpipe that teammates at Fresno State made him park it on the far side of the parking lot. He was nicknamed "Rube" after the catcher Rube Baker in Major League II, a character who had trouble getting the ball back to the mound, and was too nice for his own good. What you may find a little incongruent with the demeanor is that Watney's a frequent visitor of hip hop concerts, listing Jay-Z, L'il Wayne and T.I. as his three favorite artists.
How this shy 28-year-old from Sacramento could become such a heat-seeking missile and breakout young American of the 2009 season is one of the stories of the spring; and a byproduct of the short game work put in this off-season at Butch Harmon's golf school in Las Vegas. Harmon teases him unmercifully when Watney pulls up in his SUV in a white flat-brimmed San Francisco Giants baseball cap, speakers blaring, but had to convince the kid to stop calling him Mr. Harmon. "I'm so impressed with how he played, how he hung in there," Harmon said after Watney went the final 36 holes in the CA Championship with Phil Mickleson, losing by a shot.
With a first at Torrey Pines and now this second-place finish against the strongest field in WGC history, Watney jumped into the top 10 of the standings for Fred Couples' Presidents Cup team, and has emerged as a favorite for the first major the year. He finished tied for 11th last year in his Masters debut. "I'm definitely looking towards Augusta," Watney said during a news conference before the Transitions Championship. "I love that course and just the whole feel, and the tournament is different than pretty much any one we play. So, I'm excited about it."
Two names to remember: Alvaro Quiros and Louis Oosthuizen may not resonate like Rory McIlroy -- or their respective countrymen Sergio Garcia and Trevor Immelman -- but the Spaniard and South African were on the verge of contention at Doral and could be just as much a part of the mix next month in their Masters debuts.
Quiros, 26, has the pencil-thin black sideburns, wears the David Leadbetter straw hat and is friends with Garcia. He led the field in driving distance with an average of 322 yards, was tied for 14th in putting, shot 64 on Friday with eight birdies and was 10 under for the week, tied for 13th. Those are numbers that will play at Augusta, and ranked No. 25 in the world, he's already locked into the field.
Oosthuizen, 26, can also bomb it, ranking fifth in driving distance at the CA, which matched up with a tie for third in greens and was nine under for the week, in a tie for 20th with McIlroy. The product of Ernie Els' junior golf program, Oosthuizen had five-straight top 10s to open the year and moves to No. 49 in the world after the CA. He hopes to stay inside the top 50 when Masters invitations close after the Arnold Palmer Invitational.
The Mickelson Starter Kit: Greg Norman was correct in the '90s when he said the season starts at Doral, end of story. Last week's CA Championship had that feel, with a big-name winner (Phil Mickelson) surviving a duel with an upcoming star (Watney) that ended with a birdie putt coming up one rotation short of sending the tournament into a playoff. There were huge crowds pumped by the return of Tiger Woods to stroke play and big visual treatment by NBC, with Johnny Miller showing mid-season form by wondering from the booth if Bones Mackay should put a shock collar on Mickelson.
Moving the tournament back to the second week of March helped immeasurably. The weather was perfect and the event was not competing with the tennis on Key Biscayne. It also gave the competitors and the CA some breathing room on the road to Augusta. In the late-March, end-of-Florida-swing slot, the CA endured a Monday finish and was victim of being the same speed bump that caused the Players to move to May.
There's also something about the palm trees at Doral, the aerial shots of balls going up over the hotel coming into 18, the now-drivable 16th, and the overall atmosphere, that make Norman's proclamation so true. It's also the time in the Northeast and Midwest when the clubs come out of the closet and the grass starts turning green, so in that respect, it's the start of the golf season as well.
Mickelson has added an element to the story line that just last month was not expected. But since Feb. 22 and the last three holes of the Northern Trust, through those last two shots at Doral, Mickelson has hit the shots under pressure that once failed him. With all that water, there was no wide-left miss this time.
You can argue it was short game, specifically the four chip-ins, that were the difference; or the two years with Butch Harmon that finally kicked in. But either way, Mickelson has never gone into Augusta with this much momentum, this much armor or this much confidence. He may have won at Riviera, but it was like his season started at Doral as well.