News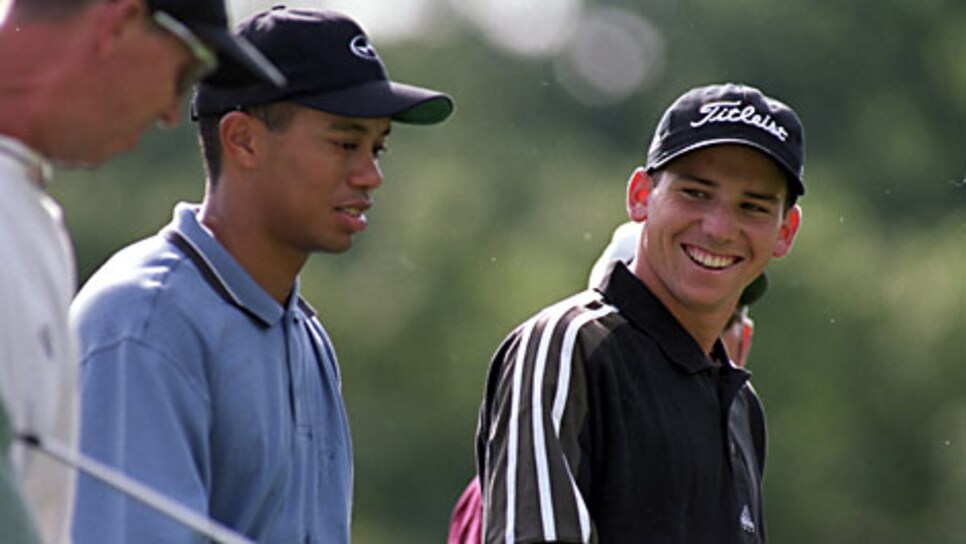 It was once a foregone conclusion that Sergio Garcia would be neck-and-neck with Tiger Woods. But as he and others have shown, golf gets tougher the more expecations grow.

Twelve years of dominance by one man has made the search for golf's Next Big Thing even bigger. If Tiger Woods' greatness hasn't exactly gotten old, the storyline has gotten a bit repetitive, the short list of would-be rivals not much different than it was at the beginning of the decade.
Sergio Garcia remains the only player younger than Woods to consistently factor at golf's biggest tournaments, but in the half dozen or so times the Spaniard has squared off against Tiger or put himself in a position to make a major statement, Sergio hit the mute button. The beat goes on, as Sonny & Cher once sang, but as Next Big Things go, Garcia remains the most successful of the post-Woods phenoms.
Adam Scott's career has become a boom-bust proposition. Aaron Baddeley, a back-to-back Australian Open champion before his 20th birthday, lacked the ball-striking skills necessary to compete on the PGA Tour and needed years to develop into a top-50 player. Justin Rose was 17 when he finished third at the 1998 British Open, prompting England to nominate him as its answer to Woods. Upon turning pro, Rose missed his first 21 cuts. That Next-Big-Thing thing can be a lot for a kid to handle.
Amazingly, Rose still hasn't won in the United States, nor has fellow Brit Paul Casey, from whom spectacular things were expected. Among the once-young Americans, Charles Howell III hasn't come close to reaching expectations and is becoming increasingly difficult not to talk about in the past tense. Ryder Cup hero Anthony Kim, last year's Next Big Thing, won twice in 2008 but is off to a slow start in '09, which wouldn't mean a thing if there weren't persistent questions about his maturity level and lifestyle.
You've gotta get out of bed awfully early in the morning to compete with Woods. If Kim is up early in the morning, it's probably because he hasn't gone to bed.
There are a bunch of reasons why so many Next Big Things have come up small, which takes us to our latest NBT, 19-year-old Irishman Rory McIlroy. Asked last Sunday if the kid has the goods to become the game's top player, Tiger damn near gushed, saying, "There's no doubt. Hopefully, it won't happen while I'm around."
Since Tiger recently turned 33, we could only be so unlucky. "He certainly has the talent," Woods added. "The way he hits the ball, the way he putts, the way he can get up and down. He has the composure and all the components to be the best player in the world."
Such a hearty endorsement from the Next Big Thing Who Kept Getting Bigger could be interpreted as the ultimate kiss of death, although Tiger speaks nothing less than the truth. Having laid eyes on McIlroy for the first time at last month's WGC-Match Play, I was blown away after seeing him swing the club no more than a half-dozen times. Greatness, or at least the ingredients that go into it, is one of sport's most conspicuous traits. Still, you don't hand a guy five major titles off a five-minute observation.
No question, McIlroy is the most capable young player since Garcia, whose first U.S. tournament I covered 10 years ago. Whereas Woods generates power with his hips, McIlroy has a Sergio-like lag at the bottom of his swing and is outrageously long off the tee. Unlike Garcia, who needed a couple of years to eliminate a pronounced recasting of the club at the top, McIlroy generates his speed with a more conventional and fundamentally sound move.
Although he struggled a bit in Doral's Bermuda rough last week, following up a 68-66 start with a one-over weekend and T-20 finish, no species of warm-weather grass is going to stand between McIlroy and superstardom. Of course, if you had told me back in May 1999 that we'd still be waiting on Sergio's first major title, I would have suggested a cranial examination or a criminal investigation.
A great putter at age 19, nobody is shakier than Garcia over the short ones now. He has been money in the bank at the Ryder Cup, where all the focus is on the team, but when he has to play for his own glory, Sergio turns into something less than bulletproof. I'm no Bob Rotella, but I'd venture to guess both those problems are caused by a lack of self-belief brought on by his inability to satisfy everyone's big-picture expectations.
The better you are, the harder this game gets, which sounds like a nice problem to have until you actually begin to suffer from it. Sergio loses majors down the stretch, comes into the media center and, without thinking twice, leaps into a giant pile of denial. Maybe all that heavy breathing he caused at the '99 PGA Championship conned him into thinking he didn't need to get any better to keep up with Woods, who edged him by a stroke that afternoon at Medinah.
Last week in Miami, somebody told me they recently saw Tiger working on four- and five-foot putts for at least three hours one day at Isleworth. To be that good, you have to be that committed, that driven, that disciplined. Nobody practices four-footers for 45 minutes, much less half an afternoon. Nobody wins 14 majors and 65 PGA Tour events before their 33rd birthday, either.
Speaking of short ones going a long way, McIlroy failed to convert from five feet on the 18th hole in the final round of last September's European Masters, a putt that would have locked up his first win as a pro. In the playoff that followed, he missed what was literally a one-footer; McIlroy seemed preoccupied with avoiding the line of opponent Jean-Francois Lucquin, who had a 12-footer for birdie.
Lucquin made his putt, anyway, but the kid had blown a four-stroke lead entering the final round, fought back, then let the moment get to him with a trophy on the line. The same scenario began to unfold again at this year's Dubai Desert Classic, one of the biggest events on the European Tour. McIlroy took at six-shot lead into Sunday, lost all but one stroke of it, then held on to beat Rose by getting up and down for par from a greenside bunker at the 18th.
I don't know if the win in Dubai proved how tough or resilient the kid is, but he either has a very short memory or a highly functional one. Like Garcia, McIlroy has made some noise during his pro debut in America. Like Garcia, at least the 1999 version, McIlroy is affable and unspoiled, polite and delightful in the interview room. He speaks of Woods in reverential tones, openly admitting that Tiger has been his hero since the age of nine.
You almost figure the lad has a poster of the red-shirted, fist-pumping warrior on his bedroom wall. On those rare occasions when pro golf produces a swiftly emerging phenom, there is a point at the beginning of that career when everything is new, when the future is limitless, when all the attention and adulation has yet to poison a young man's bloodstream.
You hope that period never ends, but things change. The wide-eyed exuberance can turn into a leery glare, and at some point, the promise of massive potential becomes an inescapable burden only made heavier by public perception and media magnification. A lot of people will tell you the scrutiny is why so many Next Big Things never reach their projected size.
I say the scrutiny is an integral and character-building part of the process. If you've got what it takes to be a superstar, you'll have to deal with stuff a lot tougher than questions about why you blew a six-stroke lead or haven't won a tournament in two years. To get to the top, you'll first have to deal with yourself, although Tiger Woods isn't likely to be too far away.