News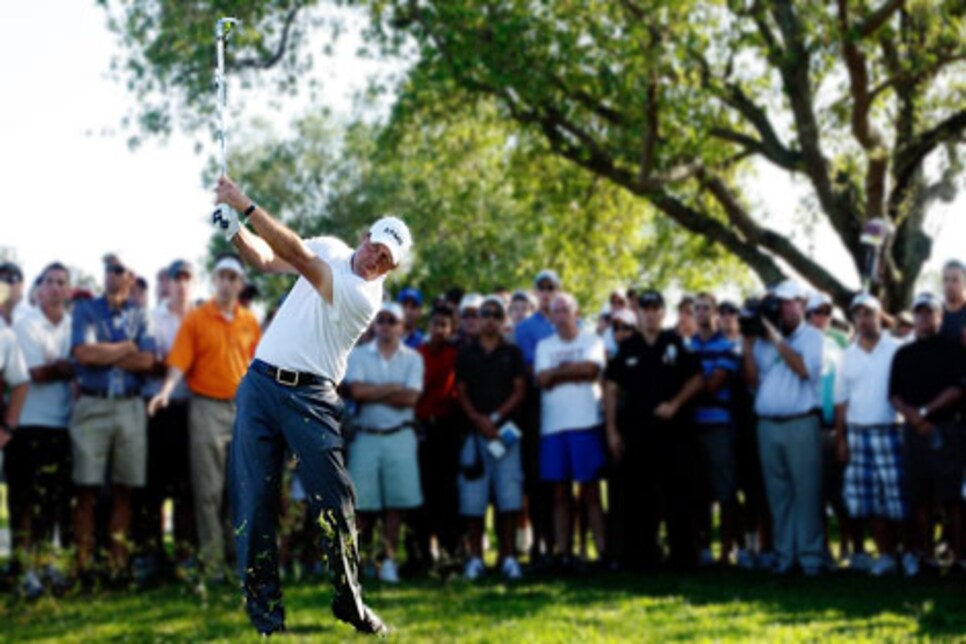 Phil Mickelson's flaws -- which include the occasional wayward shot -- are part of his appeal.
Is it the Mickelson who climbed out of a hospital bed after heat exhaustion and then won at Doral? The guy who knocked his tee shot under a bush and had to hack it out right-handed, turning the club face upside down, and then conked the ball off a palm tree? Is he the one who hit his drive at the 18th and then heard some fan yell sarcastically in his ear, "Get in the water!"?
Is he the No. 2 player in the world, and rising?
Actually, they're all Phil, winner of two of his last three tournaments, and hours later a carpool driver Monday afternoon so he could bring his children home from school in Rancho Santa Fe, Calif.
"I get asked one question more than anything else about Phil," said Dave Pelz, Mickelson's short game teacher. "Is he real? Some people don't believe that he is as pleasant and happy a guy as he is. The only people who are his detractors, they think it must be for show. But it isn't."
For some reason, no one is really neutral about Phil. Some people swear by him, others swear at him, and that's probably the way it should be. Mickelson sounds as though he's OK with that process, because after all, he can't very well follow the singular path he chooses and then turn around and not allow everyone else the same privilege.
Mickelson was clearly on his game Sunday at Doral, where he was fist-bumping fans, making eye contact as he walked from green to tee, flipping his golf ball to a youngster, flashing his loopy grin. Nothing but a big, contrived act, right? That's not the way many see Mickelson, including former Arizona State teammate Rob Mangini.
They've been friends for 22 years, participated in each other's wedding and are partners in an MRI business venture. Mangini probably knows Mickelson about as well as anyone, and that means he understands why some people have a love-him or hate-him relationship with Mickelson. Mangini just doesn't buy it.
"He's one of the most unique individuals around. Phil has got flaws. So do we all. And he's not afraid to show it. With Phil, you don't know it's over until he kicks it in on the 72nd hole. He can stand up in front of the world and fail. It takes a lot of guts to do that.
"He'll make double bogey on the 72nd hole of the U.S. Open and say, in front of everybody, 'I am such an idiot.' Here I am. This is it. He is Everyman, or in Phil's case, Everyguy."
Orin Starn, a cultural anthropologist at Duke University, follows that same line of thinking.
"I think of him as a suburban Everyman," Starn said. "This guy still has a little bit of a spare tire. You might want to go out to have a beer with him after a round, he's easier for a white male golf fan to kind of identify with. He's not super-buff, not 6-9 or 300 pounds, he makes mistakes. Also, he's a freak. The kind of stuff he can do with a club is magical. So he has a high approachability quotient and he's an other-worldly Olympian figure with a golf club."
According to Mangini, it's a simple deal to explain the polarizing effect Mickelson has on some. Some may cry phony, but Mangini said that's just plain wrong.
"Leaders take arrows. It's sort of like this. It's like the Lakers or the Celtics, they provoke extreme reactions. Phil is that brand for golf. You either love him or hate him. Tiger is like Michael Jordan. You may not have liked him at some point, but sooner or later, you really admire him."
And there may be a point, coming soon, that you can't help but admire what Mickelson's been able to do, and most of it coming on Tiger's watch. Mickelson's one-shot victory over Nick Watney was his 36th PGA Tour victory, and only Woods has more among active players. Not only is this Mickelson's 13th year with at least one victory, it's the sixth year in a row he's done that, the most among active players.
Doral was Mickelson's 390th PGA Tour event; and he turns 39 in June, the Tuesday of U.S. Open week at Bethpage Black. Plus, Mickelson is No. 2 behind Woods in the rankings, but only .519 behind Tiger -- the closest they've ever been. But those are just numbers. Pelz pointed out a different one -- 99 -- the number of putts Mickelson needed to win Doral. It was only the second time in Mickelson's career that he had so few putts, and Pelz considers that a sign of good things to come.
"Phil is the best wedge player I have ever seen. He knows how to hit every shot, but so does Tiger. A lot of guys have talent, but if there's a misconception in golf, people attribute success to God-given talent, yet it's not nearly as much as working hard."
That's something Pelz said Mickelson always does. And with the Masters coming up, he's going to need it.
"The question is can he get it rolling well enough this year to keep Tiger down?"
Terry Jastrow, former producer and director of ABC's golf telecasts, has been friends with Mickelson since 1990 when Jastrow was on the job to witness Mickelson win the 1990 U.S. Amateur at Cherry Hills.
"Dazzling," Jastrow said. "His short game was like nothing we'd ever seen." Jastrow just completed partnering with Mickelson on an instructional DVD called "Phil Mickelson, Secrets of the Short Game." It's going to be available April 6, the Monday of Masters week, which may turn out to be good timing. Unless he changes his mind, Mickelson will skip Bay Hill, but play at Houston and then the Masters in consecutive weeks.
In the meantime, Butch Harmon keeps working with Mickelson on his full swings, Pelz keeps Mickelson in step with his short game and Mangini keeps cracking Mickelson up.
"Look, Phil is totally secure in the person he is," Mangini said. "But that doesn't mean I can't kid him. I tell him, "Gee, you've got three majors, three dozen wins, a hot wife, great kids, a G5, a $50 million estate and homes all over the place -- so don't get skinny. Then you'll have everything."
So a guy who has everything. What if that turns out to be the real Phil?