News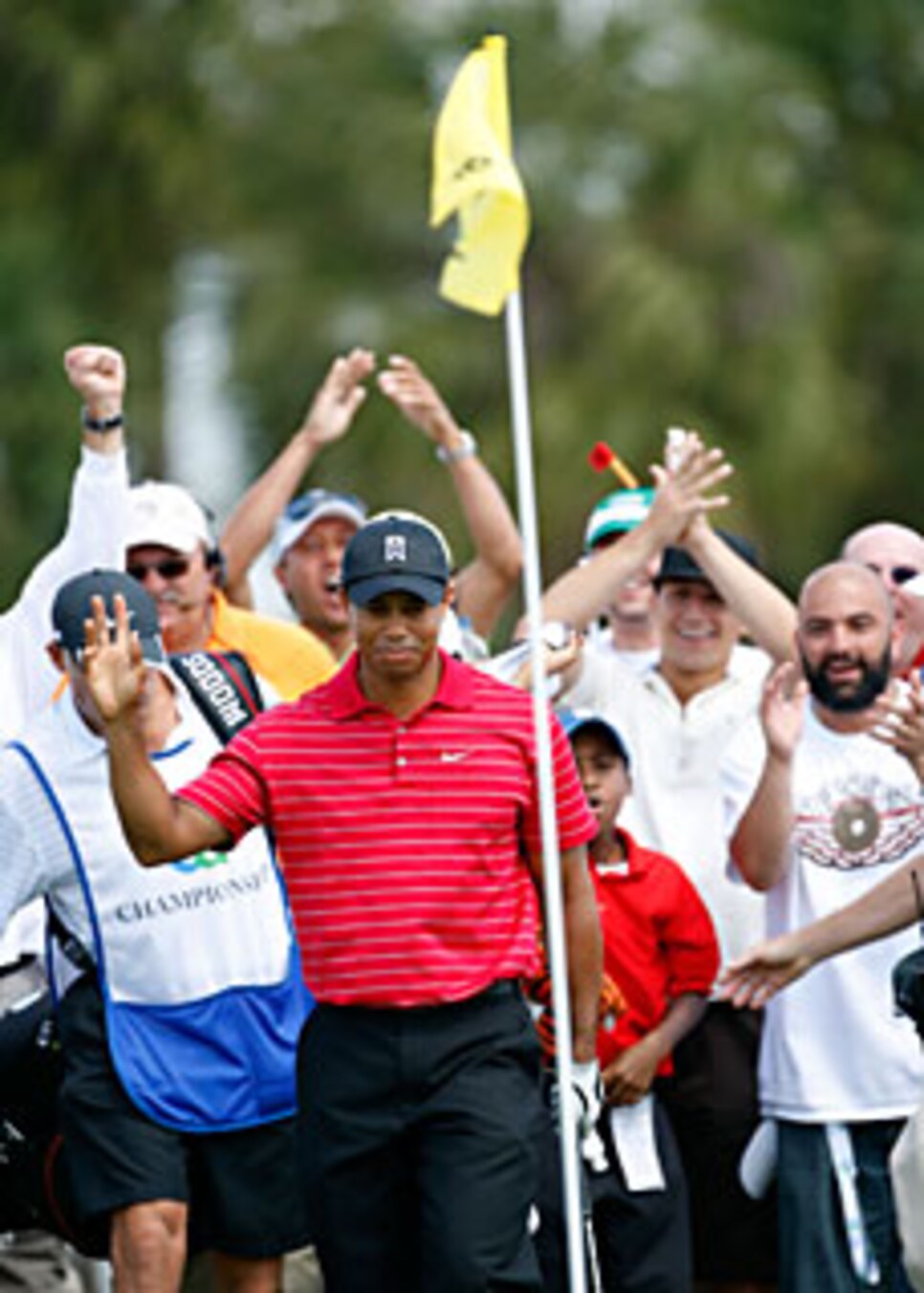 Tiger Woods' play thus far hasn't been headline material, but the networks are still trying to squeeze as much out of him as possible.
If golf had a tabloid, Tiger Woods would be on the cover every week. He's the game's version of Jennifer Aniston, Brad Pitt, UFO abductions and sure-fire ways to lose 40 pounds while eating Bon Bons, banging back beers and never leaving your couch. He isn't just the face of the game, he's its soul and certainly its pocketbook.
The comedian Robert Klein used to do a routine about a toupee that billed itself as "100 percent undetectable." Except, Klein said, "It looked like a piece of lettuce on your head," and he claimed that remote cultures who knew nothing about hair pieces would look at it, point and grunt, "Wig!" That's sort of what Tiger is like. Those who know nothing about the game know him. They point and say "Tiger."
How ubiquitous is the Woods brand? Even comedian Will Ferrell (am I starting to gain a reputation as getting all of my cultural insight from comedians?) has his George W. Bush character in the Broadway play "You're Welcome, America" refer to President Obama as "that Tiger Woods guy." Well, the similarity is undeniable. They both play golf.
Given all that, I suppose it makes total sense that Woods' return to competition be treated as if Neil Armstrong had first set foot on the moon or Alan Shepard had hit the first lunar 6-iron. But it is getting a little comical, even by the promotional standards of television, which have the credibility of Bernie Madoff.
The Accenture Match Play Championship was, quite accurately, "Tiger's return to competition after being shelved for eight months by knee surgery." But any television PR person worth their salt is never at a loss for firsts. Everything has the potential to be the greatest, most unique event ever to occur.
That's why the CA Championship was billed as "Tiger's first stroke-play tournament since his thrilling playoff victory over Rocco Mediate in the U.S. Open playoff eight months ago." OK, so that's all true. It was his first stroke-play event. But now what?
Well, next on the schedule that Woods never announces until the last possible minute will be the Arnold Palmer Invitational. Clearly, that will be "Tiger's first stroke-play tournament hosted by a nearly 80-year-old legend and played just miles away from Woods' home since his knee surgery eight months ago."
Now that doesn't have a really snappy ring to it, so I'm thinking they may go with something more like: "Tune in to the Arnold Palmer Invitational for Tiger's last tune-up before The Masters -- which will be his first major championship since his dramatic playoff victory over Rocco Mediate in the U.S. Open, which was his last major before knee surgery eight months ago."
And they can print those ads right now because one thing we know for sure is that tournament doesn't have to worry about the title sponsor taking his name off the event because he's afraid of Barney Frank. Not only is Arnold Palmer not receiving any bailout money, he's got enough cash to bailout the bailout funds when it runs out.
In fact, when they get to The Players in May they can bill it as: "Tiger's first Players since the Dow Jones Industrial Average dropped below 7,215, the yardage at which the Stadium Course at TPC Sawgrass now plays." Woods is, after all, golf's one-man stimulus package.
As the comedian Ben Bernanke, chairman of the Federal Reserve, told the gathering of broke nations at the G20 conference, the world is in this mess because regulators asleep at the switch allowed policies to exist that "led to a powerful reversal in investor sentiment and a seizing up of credit markets." That guy cracks me up. Did I just hear someone point to those words and grunt, "Wig!"?
OK, that brings us to June and that's an easy one. The U.S. Open at Bethpage will be: "The first U.S. Open since the last U.S. Open which was the last U.S. Open Tiger played before knee surgery sidelined him for eight months following his dramatic playoff victory over Rocco Mediate." By the way, what's the over/under on where Rocco finishes this year?
The good thing about Tiger's knee surgery is that if not for it the conversation would be dominated by questions concerning how now being the parent of two children will impact his game. Remember when the first kid was born and everyone ruminated over the impact fatherhood would have on Woods' career, overlooking the fact it was actually Elin and not Tiger who gave birth?
If golf did have a tabloid we would have seen this headline at some point: "Tiger gives birth to 12-pound baby bearing a striking resemblance to Jug McSpaden." Which would be the first time Tiger had given birth to a McSpaden-like creature since missing eight months following knee surgery after his dramatic playoff win over Rocco Mediate in last year's U.S. Open.
How important is Tiger Woods to professional golf? Well, I hear the NCAA men's basketball selection committee came down to a toss-up between Woods and the University of Connecticut for the No. 1 seed in the West bracket. But that might be just a rumor.
In truth, in two tournaments back Tiger has been knocked out in the second round of the Match Play and finished T-9 at Doral, where he was never in contention. Still, about the only thing that came close to nudging him off the most-mentioned list at both events was Henrik Stenson's strip at the CA Championship.
And for good reason. Come the Masters, Tiger will be the favorite to do to the field pretty much what Jon Stewart did to Jim Cramer -- lay it bare, Stenson-style. And that will need no hype. All we have to get through this week is the first Transitions Championship played without Tiger Woods since his dramatic playoff victory over Rocco Mediate in last year's U.S. Open. We'll manage. Hey, is that Jug McSpaden?