News
Not Your Ordinary Recovery Shot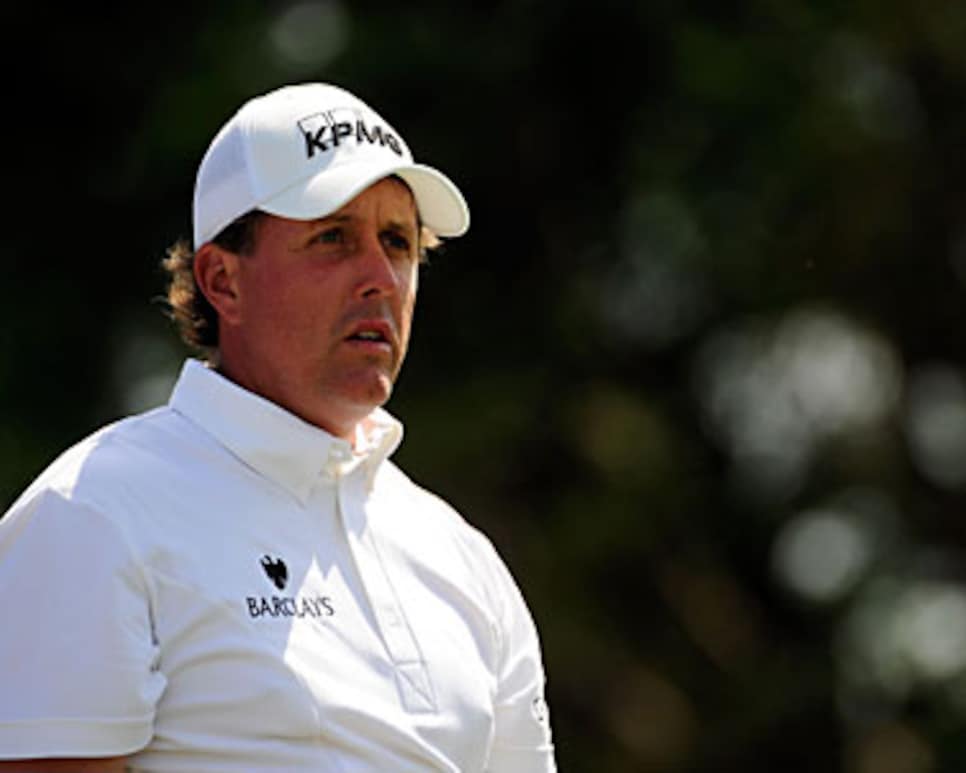 Phil Mickelson overcame heat exhaustion to claim his first World Golf Championship at Doral.
For a guy who spent Saturday night at the hospital getting two IV's for heat exhaustion, Phil Mickelson looked pretty chipper Sunday. Lefty held up well for a hard-earned one-stroke victory over rising star Nick Watney to claim his first World Golf Championship at the CA Championship.
"I've had trouble staying hydrated and keeping fluids in me," the 38-year-old Mickelson said after closing with a 3-under-par 69 to win for the second time this year.
It was an impressive performance, to be sure. Mickelson drove it long and mostly straight, putted beautifully and holed four chip shots while becoming just the 15th player to shoot all four rounds in the 60s at Doral Resort & Spa.
Here were his numbers: Mickelson ranked second in putts per round at 24.8; ninth in driving distance at 303.6; tied for 33rd in greens in regulation; and tied for 38th in driving accuracy. He also made 27 birdies against six bogeys en route to his 36th career victory, tying Lloyd Mangrum for 12th on the PGA Tour's all-time win list.
Both Mickelson and Watney have benefited from hard work with instructor Butch Harmon, whose small stable also includes Stewart Cink, Ernie Els and Adam Scott.
"Butch and I have what we've been working on down," said Mickelson. "My short game has been sharp. I'm ready to make a push in the coming weeks for Augusta. I cannot wait for that tournament to come."
Mickelson is also closing in on top-ranked Tiger Woods in the Official World Rankings, moving into the No. 2 spot. While he has never held down the top spot before, Mickelson downplayed the importance.
"Well, that's great," he said. "But he hasn't played in a year. He's the greatest player of all-time. I don't really want to go there as far as the world rankings. What I'm looking forward to is I'm starting to play some good golf."
__What it all means:__Mickelson and Watney seem to be peaking at the right time, but Woods also made a strong tie-for-ninth showing in his first medal play tournament since winning the U.S. Open last June. He improved every day, made only one bogey on the weekend, and might have made a serious run for his seventh WGC-CA Championship if his putter had cooperated. He used 28,28,31 and 26 putts to rank 74th in the field of 80 players.
"That's just part of the game," Woods said. "I'm happy with the way I progressed, but not necessarily happy with the way I finished. But hitting golf balls this week, I got better each and every day, and my feel around the greens got better and just handling the environment out there got better. I've been away so long, I figured it would take me a lot longer to get back."
Shot of the week: Watney's chip-in birdie from the behind the green at the par-3 ninth on Sunday. It was a blind shot with a high degree of difficulty, not to mention the pressure of the moment, but the ball hit the pin dead-center, pulling him within one stroke of Mickelson.
Runner-ups: Mickelson's 5-iron to the 246-yard par-3 13th on Saturday. Lefty almost knocked down the pin, the ball hitting it softly and stopping inches away for a tap-in birdie.
• Richard Johnson scored only the second hole-in-one on a par-4 in Nationwide Tour history, acing the downhill 347-yard 15th hole at The Hills Golf Club near Queenstown in the Michael Hill New Zealand Open. The previous hole-in-one on a par-4 was recorded by Chip Beck at the ninth hole of the 2003 Omaha Classic. Johnson will receive a pallet of beer from Heineken, which equates to 1,500 bottles.
"I wonder if it will last more than a couples weeks," said Johnson.
Birdie of the week: Mickelson, who matched the third-least number of putts for nine holes in PGA Tour history for his back nine on Thursday with eight, thanks to chip-ins on his final two holes. He used 20 during the round
Runner-up: Sean O'Hair, who eagled the first two holes Thursday. The last player to start a round with consecutive eagles was Chris Tidland at the 2007 Ginn sur Mer Classic.
Bogey of the week: Unheralded Prayad Marksaeng of Thailand. He was contending for the lead at Doral on Friday, then made a triple bogey on the par-4 18th hole -- without finding water -- to fall four shots off the pace. He eventually tied for 13th.
Runner-up: The idiot who yelled, "Get in the water!" after Mickelson teed off on 18 Sunday. Find another hobby.
Worth watching: Alvaro Quiros of Spain. A three-time winner on the European Tour, the lanky 26-year-old might be the longest hitter in the game. Quiros, who led the European Tour in driving distance in 2006, 2007 and 2008, averaging nearly 310 yards, averaged a field-leading 322 yards at Doral, including 329.5 on Saturday and Sunday. This, despite playing with a new driver after cracking his regular model in Arizona during the Match Play Championship.
Fun ride: Camilo Villegas got hooked on bike riding last year by friends during a visit to Colombia.
"I love it," said Villegas, who rides anywhere from 30 to 100 miles per outing. "It's just one more thing that motivates me and challenges myself, and it's a place where I can just forget about everything that's around and just pedal. I'll try to get three, maybe five rides on my weeks off. But when it comes to playing golf tournaments, priorities first, and unfortunately, cycling doesn't pay the bills."
Quote of the week: "That he is. That he is. I'm low Cabilinasian." -- Tiger Woods, when informed that Marksaeng was the low Thai at Doral.
Honorable mention: "I'm relatively competitive. If I'm on a treadmill in the gym, I'm going one-mile-an-hour faster than the guy who is next to me just because it annoys me if he's going faster." -- Geoff Ogilvy, who obviously thrives on competition.
"Not much, because I was turkey hunting. I take every break I get to. As my wife says, 'You have too many hobbies, and you're not very good at any of them." Davis Love III, on what he did last year after failing to qualify for the Masters.
__Chip shots:__For the record, Woods has been No. 1 in the world rankings for 196-straight weeks ... Yes, NBC analyst Johnny Miller used the word "skanky" on the air Sunday ... Kim is now representing the Royal Bank of Canada ... Looking to gain momentum for the Masters, Sergio Garcia will change his schedule and play in the Shell Houston Open the week before Augusta … Woods will play in the Tavistock Cup on Monday and Tuesday in Orlando. While he has yet to commit, his most likely return to the PGA Tour is the Arnold Palmer Invitational.
Mark Soltau is a contributing editor to Golf Digest and the editor of TigerWoods.com.