News
Adventures In Math Revisited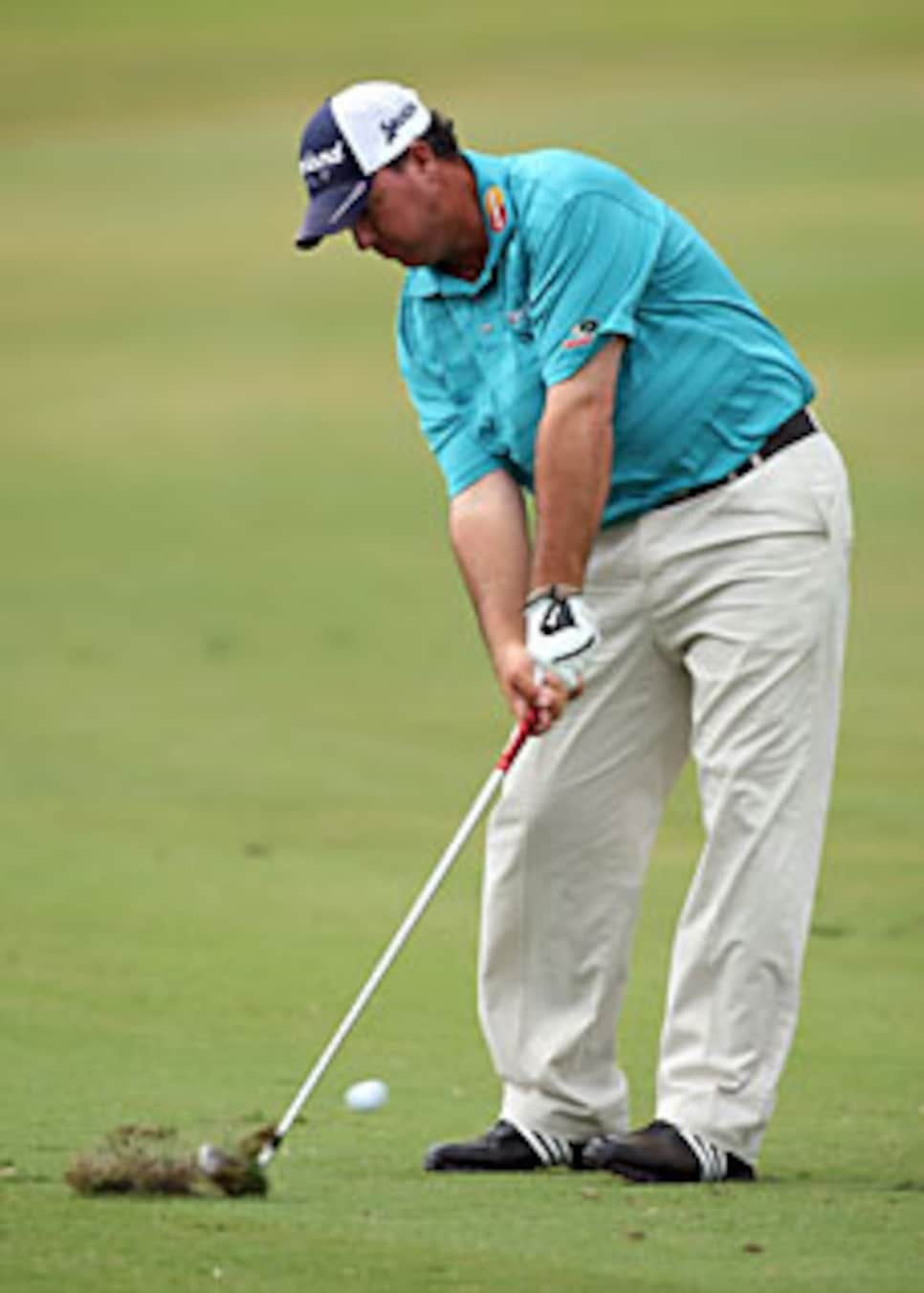 Boo Weekley said a scorecard mishap that led to a playing partner's disqualification taught him a valuable lesson.
Doral, Fla. -- A scorecard is a sacred thing in golf, and yet sometimes, whether it's because of apathy or fury or simple lack of focus, a player treats it with all the care of a used Kleenex.
Roberto DeVincenzo's error in the 1968 Masters is perhaps the most infamous scorecard mistake in the game's history, but the Argentine has as much company in this unfortunate club as there are proponents of the first-tee breakfast ball.
Usually, the culprit is guilty of signing for a score lower than deserved, which results in disqualification. Sometimes, as in De Vincenzo's case, a player signs for a higher score, which he then has to accept. De Vincenzo's loss was Bob Goalby's gain.
Sometimes, even stranger things happen, such as in 2003, when Englishman Mark Roe was disqualified after shooting 67 in the third round of the British Open. Roe, just two off the lead, and Jesper Parnevik were DQ'd because they forgot to exchange scorecards, meaning they marked their own cards with the other's scores. This silly rule in the age of electronics and walking scorers and ShotLink has since been changed.
That these gaffes happen at all is a testament to the fallibility of all humans. That they happen in a major championship proves that there is no immunity to such fallibility even on the occasions where care and concentration should be most profound.
We revisit this subject in the wake of Saturday's intriguing third-round pairing of Sergio Garcia and Boo Weekley in the CA Championship at Doral Resort & Spa. The two men were sent out together in a stroke-play round for the first time since the 2007 season when in two separate tournaments they were embroiled in cases of lead poisoning.
The first cost Garcia a little bit of face when, after shooting a third-round 75 in the PGA Championship at Southern Hills in Tulsa, he simply signed his card and left in a hurry. The problem was he signed for a 74. Weekley had recorded a 4 at the 17th when Garcia had made 5. The mistake was noticed shortly after Garcia left the scoring area, so he was disqualified.
"I was never good at math," Weekley joked in the aftermath.
Just a month later at the Deutsche Bank Championship, they were together again, and again Weekley rather weakly kept tabs on Garcia's hole-by-hole proceedings. Yep, there was an error. In fact, there was an error in each of their two rounds of shared company. Yep, this time Garcia caught them.
You wouldn't blame Garcia for eyeing his card suspiciously after shooting a 4-under-par 68 Saturday at Doral, his best score of the week. But the fact is the 2007 PGA incident always has him on high alert when he sits down to do the math.
"I always check carefully, but, obviously, that one time I was upset and I didn't pay attention," Garcia said. "I played bad. But you know, it wasn't his fault. Your card is your own responsibility, so I never blamed him for that."
Indeed, Rule 6-6.d in the U.S. Golf Association's Rules of Golf reads: "The competitor is responsible for the correctness of the score recorded for each hole on his score card. If he returns a score for any hole lower than actually taken, he is disqualified."
Told that Garcia has absolved him of any wrong, Weekley, who defeated Garcia, 1 up, in the '08 Accenture Match Play Championship, smiled. "I'm glad of that. We all know that it's ultimately up to us to get our own scores right."
If there were any hard feeling between the two men, they dispelled it this weekend. The Spaniard had a little fun with the Florida native as they were checking their cards. "We were joking about it," Garcia admitted, "and he turned to me in the scoring trailer and he said, 'This time I got it right.' Well, I still had to pull his leg a little bit and I said, 'No, Boo, you made a mistake here.' He was like, 'No, it can't be.' Then we laughed."
Said Weekley, "I knew he was messing with me. Because I checked it about 100 times."
You'd think they should do that every time.
Garcia agrees. "You have to always be careful -- not necessarily just with Boo, but at any time," he said. "It was unfortunate what happened, but it does happen."
And despite this cautionary tale reviewing such circumstances, it's bound to happen again.