News
World Class Stage For Phil's Win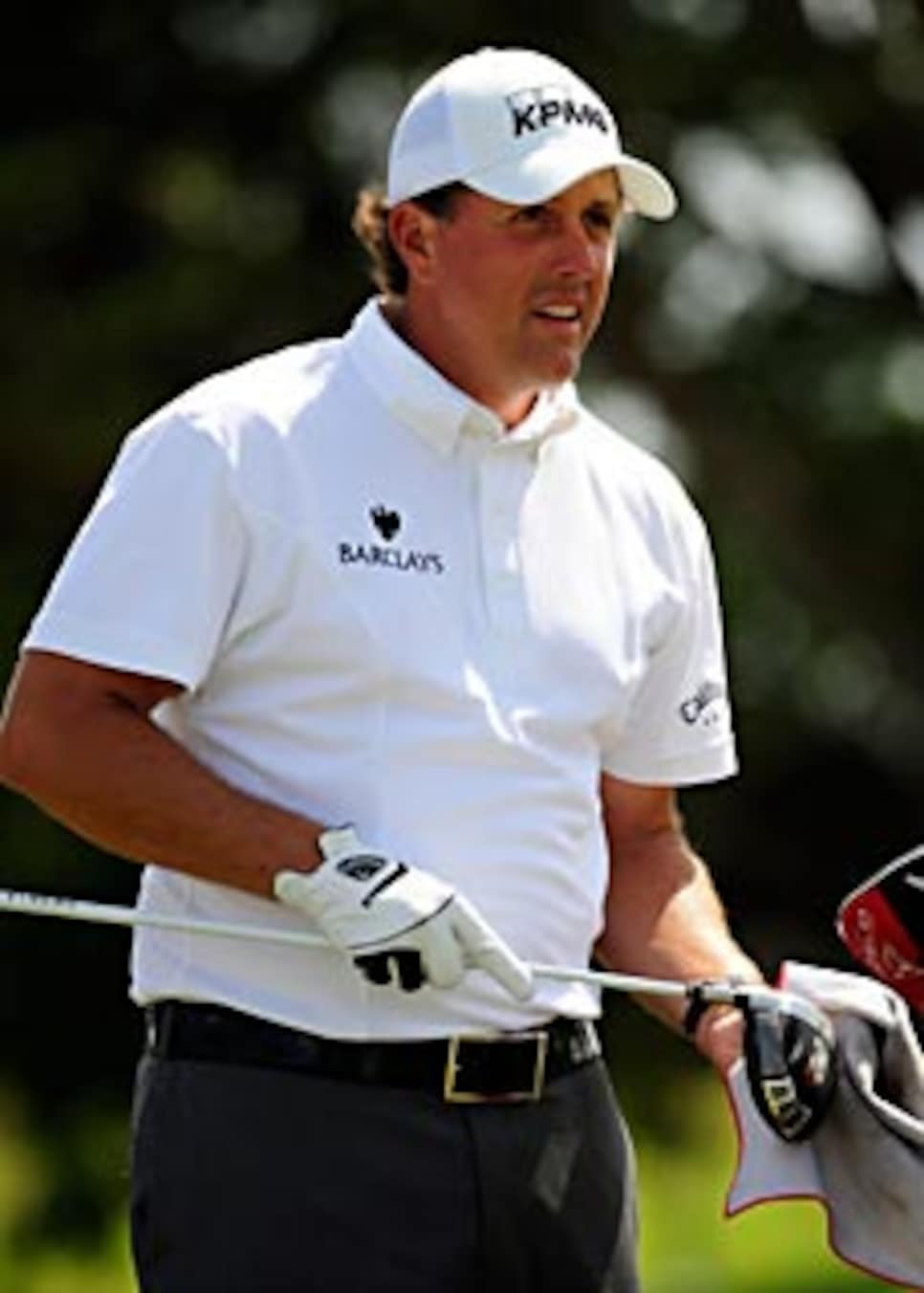 The win was Mickelson's first WGC title and his 35th PGA Tour victory.
DORAL, Fla. (AP) -- No longer the best player without a World Golf Championship, Phil Mickelson won a spirited duel at Doral on Sunday to win the CA Championship and put himself in position to reach No. 1 in the world.
Mickelson won for the second time in three starts and moved to No. 2 in the world ranking, as close to Tiger Woods as he has ever been. Depending on how Woods fares at Bay Hill, Mickelson might have a chance to go to No. 1 when he plays again.
Winning this tournament was all that mattered.
Four years ago, Mickelson lost a two-shot lead against Woods in a duel that ranks among the best ever at Doral. He didn't get his revenge against the world's No. 1 player, but Watney gave him all he could handle.
"It took a lot out of me," said Mickelson, who sipped on energy drinks throughout the round. "I haven't eaten much in three days. I fought hard. I've been playing some of my best golf, and I'm very excited to have finished it off."
Watney closed with a 2-under 70, holing an unlikely chip for birdie from behind the ninth green, then making an eagle on the 10th to pull into a tie for the lead. Needing a birdie on the 18th hole, which yielded only three in the final round, Watney thought his 30-footer was good until it stopped one turn away.
He pulled his cap over his face, and could only watch as Mickelson took two putts from 25 feet away for par and the victory.
"I'll get over this," Watney said. "It's a positive week. I played really well. Beat 78 of the best players in the world. Beat Tiger, which is always good. I'm very pleased with the way I'm playing."
Woods, in his first stroke-play event since winning the U.S. Open, closed with another 68 to finish eight shots behind in a tie for ninth, but at least kept one streak alive. He has never finished out of the top 10 on the Blue Monster.
"I didn't get anything out of my rounds," Woods said. "I hit the ball a lot better than my scoring indicates."
Jim Furyk shot 31 on the back nine for a 67 to finish alone in third. Jeev Milkha Singh had a 70 and was alone in fourth, his best result in a PGA Tour event.
But the show throughout a steamy afternoon on the Blue Monster belonged to Mickelson and Watney, who went into the final round tied for the lead, both pupils of swing coach Butch Harmon, both having won over the last few months.
They said this wouldn't be match play, but it sure looked like it.
Including ties, the lead changed seven times over the first 11 holes, with momentum swinging in both directions.
No one made a serious run at the leaders until Furyk's late charge, but there was plenty of action in the final group. What set the stage for the back-nine duel was a stunning turnaround at the par-3 ninth.
Mickelson, who fell behind for only one hole with a bogey at No. 4, built a two-shot lead when Watney made bogey from the bunker on No. 7 and Mickelson ripped a 3-wood from 256 yards over the water just over the par-5 eighth green for a birdie.
Mickelson was safely on the green at No. 9 when Watney pulled his tee shot over the green and down a ramp between the television toward and the grandstand. With nearly a dozen practice swings for a delicate shot, he flopped it up the slope, onto the green and charged up the hill when it dropped for birdie.
Just like that, he was only one shot behind. And with two beautiful swings on the par-5 10th, he had an 8-foot eagle putt. Walking toward the green, Watney rolled his shoulders and pushed his palms toward the ground, reminded himself to stay calm.
He holed the eagle putt and was tied for the lead, but that was as sharp as he got.
Making a bogey from the bunker on the 11th was one thing, but he let Mickelson off the hook on the par-5 12th.
Lefty went well to the right and into the bushes, although he could see enough of the ball to consider swinging from the other side. He inverted a wedge for his right-handed shot, but it struck a tree and stayed in the rough. Mickelson took four shots to reach the green and made bogey.
Watney only had a 4-iron to the green and made bogey. He caught another nasty lie in the bunker, and this time caught it fat and left it in the bunker, eventually missing a 6-footer for par.
"I feel like I gave away two shots there," Watney said. "Having 4-iron to the green and making 6 there was pretty disappointing. I guess that's going to happen over 72 holes. Just try to work hard and come back better next time."
Mickelson is looking better than ever.
He won at Riviera three week ago, and his victory at Doral made it six straight seasons of winning multiple times, the longest active streak on the PGA Tour. He now has 36 victories to tie for 12th with Lloyd Mangrum on the career list.
And while he still hasn't reached the top of the ranking, Mickelson is more concerned with peaking for the Masters a month away.
"I cannot wait for that tournament to come," Mickelson said.