News
Mickelson and Watney Set Up Duel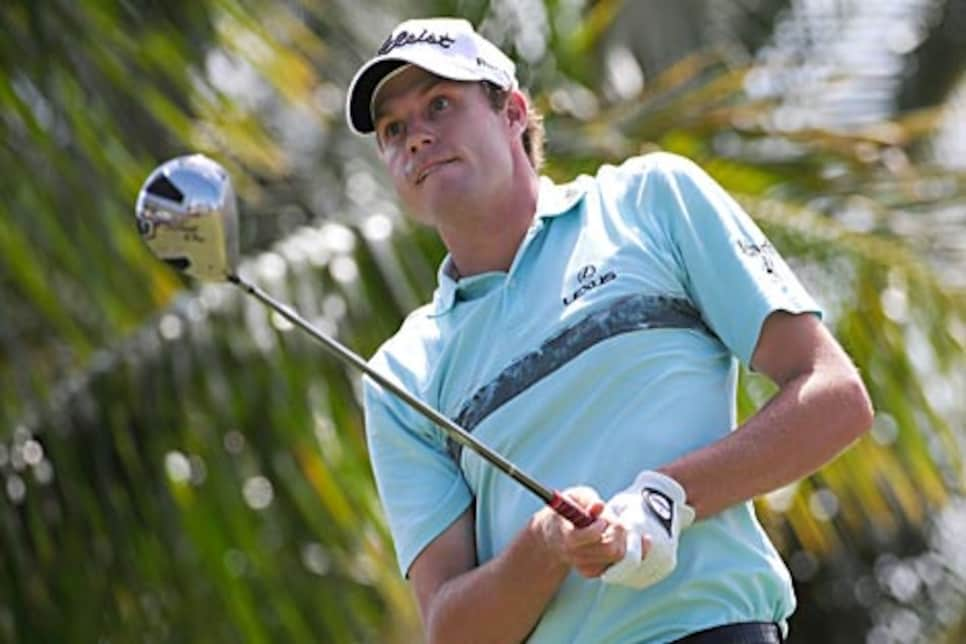 Watney, who won earlier this season in San Diego, will go head-to-head with Mickelson.
DORAL, Fla. (AP) -- Phil Mickelson wanted another chance to go head-to-head with Tiger Woods at Doral. Nick Watney gave Lefty all he could handle Saturday in the CA Championship.
Mickelson hit his stride on the back nine of the Blue Monster with three straight birdies and wound up with a 3-under 69. That still wasn't enough to shake Watney, who finished off a 67 with a tough par save on the 18th hole to share the 54-hole lead.
They were at 16-under 200, with no one else closer than four shots.
Mickelson had birdie putts inside 12 feet on eight consecutive holes -- including a tee shot on the par-3 13th that rolled against the flag stick and stopped a foot away -- until a wild tee shot on the 17th hole led to bogey.
Watney, who won at Torrey Pines a month ago, stayed in the game with two good bunker saves and a delicate chip to 3 feet after flirting with the water on the 18th hole. Woods was thrilled with how he hit the ball, disgusted with his putting, and had to settle for a 68 that left him nine shots behind.
"The best I've hit it in a long time," Woods said. "Granted, I haven't played in a long time, but still."
This is his first stroke--play tournament since winning the U.S. Open last summer. Woods had season--ending knee surgery a week later. The leg appears to be better than ever, but his putting left him cursing under his breath on a steamy afternoon in Miami.
Jeev Milkha Singh (68) and Camilo Villegas (69) were tied for third at 12-under 212, and the group another shot behind included Jim Furyk (69), Kenny Perry (71) and Alvaro Quiros, the big-hitting Spaniard who had a 69.
Mickelson stumbled on the front nine with a tee shot into the water on the par-3 fourth for bogey and a three-putt bogey on the seventh. But starting with a tee shot into 10 feet on the par-3 ninth, he couldn't miss.
Somehow, he did miss on the 13th.
His 5-iron landed in the middle of the green and rolled right for the cup. It bounced off the middle of the pin and ricocheted to the left, leaving him a tap-in birdie. But he missed three birdie chances inside 10 feet, and one from 15 feet on his final hole.
"I would have liked to have shot a little lower," Mickelson said. "But at the start of the day, I would have taken 69."
It might take more than that on Sunday.
Watney failed to birdie the opening hole, a par 5 that might be the easiest in golf, but ran off three straight birdies and finally made his first bogey of the tournament on No. 11 when he drove wildly to the right.
Even as Mickelson looked as though he might pull away, Watney stuck with him. Watney faced a tough lie in the bunker on the 13th when Mickelson was assured a birdie, but he blasted out beautifully to save par. On the par-3 15th, Mickelson had a 6-foot birdie to take a three-shot lead, while Watney again was in the bunker. He saved par, Mickelson missed his putt, and two holes later they were tied.
Watney made a 12-foot birdie on the 16th, and Mickelson hit a wild drive to the left on the 17th, leaving him behind an island of bushes that forced him to play out short of the green. He wound up with a bogey.
"I would love to get my hands on that trophy," Watney said.
Rory McIlroy, the 19-year-old from Northern Ireland who is down to his last week with a chance at becoming the youngest winner in PGA Tour history, was in the mix until struggling from the rough and making three bogeys over his last five holes.
He was at 10-under 206, six shots behind.
"It looks like it's going to be a bit of a two-horse race," McIlroy said. "But if I can go out and shoot in the mid-60s and get myself as high up the leaderboard as possible, then it will have been another good week."
Woods feels like he is making progress, too.
It was his best round since his return to competition, at least until he got on the green. He made consecutive birdies for the first time all week with a 15-foot putt on the ninth and a two--putt on the 10th. But he missed three putts inside 10 feet, and his final birdie came on the 16th when he holed out from a back bunker.
But it was the finish that lifted his mood.
From the edge of the water, with the ball above his feet and the wind in his face, Woods hit a sweeping draw with a 3-iron from 207 yards away that caught the ridge and rolled just past the cup, settling 12 feet away.
He missed the birdie putt.
"I have not controlled the golf ball that well in a very long time," Woods said. "And that was fun. I was hitting shots that I had not been able to hit before, which was such a great feeling. Unfortunately, I'm just not making any putts."
Mickelson, who won two weeks ago at Riviera, can close in on No. 1 in the world ranking by capturing his first World Golf Championship title. It will be his first time in the final group at Doral since 2005, when Woods overcame a two-shot deficit to beat him. Woods, in a tie for 19th, is out of the picture.
But the way Saturday went along the back nine, Mickelson still doesn't expect anything to come easily.