News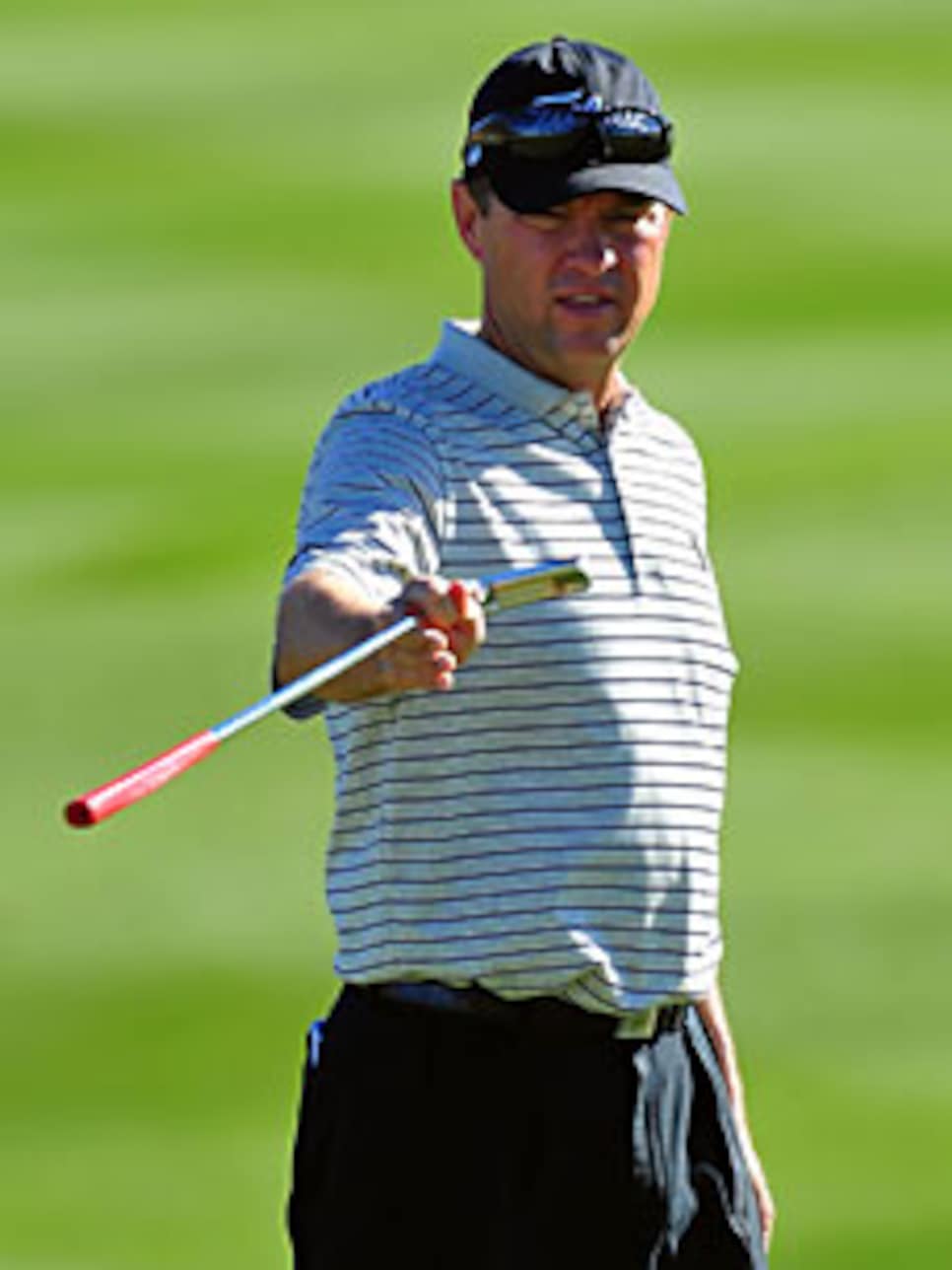 Against a field that included the likes of Jack Nicklaus, Arnold Palmer, and Greg Norman, Davis Love III was a winner at the Seminole Pro-Member.
Earlier this week I noticed Davis Love III waving, nodding and making eye contact on the putting green at Doral, then finally walking my way wearing an ear-to-ear smile. "You probably heard," he said. "I finally got my name on the board."
Love was talking about one of the most coveted wall plaques in golf, the space in the Seminole locker room dedicated to the Pro-Member tournament that was played Monday. In the '30s through the '60s this event had winners like Ben Hogan, Sam Snead and Arnold Palmer, along with the members who were their partners. Reintroduced a few years back, it has become one of the best invitations a tour pro could receive, and represents one of their best days on a course all year. This is the one Ernie Els flew all night to after winning the 2005 Dubai Desert Classic, arriving at noon for an afternoon tee time with Johan Rupert, the South African icon.
Rupert couldn't make it this year, so while Ernie took a pass, Love and a group of pros that included Palmer, Jack Nicklaus, Greg Norman, Nick Faldo and Paul Azinger took on the Donald Ross course from the tips, with amateurs as their partners. Spider Miller, the two-time U.S. Mid-Amateur champion, won the low gross with fellow Hoosier Jeff Overton (who finished T-9 at the Honda Classic) as his partner, shooting 62.
Love was excited not only about his low-net victory with Sea Island chairman Bill Jones, but also getting to play with Nicklaus, who teamed with Bob Kelly, the CEO of his equipment company. While Jack, playing this event for the first time, shot 72 from the back tees, Jones was the star of the day. In fact, he was such a star, that his nickname from Jack, according to Love, was "nine." As in the nine strokes he received kept turning natural pars into net birdies.
Besides the affectionate Nicklaus needle, Jones proudly gets his name on the wall, too. As for Love, "You would have thought he won a major," said Never Compromise putter rep Mike Eggeling, who was a part of the conversation. Love concurred. Even if it was in the low-net division, it was an honor. "It's a great wall to be on," he said.
Members bounce: It wasn't mentioned in the game stories coming out of Palm Beach Gardens, Fla., but Charles Law and his friend Tracy were positioned along the second fairway during the final round of the Honda Classic when a golf ball struck by Y.E. Yang went off line. Behind them was a cart path, and some out-of-bounds stakes, but Yang's ball hit Charles in the chest, then caught a piece of Tracy, before landing in between her sandals, which were kicked off in the grass below. The Golf Channel had this on air and photographers took photos. Yang seemed appreciative, took a drop, knocked his second shot on the green, and moved on to his first win in America.
It turns out I saw Law on Thursday morning at the Sea Plum Plaza Starbucks in Abacoa, Fla., where he described the scene at the Honda. "It was like a hole-in-one, right between the two sandals," Law said. "And it definitely loosened him up. He looked a little edgy, then he went on to make three straight birdies."
Law knew this because he and Tracy followed Yang for the rest of the day, telling fans along the way their story. They became the Yang rooting section as the Korean closed out his victory on a tough golf course. While Law never got the sandals autographed, it led a sharp-witted friend to note, "Maybe [Yang] could get an endorsement deal with the Sandals Resort?"
Who knows, that ball goes out of bounds, and Yang doesn't get to play in the Masters or this week's CA Championship, where he had breakfast earlier in the week with two men who helped make it possible, Korean pioneer K.J. Choi and swing instructor Brian Mogg.
The gift of golf: The fortuitous bounce for Yang reminds me of how Kathy Jorden saved the Ryder Cup at Kiawah Island in 1991. Jorden's job at the PGA of America that year was to transport the Cup from the 18th tee to the 18th green at Kiawah Island, just as Hale Irwin was teeing off in his match against Bernhard Langer. Everybody remembers Langer missing the three-foot putt at the end of that match that meant a victory for the United States. What they forget is that Irwin's tee ball hit Jorden in the back as she was walking down the left-side of the fairway, keeping the ball in play, and allowing Irwin to stay in the hole.
Jorden is part of a great American golf family that lost its patriarch, Mickie Gallagher Jr., last week during the Honda Classic. Mickie, 78, was the teaching pro at PGA, heading to work on Monday morning of tournament week when he was leveled with a massive stroke and heart attack. His son, Mickie III, is the head pro at Trump National in Bedminster, N.J. His widow, Bette, worked for years as a buyer for Mickie and for other clubs in the area, and is now working at the Palm Beach Golf Center. And Kathy still works for the PGA as a broadcasting consultation, while her sons, Kevin and Kyle, play high school golf in Palm Beach County.
Mickie Jr. was on Arnold Palmer's team at Wake Forest. The son of a pro, he was raised at Forest Hills CC in Augusta, Ga., and will be remembered in the world of golf as a tireless figure, always full of energy and positive words. Two years ago, the Metropolitan Golf Writers Association honored the Gallaghers as Family of the Year in 2007. His daughter may have saved the Ryder Cup, but she's the first to admit that it was her father who put her there.
The memorial service was Wednesday at St. Paul of the Cross in North Palm Beach. Two caddies from PGA National showed up in uniform, talking about how Mickie came by to visit them every day. A man who gave one of Mickie's last lessons showed up carrying the club he swung that day. Eight pros from the New Jersey section flew down to support Mickie III, who delivered the eulogy.
"Just like love, golf is a gift that he gave our entire family," Kathy said Thursday morning. "It's a wonderful family, it's our extended family. That's something he gave us. Growing up around golf with my family, I just can't imagine doing something else than work in golf. And it's not work, there's not a day it feels like work, just like him."
Back in the swing: The fact that Tiger Woods is playing the Tavistock Cup on Monday-Tuesday after the CA Championship is promising news; it also gives him two more competitive rounds before the Masters. He does not plan a pre-tournament scouting trip to Augusta this year, because the course changes have been minimal. Assuming he makes the cut at Bay Hill, that will give him 12 rounds in his run-up to Augusta, which should be plenty.
Before closing, I've got to give credit to Brian Keogh for asking one of the best press room questions I've heard in 30 years covering Doral. To Tiger Woods, the golf correspondent for the Irish Times asked this two-parter:
"A lot of younger players nowadays are getting compared to Tiger Woods. What's it like for Tiger Woods to be compared to Tiger Woods before the injury? And what's a fair way of judging your performance this week: would it be on whether you win or don't win the tournament, or are there other parameters?"
The question even impressed Woods, the best part of his response being, "As far as comparisons with -- well, pre- and post-surgery, well, I've had four of them, so pick which one you want."
Behind the scenes, Tiger was even talking about it, leaving his one-on-one with Steve Sands of the Golf Channel, adding a few comparatives like, "Tiger after marriage, Tiger after surgery, Tiger after children," as he headed out the door. It's yet another way to put Woods' career under the microscope, which is what we do.
Dinner With The Shark: I asked Greg Norman about Woods, the economy and a variety of subjects Thursday afternoon flying up to Myrtle Beach, S.C. for an evening of wine and dinner , hosted by daughter Morgan Leigh at his Australian Grille. This was my window to interview Greg for an upcoming GolfDigest.com Masters preview, so the laptop was open once we reaching cruising altitude over West Palm Beach.
On a satellite TV, Norman watched a telecast of the opening round of the CA Championship, checked out Woods for the first time since knee surgery, and smiled at a leader board that showed the depth he's working with as International captain for the upcoming Presidents Cup, with the names Jeev Milka Singh, Retief Goosen and Prayad Marksaeng sitting 1,2,3.
Early in the week, Norman's prospective team members had their sizes taken in the players locker room at Doral. "I wish I had four picks," Norman said. "From an international perspective, I've got a deep well to go to. In all honesty, it's a lot more wide open than in America. I don't see why we should have the same criteria. Look at Y.E. Yang. Now he's on the radar screen."
We were landing 75 minutes after taking off from PBIA, in the back of a limo on the tarmac, and at his restaurant within 10 minutes for an evening of wining and dining vendors from the Carolinas and the best customers from his grill. The restaurant is coming up on nine years old and still going strong while the rest of Myrtle Beach looked like a ghost town. Morgan picked out the menu, and matched each of the six courses with a selection of wines from Greg Norman Estates.
There will be more on this trip and Norman's thoughts about returning to Augusta around the week of the Shell Houston Open, where Norman will be playing in preparation for his first Masters since 2002.