News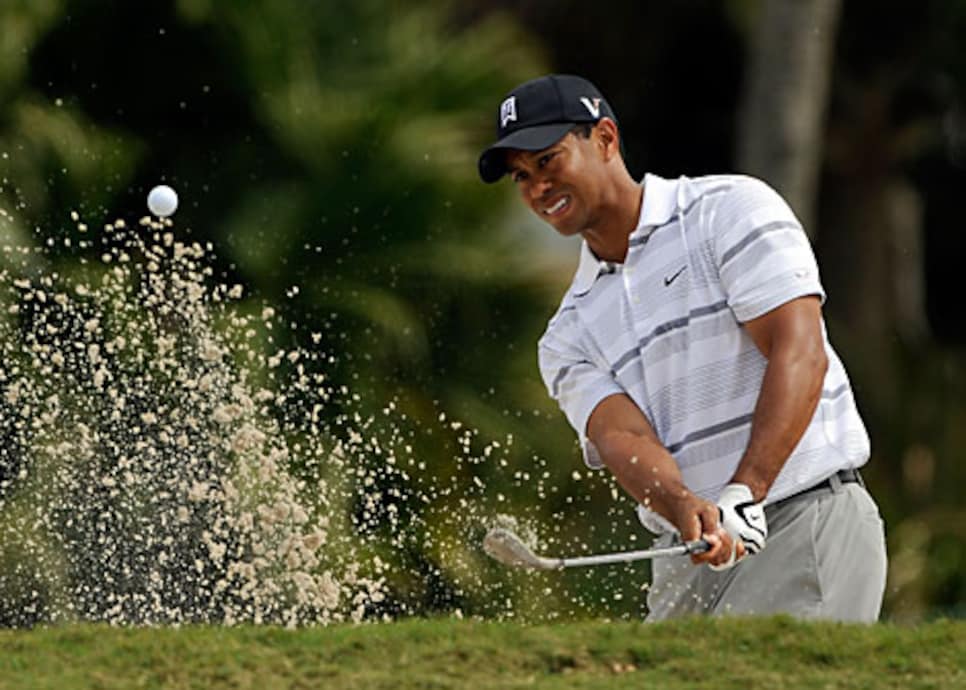 Tiger Woods' opening round of 1-under par 71 in the CA Championship could be deemed respectable -- if not for the 39 players who fared better
MIAMI -- At his last stroke-play tournament, Tiger Woods holed practically everything he looked at, which is how you win the U.S. Open on one leg.
On Thursday at the CA Championship, Woods looked like a man who either remained a shade rusty after his eight-month sabbatical; or had exhausted a significant share of karma in his 91-hole excursion at Torrey Pines South that ranks as one of the greatest major championship triumphs in golf history.
Then again, maybe the vicissitudes of the ancient can even engulf the world's best golfer on occasion.
Whatever the case, Woods completed his first stroke-play round since last June with a rather pedestrian 1-under-par 71 at Doral Resort's Blue Course. It was not a bad score on a layout where he has won three times, including the 2007 CA Championship and the '05 and '06 Ford Championships that preceded Doral's hosting this WGC event. It just wasn't very good on a day bereft of gusting winds that allowed 39 players to post a better number.
It was unquestionably the highest score he could have shot.
"Without a doubt," he said. "I hit the ball well, I putted well, but I just didn't get anything going. If a few putts went in, the score would be totally different."
Instead, he finds himself six strokes behind four players, including major championship winners Phil Mickelson and Retief Goosen.
That's hardly an insurmountable deficit after just 18 holes. And, hey, Woods has triumphed twice in this event, including the '07 edition, after opening with an identical score -- though he was only four back in each of those circumstances.
The statistics say he didn't putt badly; he needed 28 whacks on Doral's yawning greens. But he converted just three birdies, including an attempt from 1 feet, 8 inches at the par-3 15th.
Woods insisted that he hit good putts and the speed was OK, too, so something else was at work. The guy reads greens like it was the top line of an eye chart. But perhaps when you can't figure out which way the E is facing, you tend to drift closer to E on the scorecard.
For a guy who clearly knows his way around the Blue Monster and was eager to give his revamped swing more of an airing out in his second start of the season, Woods wasn't lost. But he still was searching.
"It was nice to just play the golf course," said Woods, who was eliminated in the second round of the Accenture Match Play Championship two weeks ago in Arizona in his first appearance since the U.S. Open. "Getting in a better environment was good at Tucson, but here, you're just playing the golf course, which is nice, and just focus on my own game, and just kind of plod my way along."
He might have plodded along, but his demeanor suggested that he was plotting for more.
Woods is one of the most patient men ever to whack at a dimpled sphere, but on Thursday he exhibited distinct annoyance when shots did not come off as intended.
His impatience reared up early. After coming out of his second shot on the 10th hole and pushing it into a greenside bunker on the right, Woods faced a relatively benign sand shot. But he got too much of the ball, and it trickled off the opposite side of the green, which elicited an angry swipe with his wedge.
A pulled short iron at the 11th also drew reaction. There were a few other loose swings, including a 4-iron he nuked into the water on the par-3 fourth hole, resulting in a bogey.
But the putter was clearly the culprit holding him back. By the time Woods got to the front nine, his second nine of the day, each misfire had him shaking his head or lifting his palms up in exasperation. He actually took the flatstick with him into a portable toilet after missing a birdie putt at the par-4 third. One has to wonder if he was talking to the offending implement.
Interestingly, the putter he knows well. It's the driver and irons that are new to the bag.
"It's just one of those things that we all know playing the game of golf you are going to have days like today," Woods said.
Given that he'd been gone so long, and that his last performance was so sensational and dramatic, it's easy to forget that he could endure a day such as what the huge galleries witnessed on Thursday.
"He looked good and his swing was solid, but he burned the edges a lot and I know he wasn't happy with that," said former Masters champion Mike Weir, who with Sweden's Robert Karlsson accompanied Woods. "But I wouldn't worry too much about him."
Indeed, we've seen him play with much more pain on his face -- and he eventually came through splendidly.