News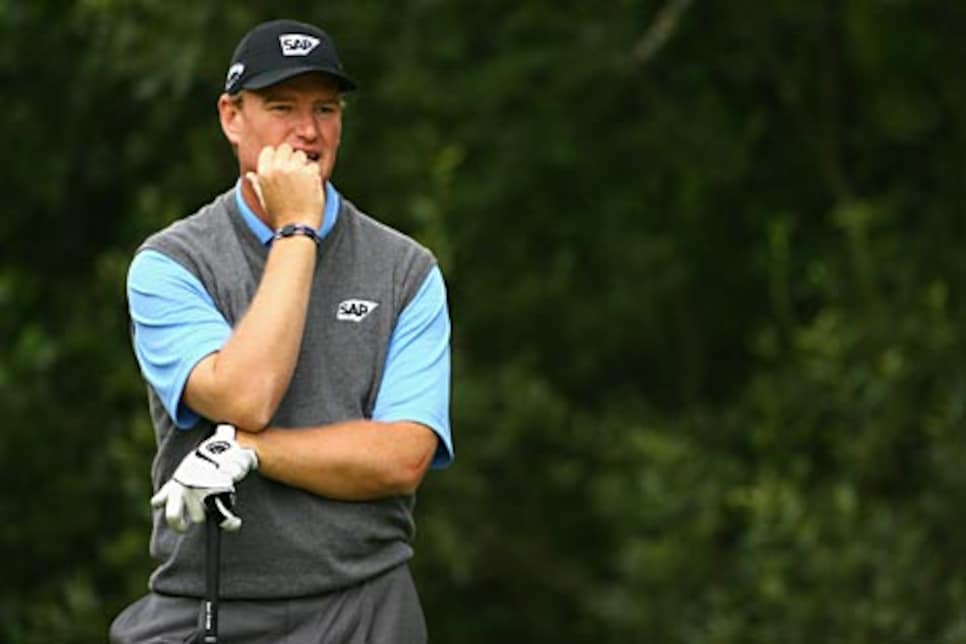 Ernie Els says he still has his eyes on the career Grand Slam. History suggests that's not likely to happen.

Before Tiger, he set the standard by which all other young players were judged. A big man with a cool head and a priceless touch around the greens, his mistakes were few and far between. On tough courses, his knack for economizing strokes won him a slew of tournaments, many of them while the early stages of the Woods Dynasty began redefining pro golf's competitive landscape.
Everybody talked about the gorgeous swing, and indeed, none were easier on the eyes, but Ernie Els didn't win two U.S. Opens before his 28th birthday because he was pretty or powerful. His 2002 British Open triumph was all grit, a weekend made memorable by a couple of spectacular bunker shots, then a weird, five-man playoff in which the contestants were sent back out in two groups.
Again, Els got up and down from greenside sand to secure the victory, although his moment of glory turned awkward when Frenchman Thomas Levet, one of the guys he'd beaten, wrapped his arms around the Big Easy's legs and tried to hoist him in the air. Nobody carried Ernie Els back then, certainly not at a tournament where Woods, who had won the year's first two majors, saw his Grand Slam hopes drown in a torrential, third-round downpour.
For once, or so it seemed, the luck of the draw had betrayed Tiger, and Els seized the opportunity. As the Royal & Ancient escorted him through the usual post-victory functions, the champ noticed that a half-dozen or so American golf writers, all of them familiar faces, had been waiting forever to get a few minutes with him.
"Let's hold it up here," Els told an R&A official, who clearly was agitated that anyone -- even the guy clutching the claret jug -- would dare to deviate from procedure. "People are waiting," the official huffed. Els glowered at him. "These guys have been waiting five years," he replied, and with that discussion over, he led the writers back to the Royal Muirfield locker room, where he spent 15 minutes talking about his first major title since the 1997 U.S. Open.
It seems like forever ago now, and by any measure, six years and eight months is an eternity when the subject is Els' elusive pursuit of a fourth major. He'll turn 40 in October, and two of the game's most reliable sources -- history and statistical data -- will tell you the window usually closes on those who find that many candles on their birthday cake.
Since Raymond Floyd's victory at the 1986 U.S. Open, just seven of 90 majors have been won by players 40 or older. Combine that with the fact that the '02 British remains Els' only such title in almost 12 years, a drought that seemed utterly inconceivable throughout the first half of this decade. In any context, the numbers do not present an optimistic outlook.
Is there a big trophy hiding somewhere in the Big Easy's future? It would be nice to think so. In recent years, no marquee player has dealt with more anguish on and off the course than Els. The heartbreak began when Phil Mickelson beat him at the buzzer at the 2004 Masters, the best golf tournament anywhere since the Nicklaus Miracle at Augusta National in '86.
Els was disconsolate afterward, and for good reason. He played the final 12 holes in six under, took a three-stroke lead to the 14th tee and couldn't even buy a spot in a playoff. Two months later at the U.S. Open, Els sat two strokes off the lead after 54 holes, earning him a spot alongside Retief Goosen in Sunday's final pairing. On a tragically mismanaged course setup, however, a man long considered one the game's most unflappable players let the brutal conditions get to him.
A double-bogey on the first hole seemed to wipe out any fight Els had left in him, and much as it hurt to shoot 80 and finish deep in the pack, he had a front-row seat to Goosen's second national championship in four years. If it was still a bit premature to wonder about the accumulation of negative jolts to his competitive psyche, Els suffered the worst defeat of his career just a month later at Royal Troon.
After that hard-to-fathom British Open playoff loss to Todd Hamilton, an embattled Els stomped away from the awards presentation in seething silence. He completed his rendition of the Heartbreak Slam by finishing one stroke out of three-man playoff at the PGA Championship. It remains his last foray into serious contention at the four tournaments in which he used to factor on a regular basis.
If it were simply a matter of the numbers on his scorecard, his golf swing or his health, I would have a greater sense of belief in Els' ability to return to premium form. More bothersome, however, is the high turnover rate among management companies, caddies, equipment manufacturers, swing coaches, even sports psychologists. Things have settled down a bit in the last couple of years, but the Big Easy I got to know in 2000 and 2001 used to scoff at the notion that a shrink could help him make putts.
Hanging out on the practice green at Doral earlier this week, I watched Els grinding over his stroke with Dr. Bob Rotella -- on a Tuesday afternoon, no less. Since knee surgery in the summer of 2005, the Big Easy has undergone a ton of changes, not only to the personnel around him, but in his approach to the game. The carefree dude who used to give you 15 or 20 minutes on the range, all while hitting one perfect shot after another, now asks that you set up an interview request with his agent.
By no means is that a crime, or even a bad idea. I just sense that the longer Els goes without returning to the level at which he once played the game and the harder he pushes himself, the closer he gets to the point of diminishing returns. Not that the Big Easy needs my two cents of advice on it. He's got at least one shrink on his payroll.
Last, and certainly not least, is the matter of Els' six-year-old son, Ben, who suffers from autism. I have a severely mentally challenged brother, and though I would never pretend to understand the emotions that run through the mind of a father whose only son is handicapped, I do know that the burden of raising such a child is immense, both logistically and emotionally.
That strain may not be the reason you hit a lousy 5-iron or miss a six-foot putt, but the day-to-day reality of the situation alters your perspective. In the grand scheme of things, Els' pursuit of a fourth major, and the worldwide success he enjoyed for roughly 10 years has proven much tougher, and taken far longer, than anyone could possibly have imagined. Long enough to leave me thinking it will never happen, although I wouldn't be brokenhearted if I was wrong.