News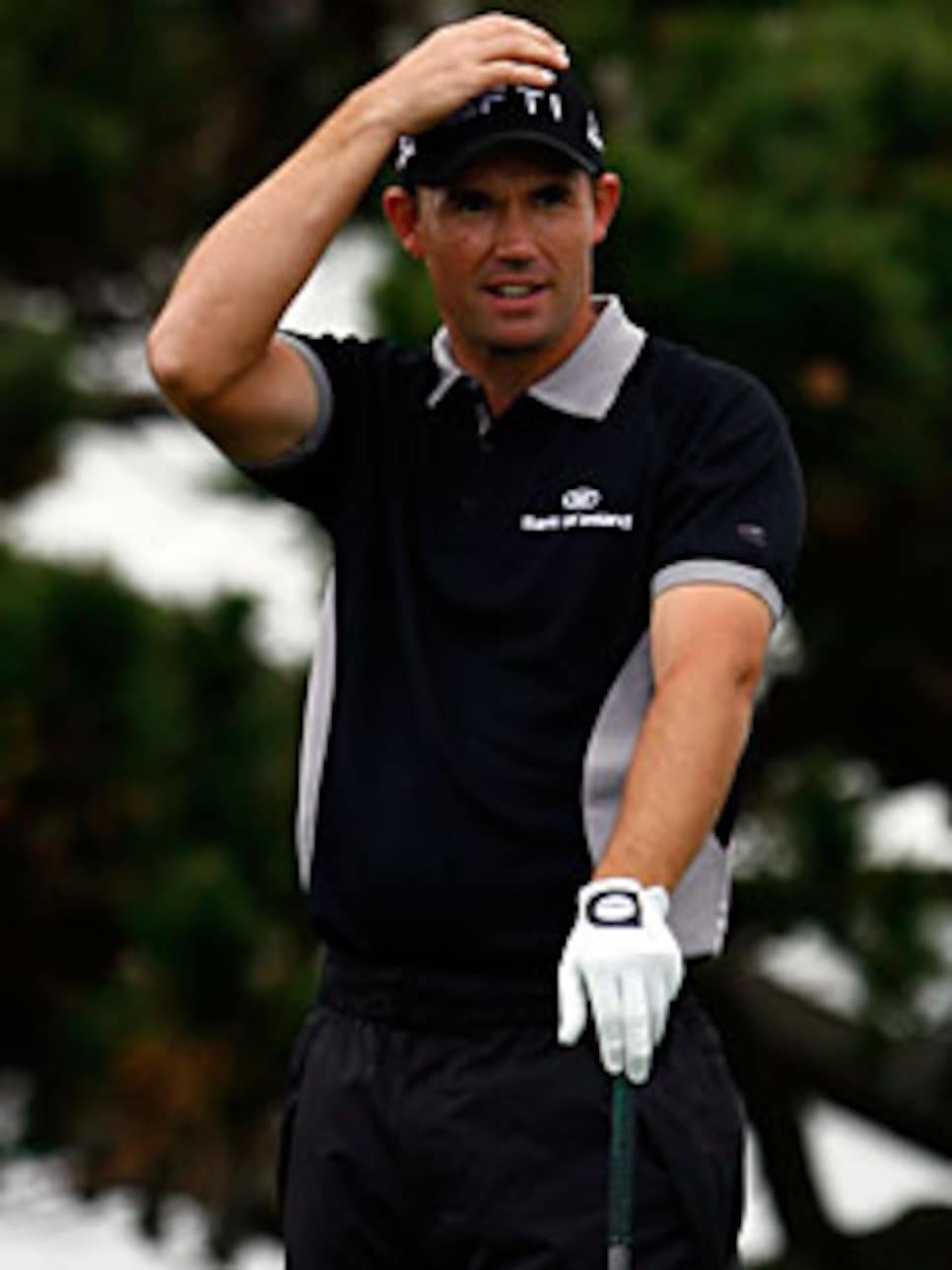 Padraig Harrington has won the last two major championship, but Thomas Bonk says the Irishman's play in 2009 "has been decidedly minor."
As if Tiger Woods needs any encouragement, he must be feeling sort of warm and cozy this week in the CA Championship at Doral, where he's docked a boat load of friends and relatives and is playing a course/tournament that he owns like few others.
What a nice way to celebrate a 539th week as No. 1 in the official rankings. Not only has Woods won twice at Doral before it was designated a World Golf Championship venue, he's also won this WGC event, or its previous incarnation sponsored by American Express, six times in four different countries.
Talk about passport control. Anyway, that's probably a good method to bite back at the Blue Monster. But as flashy as Woods' resume looks around the place, he's not exactly playing in a vacuum this week. All of the other players ranked in the top 10 are on hand to take on the 7,266-yard layout, and that's significant on a lot of fronts, but mostly because it's a chance to see how the best players stack up against each other at an early and perhaps critical juncture of the season.
Remember, it's M (Masters) minus a month now for Augusta. Of course, many will keep their eyes trained on Woods to see how he performs in his second tournament in his comeback, and his first stroke-play event since he won the U.S. Open last June.
How's everybody else doing so far? It's worth taking a closer look.
No. 2 Sergio Garcia: The reigning Vardon Trophy winner is back at it, leading the PGA Tour with a 68.25 scoring average. He's also first in greens in regulation. The problem is, he hasn't gotten much out of it. Garcia tied for 13th last week at the Honda after losing in the first round of the match play.
Garcia's problem in the early going? He's 131st in putting, and that's an area that has to come around, and quickly, before hitting Augusta.
__ No. 3 Phil Mickelson:__ We'll see what a short one-week break can do for Mickelson, who cranked out a five-tournament-in-five-week body of work that featured a little bit of everything -- from a missed cut (FBR Open) to average (T-42 at Torrey Pines, T-55 at Pebble Beach) to a victory (Riviera). He tied for 20th at Doral last year.
Mickelson's hope, as always, is to keep the ball on the fairway and to make putts. Butch Harmon, Mickelson's swing coach, said last week that there has already been some improvement there. "He seems to be working that out," Harmon said.
No. 4 Geoff Ogilvy: At this point, he's playing better than anyone in the world, at least according to the results, which show a victory at Kapalua and another one two weeks ago at the Match Play Championship.
How is this happening? Simple, his putting average is better than everyone on the PGA Tour, except for Aaron Baddeley, and his scoring average ranks seventh. In fact, Ogilvy is a total of 43 under in four stroke-play events. He's also the defending champion this week.
No. 5 Padraig Harrington: If there's anyone on this list who really needs to get it together, here is your guy. Sure, Harrington is halfway through what would be a Paddy Slam since he's won the last two majors. But his play so far has been decidedly minor. He tied for 24th at Torrey Pines, then missed the cut at both Pebble Beach and Riviera and lost in the first round of the match play.
You can ask again how this is happening. The answer is easily when you're 146th in driving distance, 173rd in fairways hit and 177th in putting.
No. 6 Vijay Singh: He's missed two cuts in three events, but he's still coming back from arthroscopic knee surgery and needs some time. The problem is that there isn't much of that before the Masters.
Singh has been oh, so flat. His driving distance ranks 120th, and what's worse, it's more than 17 yards shorter than his average from last year. Sixth in scoring a year ago, Singh is 183rd now, and he ranks 188th in putting. Maybe this is the week he puts it together. He tied for second here last year.
No. 7 Henrik Stenson: Obviously a big-time player, this Swede had three top 10s in important events last year (third at the British Open, T-4 at the PGA Championship and T-10 at the Players). He's also had three top fives on the European Tour so far, including a tie for second at Qatar, and he also knows something about WGC events, since he won the 2007 match play.
No. 8 Robert Karlsson: Another long-hitting Swede, he had three top 10s in the majors last year (T-4 at the U.S. Open, T-7 British Open, T-8 Masters). The first Swede to win the European Tour's Order of Merit, he tied for 30th last year at Doral.
__ No. 9 Kenny Perry:__ Already a winner this year -- he won a playoff over Charley Hoffman at the FBR Open -- he's had two other top 10s and is a combined 44 under in five stroke play PGA Tour events. What it's all leading up to is unclear. He doesn't have much of a record at the Masters -- six rounds under par in 22 covering eight appearances, with five missed cuts.
No. 10 Camilo Villegas: He has had two top 10s, featuring a tie for third at Torrey Pines, but he missed the cut last week at the Honda. Villegas hasn't had a great start and he needs to pick it up. Fifth last year in scoring, he's 96th this year (70.91). His putting average ranks 129th, a far cry from last year when he ranked 18th and won twice, one of them the Tour Championship.
So there are 10 names to consider. If you ask the reason for looking mainly at the top 10, remember that only two winners of this tournament in the last 12 years (it wasn't played in 2001) were not ranked in the top 10 at the time. The exceptions are Mike Weir in 2000 and Ogilvy last year. That's why.