News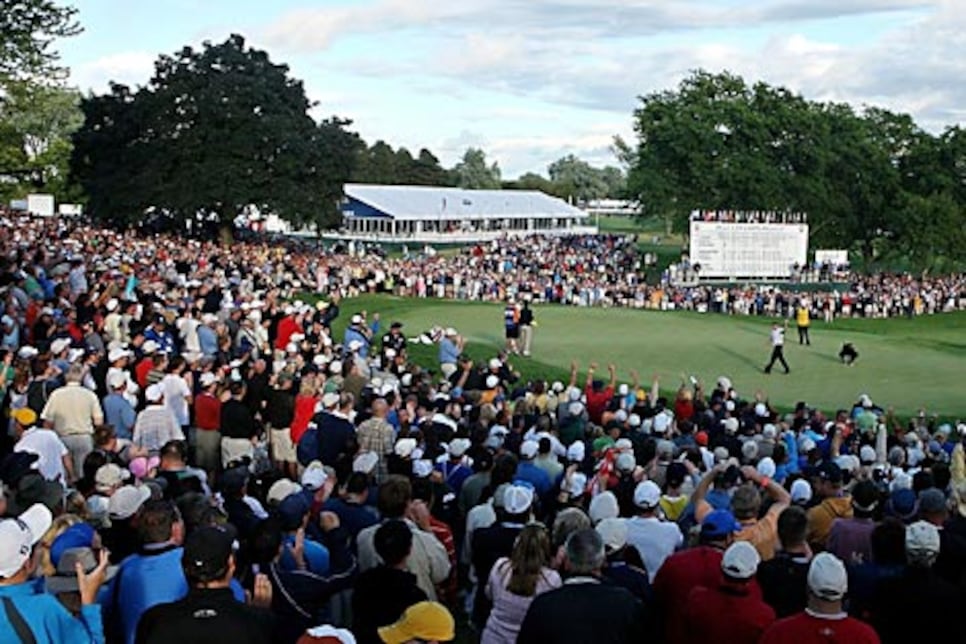 The 2008 PGA Championship at Oakland Hills was only the most recent example of how cities like Detroit embrace golf
Today I read a report that Saudi investors were buying up houses in Detroit at $1 a property. Coming as it did on the heels of Barney Frank's comments about Northern Trust Open and Sen. John Kerry's railing about sponsorships and entertainment -- where was he during his own campaign, I ask -- I was reminded to tell you what golf means to people there, my hometown.
If you know people in Detroit, if you have relatives there as I do, the idea of dropping events or canceling tournaments is not only bad, it's bizarre. During the PGA Championship last August, Detroiters had only one regret -- that Tiger was not playing. That tournament was a godsend even without him. The drive from the media hotel in Livonia to the course in Birmingham, about a 20-minute ride, along what used to be known as the "Gold Coast" was torture for a native Detroiter because there, on every commercial block, were signs that read Space Available, For Sale, For Lease, Now Renting ... sad. My cousin, who watched many of her radio-station co-workers lose their jobs, told me that a banker friend said he was doing 2,000 foreclosures a week. Could that be possible? I thought "no" then. If homes are going for a $1 apiece, I fear the answer is "yes" now.
A PGA study released at the time of the Championship found that golf in 2006, the last year the study covered, generated 56,977 jobs and more than $1.3 billion in golf-related hospitality and tourism spending. The total impact of golf in the state, direct and indirect, was $4.2 billion. Remember, Michigan ranks near the top in the nation in number of golf courses, especially public links. Meanwhile, clubs in the Detroit area have been hit especially hard. Two examples: One well-regarded club charged an initiation fee of $50,000; it dropped the fee to $5,000. Another in roughly the same bracket was taking members for monthly dues alone. I'm sure there are many more in these straits now.
Talked to a friend, a real estate developer, last week and he has dropped out of the club near my family home, which he used for both business and for family recreation. It is the club where all of us caddied and learned the game, a club originally founded by Henry Ford, a non-golfer, for his employees. How many similar resignations have there been? Thousands.
I wish Tiger would speak out on this. Golf delivers big for these local economies and in Michigan, where majors are played and the Buick Open is a fixture, the impact is huge -- especially now. The charity contributions are also significant, of course. Indeed, one might suggest that now is a good time for the other sports look at the golf model to learn how to give more back to communities than they do. Hey, I get that companies taking public money must be prudent. As Golf Digest's Editor-in-Chief, Jerry Tarde said in his editorial here, golf is the baby in this crisis, not the bathwater. It will be a very difficult baby to rear all over again if we toss it out.