News
Romero Takes Toshiba Title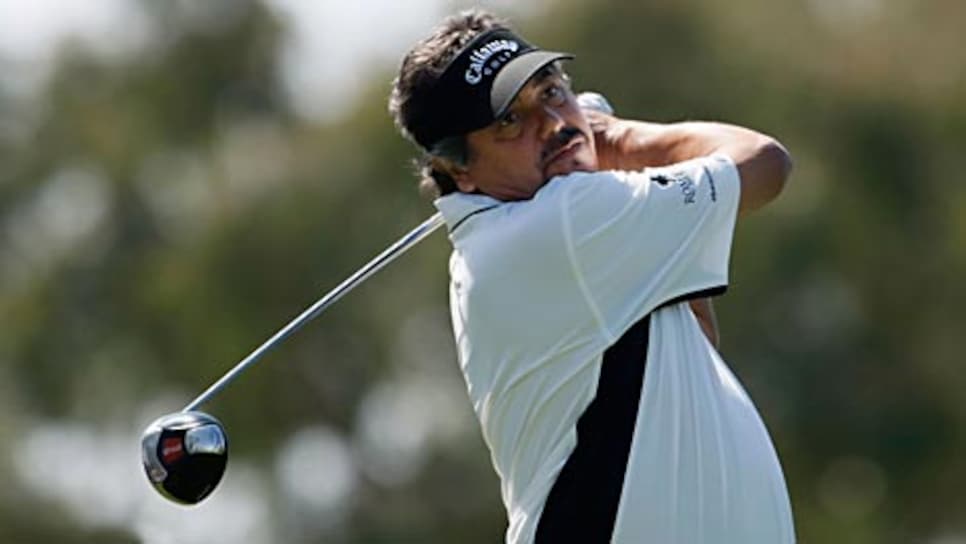 Romero had three Champions Tour wins in 2008 and is the reigning U.S. Senior Open champion.
NEWPORT BEACH, Calif. (AP) -- Eduardo Romero shot a 3-under 68 on Sunday to win the Toshiba Classic by one stroke over Joey Sindelar and Mark O'Meara.
Romero finished at 11-under 202 and Romero earned $255,000 for his fifth career Champions Tour victory.
"I was very relaxed all week, especially during the final round," he said. "I made a stupid bogey on the last hole."
By then Romero had separated himself from a pack of four golfers that were tied at 9-under through 11 holes.
Romero made three consecutive birdies to start the back nine, while O'Meara, Denis Watson and Sindelar weren't able to keep pace.
"I won the tournament on the back nine," Romero said. "I played OK on the front, but I lost concentration. I got more focused on the back nine and changed things around."
Sindelar had the best round of the day at 8-under 63.
He began the day seven shots out of the lead with 23 golfers in front of him, but posted his 63 early and then waited to see if Romero would falter.
"I was starting better than middle of the pack," Sindelar said. "So 8-under I would have expected top 10 for sure and probably around fifth."
O'Meara and Bernhard Langer entered the final round with the lead.
O'Meara, who shot a 1-under 70, had the best chance to catch Romero but made a bogey on 12 and missed a 3-foot birdie putt on 16 that would have pulled him to within two.
"It was very disappointing," O'Meara said. "I didn't putt very well. I didn't play great, but I played good enough to win. I haven't been there in a while, but the nerves were out there. I just didn't make the putts."
Romero joins Rodger Davis (Australia), Jose Maria Canizares (Spain) and Langer (Germany) as the fourth international winner of the Toshiba Classic at Newport Beach Country Club.