News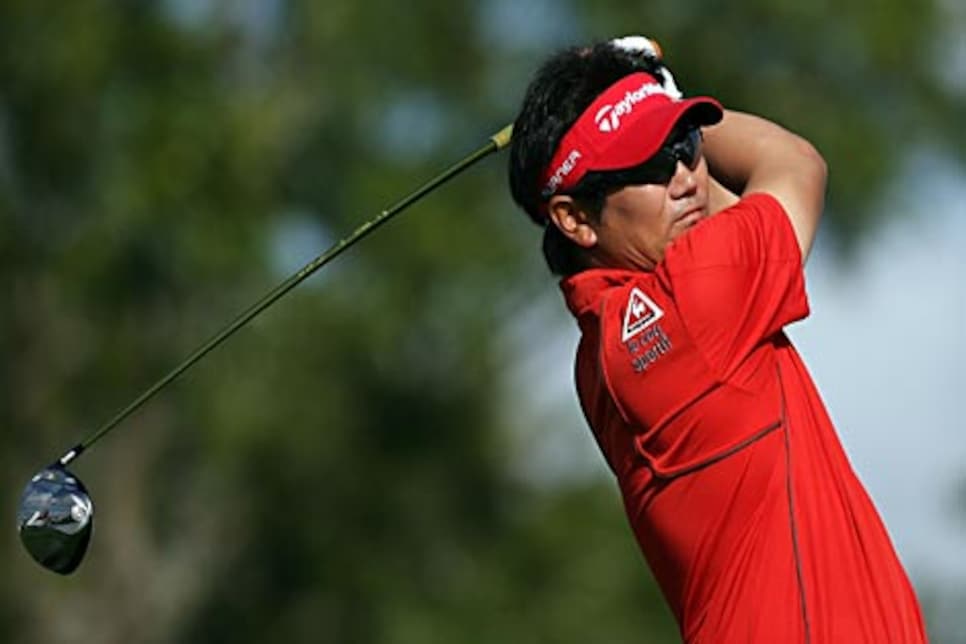 Yang's career best finish was a T-9 at the 2008 AT&T National Pebble Beach Pro-Am.
PALM BEACH GARDENS, Fla. (AP) -- Mark Calcavecchia finished a round of 65 and left PGA National in a hurry, since his son was waiting at an airport an hour away.
If he'd stayed, he would have seen his name move up the leaderboard.
And so it went on a topsy-turvy day at the Honda Classic -- where the guy who started the third round in front found a way to finish there, too.
Y.E. Yang shot even-par 70, good enough to give him a one-shot lead over Jeff Klauk (67) and Jeff Overton (70, with a triple-bogey on the 11th hole, going twice in the water, followed by two birdies in his last three holes) entering the Honda's final round.
"I kept fighting," Overton said. "And now I've got a chance to win."
Yang bogeyed the third hole, birdied the 15th and made nothing but pars the rest of the way, a slow-and-steady approach that worked.
Others, well, they needed a roller-coaster mentality.
Ben Crane got into the lead with an ace on the 162-yard fifth hole, then chipped in on the next hole for another birdie to get to 7 under. He then made two double-bogeys in the next five holes, finishing three shots back.
Charlie Wi (65), Brett Quigley (67) and John Rollins (68) all finished two shots off the pace, at 5 under.
"If you would have said, take 65 on the first tee, I would have said, 'See ya later,'" Wi said. "So, you know, I gave myself a chance."
So did Calcavecchia, who will start Sunday tied for seventh and in position to pull off something statistically bizarre.
He won the Honda in 1987, prevailed again 11 years later -- and now, 11 years after that, is in contention again, at 4 under for the week.
"It is nice to know that I can still compete out here with these young guys. It is," said Calcavecchia, who moved three spots up the leaderboard after leaving the course. "I'm still confident in my abilities and if I play a great round tomorrow I can win the tournament. And that would be a huge thrill for me."
The guys ahead of him aren't exactly some of golf's fabled closers, either.
Rollins has won twice in 238 career PGA Tour starts, and he's the only one of the first six on the leaderboard ever to win an event in golf's big leagues. Klauk is 0-for-7. Yang, 0-for-46. Wi, 0-for-84. Overton, 0-for-85. And then there's Quigley, a winner of more than $9 million but no tour events, going 0-for-339.
Someone will have a shot at a breakthrough Sunday.
"This is what we all play for," Klauk said. "This is what you want to do. You want to win out here on tour."
Yang, Crane, Overton, Klauk, Will MacKenzie (72) and James Nitties (70) all had at least a piece of the lead at some point Saturday. MacKenzie finished in a six-way tie for seventh, three shots back. Nitties is part of a group four shots off Yang's pace.
Crane used a 9-iron for his hole-in-one, the first at the Honda in seven years. It hopped a couple of times, just below the hole, then rolled into the cup. And on the next hole, his pitch from off the right side of the green came out a bit hotter than he liked, hit the pin and dropped.
Klauk had a bit of luck as well. He hasn't needed his putter at the par-4 14th since Thursday, chipping in there in both the second and third rounds.
"Easy chip, just right in," Klauk said. "The one you want to have."
And Yang had the position everyone wants to have going into Sunday.
Yang -- best known for beating a field that included Tiger Woods at the 2006 HSBC Champions in Shanghai -- simply plodded along, hitting most fairways and greens in winds that blew as strong as 24 mph.
Here's one example of Yang's anonymity at the Honda: As he walked through the resort lobby at PGA National around noon Saturday, no one seemed to notice. The previous evening in that very same area, some caddies were being asked for autographs.
If he hangs on Sunday, that'll probably start to change.
Notes:@ U.S. Open runner-up Rocco Mediate shot 77, making him one of seven players to fall victim to the second cut. ... The first twosome to go off Saturday, Scott Verplank and Ernie Els, played in about 3½ hours, more than a half-hour quicker than nearly every other group. ... Briny Baird wore a forest green shirt with the Miami Hurricanes' distinctive "U'' logo, delighting a few people following him around the course.