News
Langer Opens Title Defense With A Lead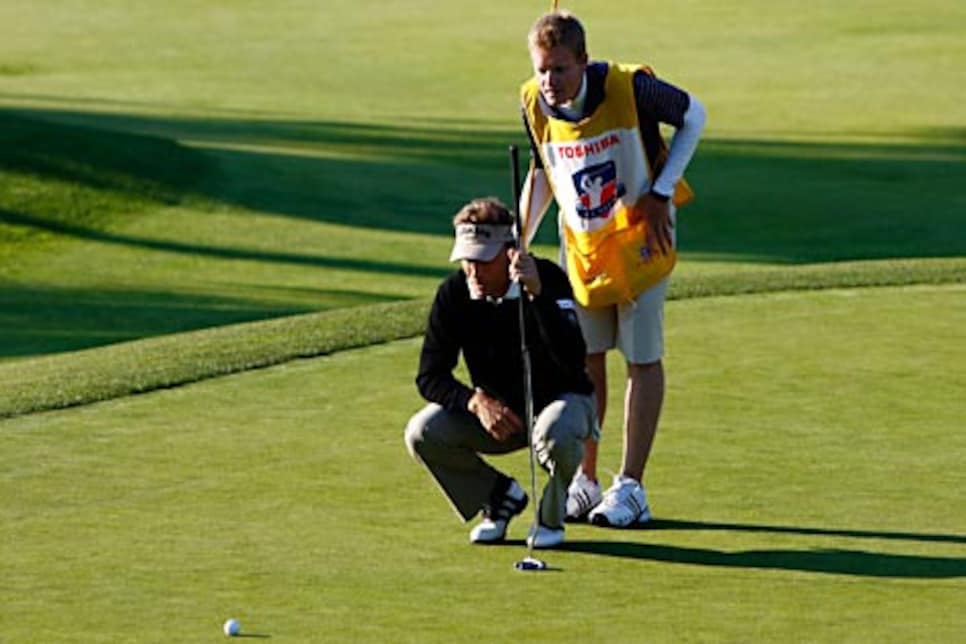 In additon to being perfect off the tee, Langer was T-1 for greens in regulation.
NEWPORT BEACH, Calif. (AP) -- Defending champion Bernhard Langer shot a 6-under 65 on Friday to take a one-stroke lead after the first round of the Toshiba Classic.
Langer, a two-time Masters winner, was one stroke ahead of Jim Colbert, Bob Gilder and Eduardo Romero.
Mark O'Meara and Denis Watson were two shots off the lead.
"I played really well," said Langer, who was 1 under through 11 holes and then played the next seven in 5 under. "I struck it really well. I missed a couple of putts. Otherwise I was really happy with my ball-striking.
"I'm pleased with the way it ended. It could have been a little better, but overall I'm happy."
Langer also shot 65 in last year's opening round. He now has played four rounds over the Newport Beach Country Club layout -- all under par.
While Langer was pleased, Colbert was overjoyed. Colbert, who won the event in 1996, has 20 Champions Tour victories, but none since the 2001 SBC Senior Classic.
Colbert, who turns 68 Monday, shot a stroke better than his age. He began the day 5-under through four holes and finished with a round that included one eagle, eight birdies, three bogeys, one double bogey and five pars.
"My goal nowadays, I hate to tell you, is just to be able to tee off on the second and third round," Colbert said.
Langer missed a chance to pad his lead on the closing hole. He hit a 5-wood second shot to five feet on the par 5 18th, but couldn't get the putt to drop.
"I think I read it correctly," he said. "But I'd like to have the lead by two shots. You hit it that close, you'd like to make the putt."
"I gave myself a lot of opportunities," Langer said. "I just couldn't convert. But I am happy with my game, just not making all of the putts."