News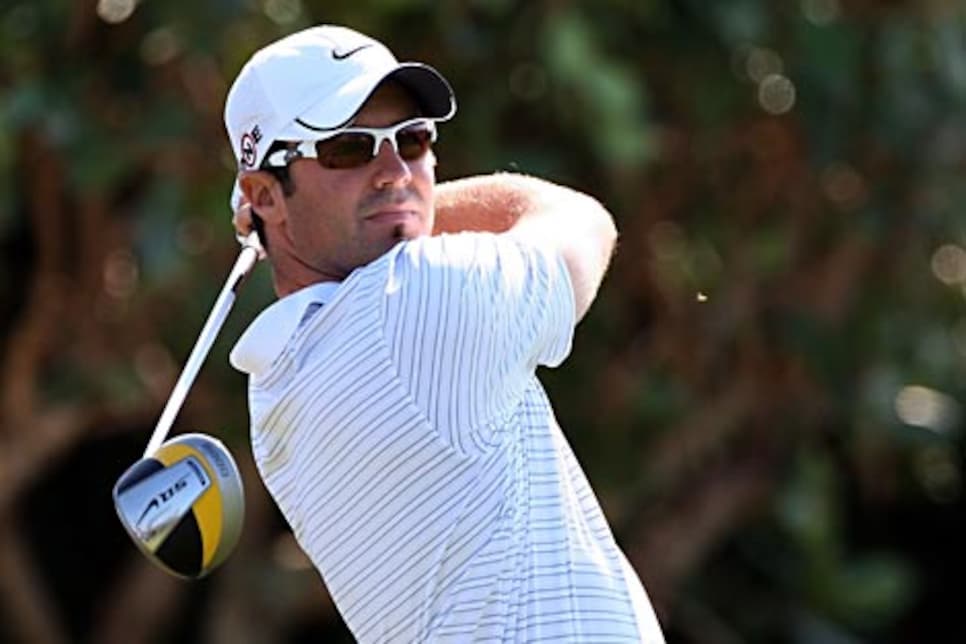 Immelman plans to play three-in-a-row as prep for his title defense at Augusta.
Trevor Immelman had never held a hockey puck, let alone thrown one down on center ice before an NHL game.
"It's cold," said the South African, taking hold of the hard rubber disc in the locker room of the Tampa Bay Storm Arena Football League team in the bowels of St. Petersburg Times Arena in Tampa.
"They're kept in a freezer," said Bill Wickett, VP of Communications and Public Relations for the Tampa Bay Lightning. "We call it the puck freezer."
Instead of the green jacket, Immelman was wearing a Lightning sweater, his name stitched across the back. This was Tuesday night, just minutes before the opening face off in a game against the Pittsburgh Penguins.
And you could tell he was genuinely excited and a little nervous: A good kind of nervous. When Immelman made a hole-in-one on the 16th hole at Augusta in 2005, he leaped into the sky like a Cirque du Soleil cast member, showing nimble athleticism. In his Cole Haan loafers, Immelman was afraid he might slip.
"How do you drop a puck?" he asked, and Wickett proceeded to show him how it worked.
The Masters champion was making a corporate appearance through an affiliation he has with Transitions, the Tampa Bay-based eyewear company that is one of the few American companies who find it politically correct and financially wise to be investing in golf, PGA Tour golf. Thus, the Transitions Championship in two weeks, the first of three straight weeks for Immelman in his run-up to Augusta. Transitions also has space on the boards at The Forum and is a partner of the Lightning.
We were given this access as part of a final media sweep being conducted by Immelman so he can try to regain the acute focus he had last year at Augusta, when he outlasted Tiger Woods by three strokes for his first major title. To this point, it has been hard putting all the pieces of mind and technique together with the deadly putting stroke that Immelman had on those icy Augusta greens.
We started the day in the back of a stretch limousine at Lake Nona, where I had 90 minutes with Immelman, his wife Carminita, and his wingman, Jon Wagner of IMG. At the Forum, we entered the backstage door where the hockey teams and rock stars make their entrance, took an elevator up to a floor where we exited through a kitchen, and found ourselves on the club level more than two hours before the game.
Immelman was a thorough professional, giving every interview all he had. Like Padraig Harrington, Geoff Ogilvy, Jim Furyk and Stewart Cink, Immelman has evolved into one of the most thoughtful interviews. He never tired through the process, starting with the Lightning radio and TV network, and continuing on to a conference room, where he knocked out three more interviews, one for a magazine that kept him on the line for the equivalent of a six-hour round. Before going on the ice, he met with the golf writers of the Tampa Tribune and St. Petersburg Times.
My old Tampa Bay roommate, Mick Elliott of the Tribune, opened by saying, "I didn't recognize you without your green jacket." It drew a laugh from Immelman, who at that point was wearing a suede Gucci blazer, and it made me realize that in the concourses upstairs, the hockey crowd wouldn't recognize him either.
In the Transitions box, Immelman hung with the company's executives, representatives from Innisbrook and tournament director Gerald Goodman, returning for two periods after the puck toss. In the 10 hours I was with him, I never saw Immelman check the time on his Rolex. I did see him smiling and enjoying himself, fascinated with the speed at which the sport of hockey is played.
Gettting back into the limo, Wagner had one more interview for him. Immelman grabbed the agent's cell phone and went through it all one more time, a Q&A that covered everything from Augusta to his relationship with Transitions, with the player quoting everything from UV rays to the size of his jacket (42 regular).
"Do you need anything more?" he asked, just as we were driving past the Tampa Bay Fairgrounds on I-4, so I popped open the laptop and we talked all the way back to Orlando. We arrived at 11:30 p.m. At 8 the following morning, he had PGA Tour Productions coming over to film him in his music room. At 11, he would conduct a media teleconference with Augusta National.
The details of this half-day in the life of a defending Masters champion will be in an upcoming issue of Golf World. We started with a photo shoot behind a set of Pearl drums once used by Bon Jovi Hall of Famer Tico Torres, and during the course of the interview process, went back to his childhood in South Africa; the painful operation to remove a tumor he endured just four months before his Maters win; and took it all the way forward to final steps he's making to defend, including a trip he made recently to Augusta National with brother Mark, the golf coach at Columbus (Ga.) State.
Cave Diving With The Shark: Greg Norman's preparation for the Masters has also stepped up, but with The Shark, there's always some sort of adventure along the way. On the Sunday morning of the Mayakoba Classic, at the host course he designed in Cancun, Norman and business manager Bart Collins accompanied cave diver and National Geographic explorer Sam Meacham to the Cenotes Taj Mahal for a little cave diving.
Norman has been in the Cave of the Sleeping Sharks, but this is a different type of diving experience. The Cenotes are a subterranean water system that runs under the Yucatan Peninsula. The discovery of Ancient Mayan ruins in these sink holes gave Norman the feeling he had during a honeymoon trip to the Pyramids.
"I've been a bit of a cave junkie for a while," Norman said after returning to his office in West Palm Beach. "Once you've penetrated the experience, you realize you have to have your wits about you. You're going into a place where there are no strings attached."
__Tiger's Schedule:__At Ernie Els' pre-tournament news conference for the Honda Classic a couple of weeks ago, before Woods announced his decision to make his comeback at the WGC-Accenture, Els suggested, "Tiger should just be playing here ... this is a flat walk and it's going to be warm and nice."
Warm, maybe, but nice depends on the interpretation. Woods played the National Junior PGA Championship at PGA National in 1990. As Stewart Cink reminded us Thursday in the interview room at PGA National Resort, Chris Couch threw a little 63 on him, sending Tiger up the highway with father Earl in the car to Orlando, a lesson learned.
With Woods building on Jupiter Island and buying properties along the Intracoastal, it seems like a matter of two-to-three years before Tiger has his base here and his children enrolled in school. His boat is docked not five miles from PGA, thus the rumors were flying around Palm Beach County last week that Woods' early checkout from the WGC-Accenture Match Play Championship might mean a surprise commitment to the Honda Classic.
It never happened, but even without Woods signing up, executive director Ken Kennerly has used the change in venues to PGA National and Ernie Els' victory in 2008 as validation for a tournament that was once nothing more than a welcome mat to the Florida Swing. Stuck in a bad spot on the schedule, between WGC events and a West Coast-to-East Coast lag, the Honda is now getting world-class players not only to sign up, but also to return. Sergio Garcia, who shot 67 to open on Thursday after finishing T-43 last year, is a case in point. The course is a good test for a major, but as Cink said, playable tough.
As for Woods, being low-key is the best approach Kennerly can take. Other than his own AT&T National, Woods hasn't included a new event on his schedule since adding Doral full-time beginning in 2005. The long-range hope is that when Tiger does move to Jupiter Island, he'll adopt PGA as a home venue the way he did Bay Hill. Moving up the Match Play and having Phoenix as the last stop on the West Coast swing -- as the tour is discussing -- would help. It's just a matter of whether Woods feels like he can win the Masters with three tournaments in Florida versus his customary two.