News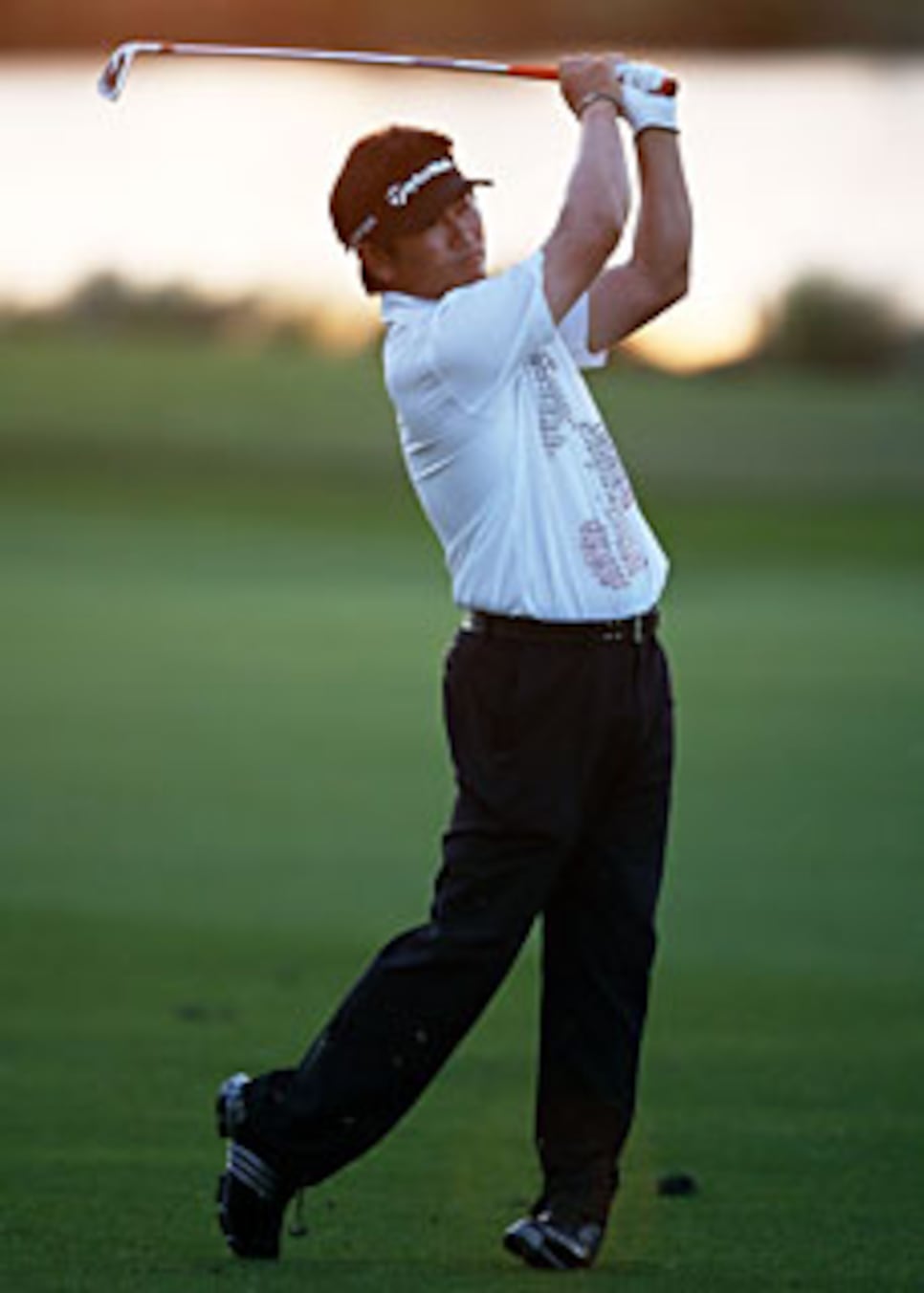 Y.E. Yang's late-day surge put him one ahead of the trio of Will MacKenzie, Jeff Overton and Robert Allenby.
PALM BEACH GARDENS, Fla. (AP) -- To say Y.E. Yang has had an erratic career would be putting it mildly.
He beat Tiger Woods to win the HSBC Champions in 2006. Three weeks later, he finished well out of contention at Q-School. And he got disqualified when trying to defend his title at Shanghai, because someone following play on the Internet noticed his scorecard was incorrect.
And now, the latest upswing for Yang: He's the leader midway through the Honda Classic. Yang shot a bogey-free round of 5-under 65 , moving to 7 under through two rounds at PGA National. The South Korean was one shot ahead of Will MacKenzie (67), Jeff Overton (67) and Robert Allenby (68).
"Prior to my win at the HSBC Champions in 2006, people in Korea knew me ... but outside of Korea, people really didn't know me at all," Yang said through an interpreter. "But after beating Tiger at the HSBC, people starting recognizing me, not only in Korea but outside as well. To be mentioned in the same context as Tiger, it's very honorable."
Of the top 21 players on the leaderboard, only MacKenzie and Stewart Cink have PGA Tour wins since 2006.
More people were probably saying "Who's he?"
"It just goes to show how much better, more competitive it's become the last few years," Overton said. "Tiger raised the bar and it's unbelievable how good these guys are. It really is. It's unbelievable how many players have not won yet, but only one guy wins each week. You only have 35 or 40 weeks, you get Tiger winning half of them, so there's not a lot of room for other players."
Seems like there will be this weekend.
Ben Crane, winless since 2005, shot a 5-under 65 on his 33rd birthday to get to 5 under, two shots off Yang's pace. David Mathis (68) was alone at 4 under, and six others were at 3 under, including Greg Chalmers (who shot 64, Friday's best round) and Harrison Frazar (65).
"It's easy to fade on this golf course," said MacKenzie, who won the Viking Classic last fall, but came into the Honda with a string of four consecutive missed cuts. "You've got to somehow have confidence and take your medicine when you have to ... swallow your pride and make bogey sometimes."
Yang -- who needed only 25 putts Friday, one-putting 11 times -- hasn't been in that position much so far.
He's made one bogey in the first two rounds -- the 12th hole on Thursday, and immediately followed that with a birdie. Yang started on the back side Friday, put together one birdie and eight pars before making the turn, and got rolling from there with three straight birdies that vaulted him up the leaderboard. A 12-footer on the par-3 7th was his fifth birdie of the day, giving him the outright lead.
From there, he hustled to finish before darkness fell.
"I didn't want to have to wake up early," Yang said.
No chance of that now -- he'll be going off in the final group Saturday.
Erik Compton's stirring run continued with his second straight round of 69, getting him to 2 under in his second PGA Tour event since undergoing heart-transplant surgery for the second time last year.
"Obviously I have to do some work on the weekend. ... Still a lot of golf to play," Compton said.
Compton walked Friday alongside John Paul George, 14, who has a condition called hypoplastic left heart. In layman's terms, it means the left side of the boy's heart doesn't work.
John Paul is 4-foot-1 and looks barely half his age. And he was exhausted afterward -- just like Compton -- but the boy finished the whole course.
"This is the best day of my life," Paul said.
Among notables, Rory McIlroy (68) and Cink (71) were five shots back, Sergio Garcia (72) was six shots off the lead and Rocco Mediate (67) was within seven.
Defending champion Ernie Els made an 8-footer for birdie on the par-5 18th hole to get to 3 over, which wound up being the cut line. Camilo Villegas (74) missed the cut by four shots.
Tadd Fujikawa, the 18-year-old from Hawaii, made a 20-footer for birdie on his final hole to reach 2 over for the week, and a big fist pump showed he thought he needed that putt just to play the weekend.
Turns out, he had a little room to spare.
"Very happy with the way I finished," said Fujikawa, who was dead last at PGA National through two rounds last year. "In the beginning, I struggled a little bit, but in the end I played pretty well."
Notes: Mathias Gronberg, who shot 89 on Thursday, shot 43 on the back nine (he started at No. 10) on Friday and withdrew. His score of 132 through 27 holes was only one shot less than Yang needed to play the first 36. ... Chalmers moved 74 spots up the leaderboard. ... Jeff Klauk had five straight birdies, one shy of Fred Couples' PGA Tour rookie record. Klauk is part of the six-way tie for seventh at 3 under.