News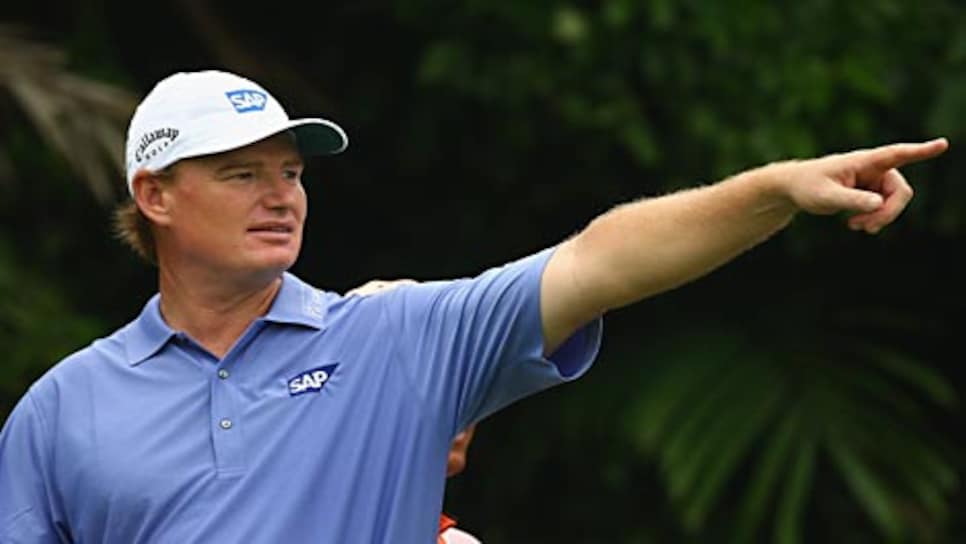 A year after his win in the Honda Classic, Ernie Els has become a leading advocate for children with autism.
PALM BEACH GARDENS, Fla. -- It was just over a year ago that Ernie Els came out with news that his son, Ben, had autism. He did this just after winning the 2008 Honda Classic, using the platform to raise awareness and find a cure for one of the world's most rapidly advancing disorders. The outpouring of response has been exactly the reason Els called public attention to young Ben's illness, the undercurrent helping to serve as an emotional breakthrough for one of golf's most beloved characters.
There was nothing easy about Els as he played winless golf for several years. Breaking a stretch of 47 PGA Tour events without a victory at last year's Honda, then announcing Ben's condition the following week at the PODS Championship in Tampa Bay were steps in a process that eventually put a smile back on Els' face, and his feet back on this earth.
"It was good time; it also got to the stage where you've either got to talk about what's happened to Ben or not," Els said during a news conference in late February at PGA National. "He was so in the public eye, not only in the U.S. but worldwide. When you travel with Ben, you could see something was going on. I wasn't trying to hide behind autism, and I wanted to get involved in finding a cure for autism, because it's such a big problem. The win got me to talk about it."
And when he talked, people inside the game, and those who follow golf worldwide, found themselves embracing or relating to The Big Easy even more. The numbers are staggering: one in 150 children in the United States has autism. "Since I came out, it's been like wildfire," he said. "It's amazing how big a problem it is, and you don't know until you get involved."
Els' foundation, Els For Autism, along with Cigar Aficionado founder Marvin Shanken, have coordinated a sold out pro-am benefiting autism at PGA on March 23. Ben is enrolled at an autism center in West Palm Beach -- a big reason for the family's move to Jupiter, Fla. A connection was made to Dan Marino, whose son, Michael, has done well with early interventions. Letters and emails pour into Els' office, engaging in dialogue. It's part of the therapy.
"A good little stage to talk about it and it helped out a lot," Els said. "My wife, she's here more than I am. How it's changed me, I'm not sure. I talk about it more in the public eye, with other people who get affected with it. They like to talk to me about it. Even a lot of the young guys (on tour) who just got married, they ask me questions. They're going to have families, it's going to happen, there's no way of telling if it's going to happen or not. It's not like it's in your blood or genes. We're trying to find out why it's happened, whether it's food or genes or shots you get. You get a lot of questions about it and being a well-known person, people want to relate to you about the same problem. It makes them feel better about their problem."
After his win at the Honda, Els never used Ben's condition as an excuse for his drop-off in play through the rest of the Florida Swing and the Masters, where he missed the cut. But even on tour, he was confronted with a new dynamic almost immediately. At Bay Hill he talked to Cliff Kresge, whose son has autism. During the off-season he helped raise money to build a school for the family of European Tour player Richard Sterne in their native South Africa. He was told Jason Gore's son had exhibited signs of autism, and imagines they will have a chat.
"You've seen me walk off golf courses the past couple of years and it's like I was on a different planet," Els said. "As a parent, you deal with things. My wife is strong, and I have a great little Samantha, but you can't but feel for this kid Ben. Everything about him is perfect, but he's not going to be a normal kid one day. He's not going to play sport and do the things you envision. But there's no way because of my golfing screw-ups I can blame it on [Ben's condition]."
World Autism Awareness Day is April 2, but Els has already been at work making the golf world more aware. It is his cross to bear, and as he alluded, there were days when it got too heavy. Once Ernie wrapped his head around it, ready to be both father and spokesperson, the mood lightened. Ernie is focused on the Masters. Friends says it's the "most confident" they've seen Ernie in five years, at least since Phil Mickelson birdied the last hole at Augusta while Els stroked putts on the practice green.
Big and blond, with blue eyes, Ben turned 6 in October, and has many of Ernie's characteristics. Ernie would love to have him at the green jacket ceremony in the Butler Cabin. He may be restless, but the folks at Augusta National will certainly understand.
"It's good for me, when people see little Ben, they know what his condition is and it makes you feel a lot more comfortable. To walk into a room or watch a movie with an autistic child is not a normal run-of-the-mill deal," Els explained. "The people on tour, they love Ben. Thank goodness he's a very lovable kid. He does get a little excited, but he's not aggressive at all. He's different and he has a different energy. The kids at the day care love him, too. Hey listen, (as a parent it makes you realize) he's not that different, it's not that big a deal."