News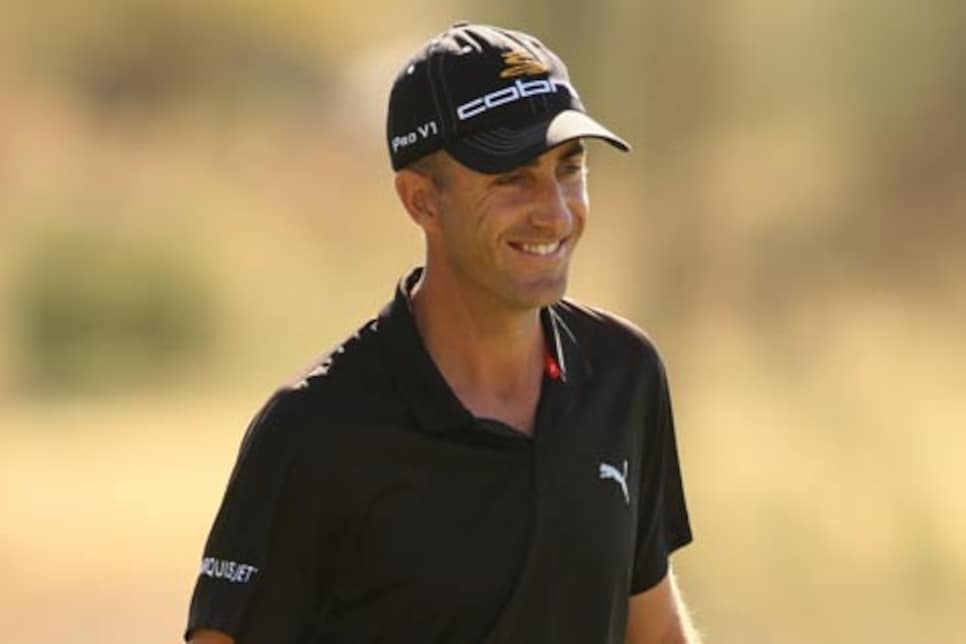 The combination of being introspective, yet full of candor and insight distinguishes Ogilvy from most of his fellow PGA Tour players.

A couple of weeks after Geoff Ogilvy won the 2006 U.S. Open, I was assigned to write a story on a guy most people knew little about, a player who won his first major title largely because Phil Mickelson did such a terrific job of blowing his fourth. It wasn't until after the British Open that I was able to set up an interview with Ogilvy. His management agency was understandably protective of their hot client and didn't want to overload him with media commitments, especially at that point of the season.
We met at the Buick Open in early August. A half-hour limit had been imposed by Ogilvy's manager, plenty of time to get what I needed, and I distinctly remember mentioning that agreement to Ogilvy at least twice during the 90-or-so minutes we spent talking in a banquet room at Warwick Hills.
The formal interview session ended when I ran out of room on my cassette tape, although our conversation continued until someone at the club told us they needed to finish preparing the room for a pro-am function that evening. To say that players of Ogilvy's caliber are rarely so generous with their time would be to suggest that it has happened more than once.
Beyond the accommodation factor, Ogilvy is by far the most introspective of today's top-tier golfers, a trait reaffirmed during his title run at last week's WGC-Accenture Match Play Championship. In pleasant contrast to the canned responses most players bring to the media center, Ogilvy thinks his way through answers and delivers them with honesty and intelligence, traces of ego and arrogance not included.
Both of his post-victory weekend news conferences were stuffed with great quotes. Asked Saturday why he has done so well in the format -- he also won this tournament in 2006 and finished second to Henrik Stenson a year later -- Ogilvy replied with a depth and clarity you just don't hear every day.
"You could have a reasonable year out here and go the entire year without facing a must-make putt," he said. 'I've had 15 this week. First round, I go to the 19th hole, it's like a little playoff. Same thing the next day. You feel as much pressure on the 13th hole of your first-round match as you might on the 13th hole on Sunday of a normal tournament when you're one back. We play golf to see if we can rise up to those situations, and I enjoy that aspect of it."
Asked about the weirdness of being one of just two players on the course in the Match Play final, Ogilvy took the room on a detailed and somewhat humorous walk-through to the first tee. It all makes perfect sense now, but it's not like anyone would think of it unless they had experienced it.
"You pull into the players parking lot that morning and there's one or two cars," he began. "That's odd. Then you go in for breakfast and there are 25 tables, but you're all alone. You sit down to eat and the locker-room attendant is standing over you the whole time because you're one of only two guys he has to take care of.
"So you head out to the range. The guy you're playing goes to one side and you head to the other. When you're playing it all seems normal, but it's all the little stuff that makes it so different."
Not everything he says is a profundity or a pearl of wisdom, and there are lots of wittier guys on the PGA Tour. What makes Ogilvy so appealing, and what shouldn't be lost on serious golf fans, is his willingness to offer candor and insight so that a more interesting perspective might be transmitted to the public. The print media may not be what it once was, but with the Internet becoming the primary source of information for a growing number of day-to-day followers, there is hope for the written word yet.
The tour itself doesn't always remember that, but some players still do, and those who stuck around for the post-Tiger part of the Match Play were rewarded with two of them in the finals. Paul Casey is as likeable and well-spoken a tour pro as you will find. He was beaten soundly on Sunday in a match made more difficult for both players by their friendship, something each guy elaborated on to an extent that it provided a glimpse of their competitive souls.
"We're playing for a lot," Casey said. "A lot of points, a lot of money, a lot of pride. You get into a match-play situation and it's pretty much like a fight: one guy against the other. If you get the opportunity, without being bawdy, you've got to step on the other guy's throat. But when it's a friend of yours, you can't say you want to step on his throat. It would be very rude."
Ogilvy took a more pragmatic viewpoint, saying, "I've been on the wrong end of this final before and it's not a very nice feeling. You would rather play someone you don't know – it's easier to bear down." As Casey still searches for his first victory in the United States, his pal heads to Doral, where he's the defending champion, with three WGC titles and that U.S. Open in his pocket.
On a week when several respected members of golf's full-time press corps were heard complaining about the difficulties and sour attitude they've encountered when dealing with Camilo Villegas, Ogilvy seemed to arrive on the doorstep of superstardom, which could only mean more trips to the media center. It has been a long time since a premium player excelled at both games. If the drought is almost over, you won't hear anyone griping about it at this end.