News
A Little Shaky, But Wilson Gets It Done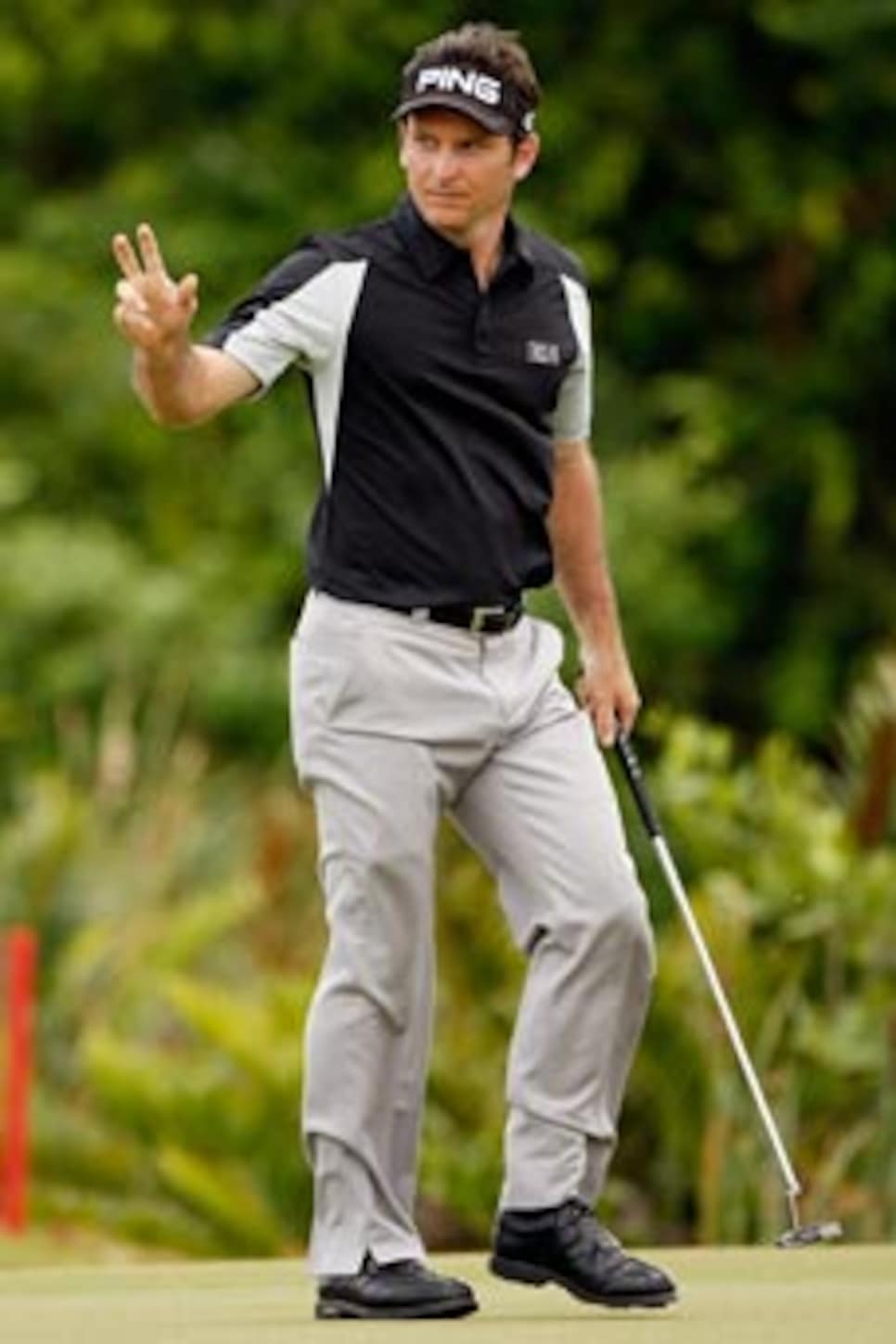 Mayakoba was Wilson's second PGA Tour win. His previous win was the Honda Classic in 2007.
PLAYA DEL CARMEN, Mexico (AP) -- Mark Wilson took over the lead of the Mayakoba Golf Classic for good with two early birdies Sunday, yet had to fight through some wobbly play down the stretch to earn his second career PGA Tour victory.
Henry shot 68 on Sunday and was alone in second at 269. Kevin Streelman, whose 64 was the low round Sunday, and Heath Slocum (67) tied for third at 270.
Bo Van Pelt, who started the day tied with Wilson, shot 76 to finish at 275 and tied for 15th.
Wilson's bid for a go-ahead birdie on the opening hole rimmed out, but he nailed birdie putts on the next two holes. Two birdies later, he stood on the 13th tee box leading by three strokes. But by the time he tapped in for bogey on 14, his lead over Henry was down to one shot -- and the weather was changing, too.
Dark clouds rolled in from the Carribean Sea and the wind turned stiffer than it'd been all week, flapping collars and rippling shirts sleeves and pants legs.
Henry then bogeyed the 16th and 17th holes, and Wilson bogeyed 16, too. Wilson managed to par 17 about the same time that Henry turned up his palms in frustration after the wind swirled his approach to the 18th green.
Wilson had an easy putt to par the final hole and finish at 13-under 267 for the week. He gave a little fist pump, then tipped his cap to the crowd and shared a fist bump with his caddie.
At 5-foot-8, 145 pounds, Wilson fits the mold of the previous two winners of this event, Fred Funk and Brian Gay. Like the other little guys, he tamed the 6,923-yard, par-70 El Camaleon course by keeping tee shots in the fairways and mastering the speed of the greens.
Wilson's only previous victory was at the Honda Classic in 2007, and it took winning a four-man playoff. But that wasn't even the biggest story of that week. Wilson was on the verge of missing the cut when he took a two-stroke penalty because his caddy told another golfer in the group what club Wilson had hit on a hole, violating a rule about not giving advice. Technically it's Rule 8-1, but it's come to be known as the Mark Wilson Rule.
Last year, Wilson tied for second at the Valero Texas Open and had a dozen Top 25 finishes in 29 events. But he opened this year with three missed cuts and two also-rans, prompting a visit with putting guru Kevin Weeks last Sunday night.
Weeks immediately saw that Wilson was lining up wrong, throwing his balance out of whack. To fix it, Wilson merely had to put his right foot a few inches wider. He birdied the first hole of this tournament and built confidence from there, freed from the pressure of needing to be perfect tee-to-green to compensate for his putting woes. He was fourth after a first-round 66, then jumped into the lead with a 64. He shot a 69 on Saturday.
Wilson tied for 66th at this tournament the only other time he played it, in 2007.
Also Sunday, the head of tournament sponsor OHL, Juan Miguel Villar Mir, said he's hopeful that within two years this tournament will get its own weekend on the PGA Tour calendar, instead of being overshadowed by the Accenture Match Play Championship. He said the global economic crunch could open up a spot and his company "would take that week immediately."
"The PGA has told us we are in line," Villar Mir said.
"We hope so," he said, adding that the purse would grow from $3.6 million if more of the world's best players were here. "We would not have a problem putting the money up if we have our own week."