News
Na, Wilson Share Lead Halfway Home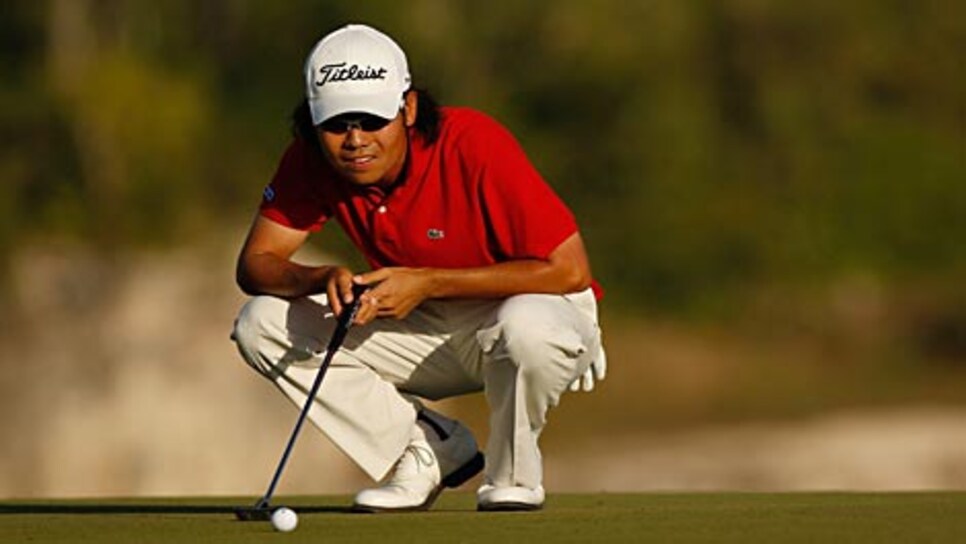 Na's eight-under 62 came with two birdies on the front nine, six on the back and no bogeys.
PLAYA DEL CARMEN, Mexico (AP) -- Kevin Na was going over all the things that are lining up for him right now, even bringing up something from four years ago that seemed like a bit of a stretch.
His point was obvious: The 25-year-old expects his first PGA Tour win to come at the Mayakoba Golf Classic this weekend.
"I'm not going to say that," he said, smiling wide and laughing nervously. "But ..."
With the world's best 64 players in Arizona, Na came to Mexico seeking to build on a terrific start and certainly has. He shot an 8-under 62 Friday to zoom into a first-place tie with Mark Wilson (64) midway through the PGA Tour's annual stop in Mexico.
Na had two birdies and no bogeys over his first nine holes, then something clicked as he made the turn. He birdied six of the next eight holes -- including a pair that were among the 32 toughest on the PGA Tour last season -- then stood over a 10-foot putt on the final green that would've tied the best round in the tournament's 3-year history. He barely missed to the right, forcing him to settle for sharing the best two-round score with Wilson at 10 under.
Trivial marks like those aren't what Na is chasing. After finishing third, fifth and tied for 25th so far this year, he's looking to go home with the hefty chameleon trophy that goes to the winner of this tournament, played on the El Camaleon course designed by Greg Norman.
"This is my sixth year out here (on tour), and I think I'm ready to start making a move," said Na, whose third-place finish came at the FBR Open in Scottsdale and included a missed 8-footer on the final hole to keep him out of a playoff.
Na opened this tournament with a 68, never making a putt longer than about 6 feet. When he saved par with a 9-footer on his first hole Friday, he was eager to see where it was going to lead.
"There was a couple of short putts I missed for birdie, but overall I hit a lot of good shots, and kept making pars," he said. "The reason why I was able to really take it low on the back nine is I was patient. Even though I wasn't making putts, I would hit a good putt and keep telling myself, 'Wait, it'll start falling,' and that's what I did on my back nine."
While Na came in with confidence, Wilson arrived filled with curiosity.
At home in Chicago on Sunday night, he visited with putting guru Kevin Weeks to try figuring out why he was struggling so much this season -- three cuts and an also-ran in two other tournaments.
Weeks saw the problem right away: Wilson was lining up wrong, putting about 70 percent of his weight on his right foot and only 30 percent on his left. The fix was simple, too. All Wilson had to do was shift his right foot a few inches wider in his putting stance.
"It felt naturally standing like that for some reason," Wilson said. "But then when he showed me it was wrong, I was like, 'Oh, yeah, that makes no sense.'"
Voila. Wilson was tied for fourth after the first round, then grabbed the lead late in his second round. He added to it with a birdie on his final hole, closing the round at 6 under.
"It's amazing how different you feel over every shot when you feel like you're going to make your fair share of putts," said Wilson, who is seeking only his second win, and first since 2007. This is the first time in his career he's led after the second round.
First-round leader Bo Van Pelt (69) and J.J. Henry (66) were two strokes back at 8 under, Briny Baird (66) and Chris Riley (68) followed at 7 under, and veteran Corey Pavin (68) topped a group at 5 under.
David Toms, the highest-ranked player in the field at No. 65, shot a 67 to reach 3 under, and defending champion Brian Gay was another shot back after a 70.
Those not making the cut included Jose Coceres, who lost a playoff to Fred Funk in the debut tournament two years ago; Pablo Larrazbal, the European tour's reigning rookie of the year who'd been among the first-round leaders with a 66; and Roland Thatcher, who set the tournament record of 61 last year.
The previous two-round best was 9 under, set by Funk, Boo Weekley and Cameron Beckman in 2007.