News
Van Pelt Scorches The Back Nine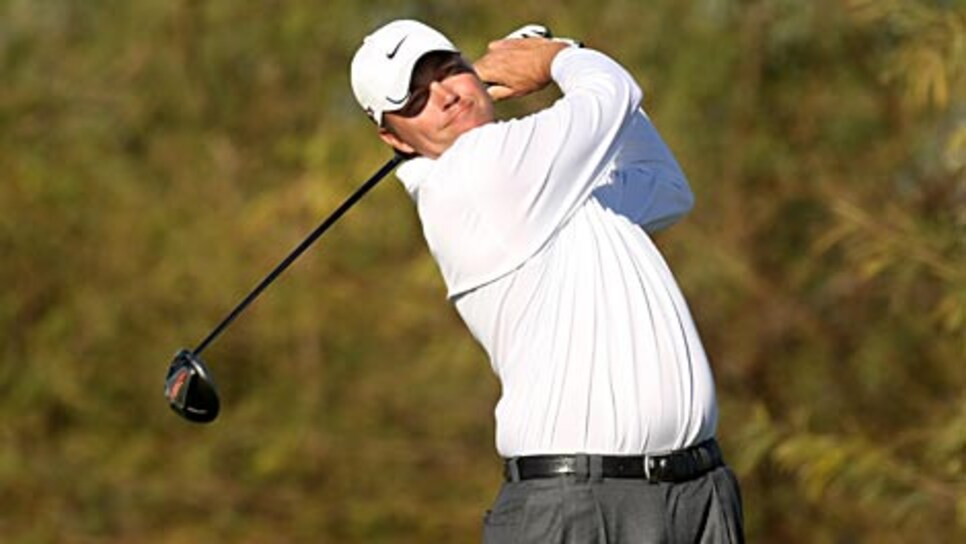 Van Pelt's accuracy of the tees gave him an advantage on the tight fairways of the Norman-designed course.
PLAYA DEL CARMEN, Mexico (AP) -- Midway through his first round at the Mayakoba Golf Classic, Bo Van Pelt was right where he started -- even par. And he was OK with that considering the wind had turned completely around from his lone practice round, making the course feel entirely new.
He sure figured things out quickly.
Van Pelt birdied seven of his last nine holes Thursday for a 7-under 63 and the first-round lead. He started the run with four straight birdies, then birdied three of the final four holes, including about a 2-foot putt to close the round in style.
"I played pretty aggressive," Van Pelt said. "No matter what I was hitting, it was going straight."
Chris Riley and Jarrod Lyle opened with 65s. Rookie Scott Piercy, who has three top-25 finishes in four starts this year, was in a group at 66.
Defending champion Brian Gay was tied for 20th at 68. David Toms -- the world's 65th-ranked player, leaving him one spot from making the Match Play field -- shot a 70.
From the start, Van Pelt was accurate off the tee, which is a must to handle the tight fairways on the Greg Norman-designed course.
His putter was another story.
Although Van Pelt came out early to try getting the speed down on the practice green, he didn't find it until a par-saving putt on No. 18, his ninth hole.
"That was pretty much the key," he said. After that, "I just started making some."
Van Pelt birdied the par-5 first hole and the par-3 second, then faced a big test -- a 462-yard, par-4 that was the 22nd-toughest hole on the entire PGA Tour last year. He birdied that hole and the next, too.
After a par on No. 5, he bounced back with two more birdies. He parred No. 8, but there's no shame in that; it was 32nd-toughest on tour last year and yielded the fewest birdies over the brief history of this tournament.
On his final hole, Van Pelt smacked a drive right down the middle, only to find that it stopped in a divot.
"I was just trying to hit a solid wedge shot -- and it came out just how I wanted," he said. Then came the bonus of watching someone else in his group putt along his same line, making a short putt even easier.
Van Pelt matched the lowest score of his career, although the other was an 8-under round, and grabbed a first-round lead the fourth time in his career. He's hoping to parlay it into his first PGA Tour victory.
His best finish was a tie for second in Puerto Rico last year. He's done pretty well this season, having tied for fifth at the Bob Hope Classic and tied for 30th last week at the Northern Trust Open, closing that tournament with a 65.
"I feel like I've been playing a little better than my scores," he said. "Last week, I was frustrated because I wasn't making any putts, then finally on Sunday I did. I shot 6-under and didn't have any bogeys."
Van Pelt's closing nine of 28 on Thursday was a tournament record for either nine. His 63 was two off the tournament record at the 6,923-yard, par-70 El Camaleon.
Van Pelt was part of the first group with an afternoon tee time, so there was a notion that the stiff wind morning starters complained about might've calmed down. Apparently not because Lyle was the only other standout from the later groups.
Riley is among the players who've been here every all three years and he said the gusts Thursday were the strongest yet. That apparently suits him because it was his best score yet, too. He got a boost by holing a 130-yard wedge shot for an eagle.
"I love to play in the wind because I hit the ball low," said Riley, who has tied for 18th and 22nd at this tournament. "A low ball flight is pretty good here. ... You see the guys who've won here in the past -- Brian Gay and Fred Funk -- they're pretty straight down the middle, there's no length or anything like that."
J.P. Hayes was among those at 66. He missed the cut at his only other event this year and admits the main reason he's here is because he could get into the field. He certainly looked as if he belonged with four birdies and no bogeys.
Also fitting in nicely in that pack at 66 was Pablo Larrazabal of Spain, last year's European tour rookie of the year. He birdied his first two holes and four of the first seven, but was slowed by a pair of bogeys on the back nine. His success would certainly make proud tournament sponsor OHL, which is based in Spain.