News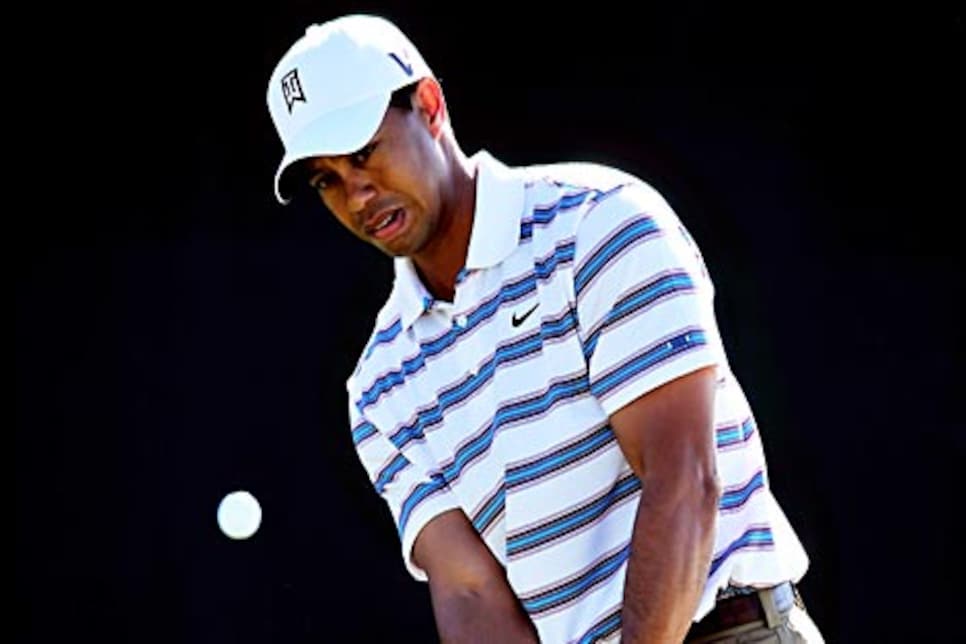 Tiger Woods' run in the Match Play lasted two days, which was about three days shorter than most expected.
MARANA, Ariz. -- Welcome back, Tiger. See you at Doral.
The spectacle that was TigerFest came to a sudden and unexpected conclusion today, when Tim Clark spoiled the party. He dropped a divot in the punchbowl and ended Woods' return to competition after, oh, two rounds and about a day and a half, which is about three days sooner than many had expected.
Tiger was written in as the prohibitive favorite to at least make it to Sunday's final of the Accenture Match Play Championship, but it turned out to be a misprint. Let's hope they used pencil instead of ink. Easier to erase.
Tickets were at a premium here at the Ritz-Carlton Golf Club at Dove Mountain, but that is probably going to change. Woods' loss means all four of the top-seeded players are gone. What's this place going to look like on the weekend? Lonesome Dove Mountain?
Woods was in a reasonably cool mood afterwards.
Question: "Tiger, where do you go from here?"
One of the problems in his match with Clark wasn't Woods' surgically repaired left knee, it was his geographically challenged golf ball that he kept smacking, often in the wrong direction. For instance, at the 343-yard par-four 15th and 2-down to Clark, Woods knocked his tee shot so far to the right, it missed the green, bounced off a cart path, hopped over a fence and came to a sandy landing spot out of bounds.
Clark, ranked 32, is just 5-foot-7, but he played much bigger against Woods and won 4-and-2. Clark shot six under and did not make a bogey.
And now, with Woods gone, it's probably going to be anybody's ball game to win. That's one thing. And after such a huge buildup in anticipation of Woods' return after eight months off, a complete letdown may be in order. The first sign: the parking lots outside the front gates are going to be full of scalpers with fists full of extra tickets.
Few could have seen this one coming. Hank Haney, Woods' swing coach, certainly didn't. On the first tee, Haney said Woods had a terrific practice and was swinging great.
Haney cradled three bottles of water and an apple. None of it could have gone down easily.
Woods wasn't nearly as crisp as he was in Wednesday's first-round match, but he insisted he didn't strike the ball all that poorly against Clark.
"I hit it really good today, I just didn't make any birdies. I didn't make enough birdies to answer him," he said. "But I hit the ball well the last two days and that's encouraging."
There are many who will consider losing to Clark a setback, but that's probably short-sighted. Meanwhile, the numbers of theories about Woods' swing are roughly equivalent to the number of cactus that hog the landscape here. Is it better? Is it worse? Is it different? Is it as good as it looks on his video game?
It's all sort of confusing, so let's try to break it down a little and simplify the thing. Woods' swing hasn't really been revamped, it's just that his left knee is solid for the first time, well, since he turned pro, and he is now able to swing the way Haney has been coaching him.
Those in Tiger's camp see a smoother swing, a greater hip turn, less emphasis on a stiff-legged pivot, the potential for greater power with less effort and stress. Just how that translates from hereon out, as the majors begin coming closer into range on the calendar, is unknown. But it's part of a process, and despite what happened in his match against Clark, the owner of that swing feels it's moving in the right direction. That must be considered a positive for Tiger and within Tiger's inner circle.
Woods wound up playing 32 holes in two days and said his knee held up fine, with no pain. If nothing else, that's as good a result as anything that happened here. The player hasn't officially declared himself in the CA Championship field at Doral, but he is likely to show up there, March 12-15. After that, Bay Hill, probably, and then the Masters for sure. The Tiger on display the rest of the way may look a lot different than the one looking for golf balls in the desert.