News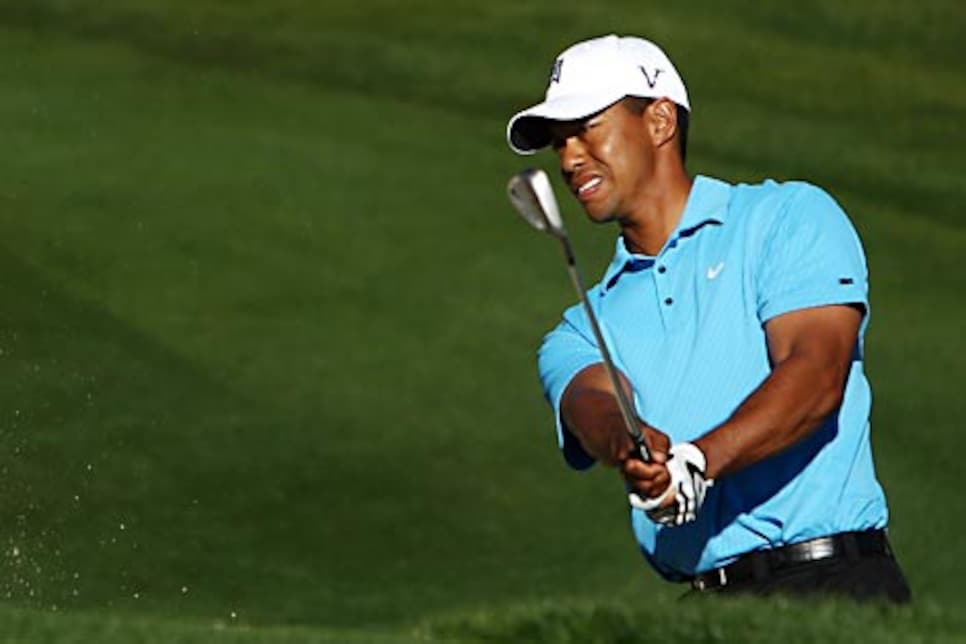 Tiger seemed to have issues with distance control, but new clubs, the altitude and eight months off could easily explain that.
MARANA, Ariz. -- So exactly when did Tiger Woods really announce he was back?
Was it last Thursday when he said he would play in the Accenture Match Play Championship? Was it last Friday when he officially entered? Or was it Tuesday morning when he first showed up here?
You could build a case for any of them, but in truth, the real moment was Wednesday on the fringe of the 13th green at the Ritz-Carlton Golf Club at Dove Mountain, when Woods steered in a cozy, 19-foot eagle putt, the ball disappearing into the hole as if it were allergic to sunlight, and Woods raising his left arm with his putter pointed toward the sky.
All that was missing was a bolt of lightning, a clap of thunder, a few booming chords from a pipe organ, and the scene would have been complete.
And so went the first official day of TigerFest.
It started innocently enough. On his way to the first tee to hit his first shot in his first tournament in eight months, Woods slowed his gait and then polished off a banana.
Not so long after that, he polished off Brendan Jones.
Actually, it wasn't all that simple, but forget about any style points in Woods' 3 and 2 opening-round victory in the Accenture Match Play Championship.
That's not what this day was about.
Sure, it was a first-round match in this cash-heavy $8.5 million tournament, but it was more like a Tiger Coming-Out party than anything else. A half hour before Woods made his way to the tee, the two metal grandstands were jammed to the top, all 14 rows in each one. The line of cameramen training their lenses on Woods stretched about 20 yards down the right side of the tee box.
Meanwhile, the color scheme was nothing short of dazzling -- lush green teeing area, forest green metal bleachers, Woods' black bag with orange trim and an AT&T logo, Woods in blue shirt, black slacks and a white cap.
And, of course, there was Jones, along for the ride. All the way down the fairway and around the green, the gallery was eight to 10 deep. And as Woods crushed a 301-yard drive to get things rolling, he led the procession down the fairway, with about 100 media members scrambling on either side of him and the fans cheering loudly.
"You are soooooooo back!"
On the first hole, Woods knocked his second shot to four feet and he went 1-up.
On the second hole, Woods hit his second shot to five feet (after a 329-yard drive); Jones conceded the eagle putt and Woods was 2-up.
Woods said he welcomed the support from the gallery.
"Cheers were good. That means I was up," he said.
He was making it look easy, so of course, that couldn't last. He then made it look difficult with bogeys on three of the next five holes, his lead trimmed to 1-up. But after Woods hit a full flop shot over a bunker and onto the green at No. 8, he stopped the ball seven feet from the hole and made the putt. When Jones missed from nine feet, Woods' lead returned to 2-up at the turn.
The rest of the way, the question wasn't about who would win, but when it would end. With a 3-up lead, that occurred on the par-three 16th, where Woods two-putted for par and halved the hole.
He finished with two eagles, two birdies, three bogeys and a sense of relief for getting through his first round since knee reconstruction surgery last June.
He said he would ice his left knee and elevate it for rest, but that he felt good.
As for the business side, he said the greens were tricky because of their contours; and they were slower than normal to compensate, and that took awhile to get used to. As for the act of swinging a club again in competition, it didn't take long to adjust.
"It just came back down to just playing the game again and that felt good," he said. Woods said he told his caddie, Steve Williams, on the first tee that it didn't seem as if they had been gone long, even though the truth is the exact opposite.
But once Woods pulled a three-wood from the bag and picked out a line down the fairway, he had no problem knowing what to feel.
"Business as usual," he said.