News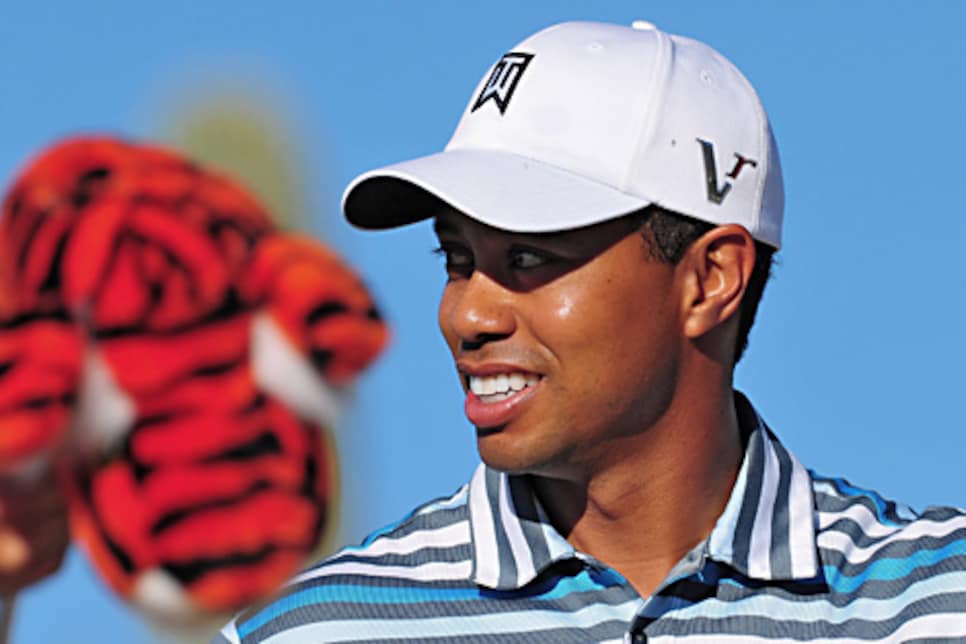 Woods says his schedule for the rest of the year is undecided, but the guess is he will play at least once more, if not twice before the Masters.
MARANA, Ariz. -- Tracking Tiger Woods wasn't that hard today. You just listened for the squeals and the screams and the yelps and kept your eyes trained on a moveable gaggle of fans as they showed up in different parts of the Ritz-Carlton Golf Club at Dove Mountain.
It's 3,000 feet above sea level up here in the foothills and it really did seem like rarefied air as Woods made his way around the course. He played a practice round and then showed up to take some questions from the media, joking that he was sorry he was late.
"I forgot how long it takes to play 18 holes walking," he said.
Chances are he'll figure it out pretty fast. The Woods countdown to his second tournament in 10 months is growing shorter, even if the anticipation of that event is ballooning in the opposite direction.
How much does pro golf need Woods?
Let's just say he's had an impact here. An extra 41,000 tickets were sold on Friday, the day after Woods announced he was coming back to play his first tournament since undergoing reconstructive knee surgery in June.
If you're into symbolism, start with this: He wore a white cap and all smiles when he played, and then walked into the media tent. His shirt of blue, white and gray stripes accented his gray slacks and light gray golf shoes. If looks could win, then Woods is already into the second round of the Accenture Match Play Championship. But that's not the way it works and the top-seeded Woods will face 64th-seeded Brendan Jones in a first-round match Wednesday.
Woods hasn't played a tournament in eight months, since he won the U.S. Open in 91 holes, but it's not as if anyone forgot him. On Monday, PGA Tour media officials stood outside the interview tent and contemplated how they could blow out the back wall and make the place bigger.
As it turned out, small would have to do.
Woods was chatty, but as he usually handles these things, less than revealing in a 20-minute session with reporters. The whole thing was broadcast live and recorded by enough cameras to look something like a Red Carpet setup before they start handing out Oscars.
Woods said he's sure of his comfort level on the first tee. It won't be high, at least until he hits a ball, but being jittery is not unsettling, he said.
"The day I'm not nervous is the day I quit," he said. "To me, nerves are great. That means you care. Of course I'll be nervous. That's the greatest thing about it, is just to feel that, to feel that rush."
Among the other topics covered: Woods said he'll have to get into the rhythm of the round quickly; said his tournament schedule is undecided; declared his short game improved; and said he didn't feel anything weird about showing up at the course to prepare to play a tournament even though he hasn't been doing it lately.
It was a full morning for Woods, who showed up around 7 a.m., ate breakfast and then hit the course, accompanied by swing coach Hank Haney, who kept his eyes focused on his star pupil. Haney said he was happy with what he saw.
Asked if Woods had revamped his swing, Haney only smiled. He was not going to give away any secrets.
"He's changed his swing before," he said. "Hopefully he's always trying to get better."
This week, Woods will be swinging with new Nike clubs, including a complete set of Victory Red TW blade irons, a new wedge and a Dymo prototype driver. The irons have a camber, or curvature, on the bottom of the sole and more weight in the center of the club, which Nike Golf's Kel Devlin said translates into about three extra yards in distance for Woods. The driver is a prototype with a smaller surface area, but the same 9.5-degree loft that Woods favors. The driver is a prototype and the first new driver Woods has used in 2½ years.
Devlin said Woods was heavily involved in the design.
"We were lucky, he had time to devote," Devlin said.
Woods is also lucky to be back at work, and he knows it. As he walked behind the driving range, he must have heard the cheers welcoming him back. He showed up at the putting green, and then moved over to the chipping area, as the crowd that filled the stands roared with every footstep.
As far as milestones go, in a week when there will be many more, this was a significant one. Haney said it marked the first time Woods went to hit balls after a round since the 2007 British Open at Carnoustie.
If all goes as he expects, it won't be the last.