News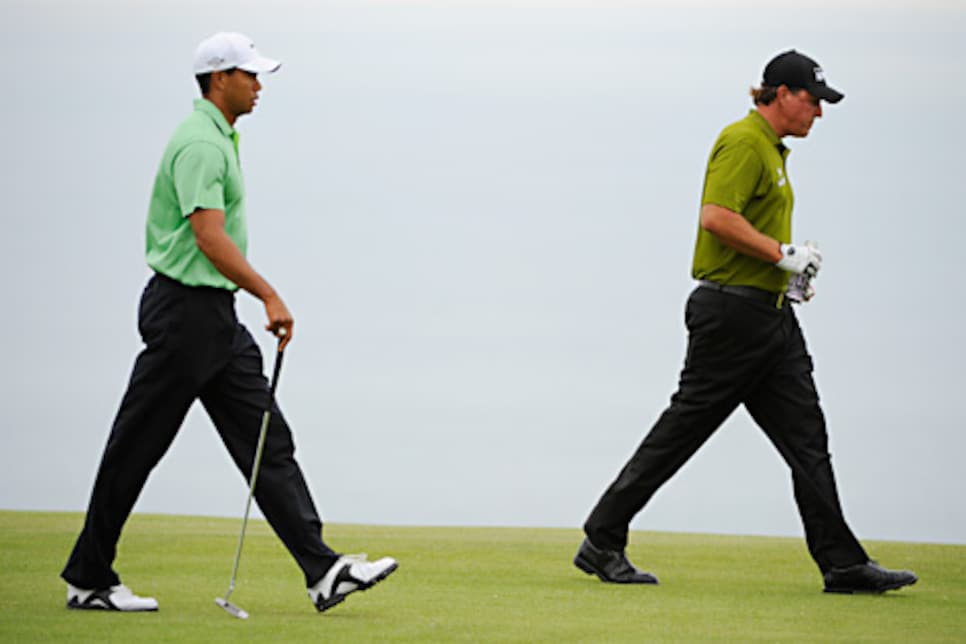 Tiger may be following Phil in this photo, but for most of Tiger's career it's been the other way around.
Let the rivalry talk begin. Phil Mickelson won the Northern Trust Open at Riviera Country Club on Sunday in typical Phil fashion: After two blistering rounds of 63 and 62 he still needed a gritty final-round comeback after blowing the lead. With Tiger Woods returning to competition this week at the Accenture Match Play Championship following an eight-month break, the most-compelling duo in golf has seemingly set the stage for some delicious drama. Let's get ready to rumble. It's Ali-Frazier IV. But wait, haven't we been down this road before? Several times, actually.
Let's just say this: These two men each always hold up their end of the bargain. Sort of. Mickelson is the second-greatest golfer of his generation, which ain't bad when you consider the guy ahead of him is likely going to end his career being ranked the best-ever. Woods and Mickelson are the two best golfers to play simultaneously since Jack Nicklaus and Tom Watson slugged it out in the late '70s and early '80s.
In fact, it is a testimony to the greatness of Nicklaus that he also had cage-match battles with both Lee Trevino and Arnold Palmer that lasted multiple years during his career. Tiger has had Mickelson and Vijay Singh -- both with multiple majors and more than 30 PGA Tour victories -- but neither has been as pesky against Woods in the majors as Palmer, Trevino and Watson were against Jack.
Still, this is what we've got. Tiger and Phil are a fascinating rivalry even though the competition between the two has fallen short of being completely satiating, especially in the major championships. Tiger dominates in a way that leads to forgone conclusions, and the rivalry sadly has lacked compelling final-round fights in the majors.
Truly, it is in the majors that history -- and memories -- are made. Nicklaus and Palmer in the 1962 U.S. Open. Nicklaus and Trevino in the 1971 U.S. Open. Nicklaus and Watson in the 1977 British Open. Except for a flirtation or two at Augusta National that fell short of real drama, have there really been any memorable final-round showdowns between Mickelson and Woods in major championships?
Still, the rivalry fascinates. Maybe it's because they are such a stark study in contrasts. White and black. Left-handed and right-handed. Adored by fans and idolized by fans. The loveable George Bailey for a caddie and crusty Mr. Potter for a caddie. Ah, it's a wonderful life.
And perhaps the really riveting thing about this rivalry is that in Mickelson the public sees a Don Quixote tilting at a windmill. Fourteen times Woods has had the lead or a share of the lead going to the final round of a major championship and he has won every single time. Mickelson needed a bogey on the final hole of the 2006 U.S. Open to get into a playoff and couldn't get it done.
Back in the 1950s, when the Mickey Mantle New York Yankees were winning the World Series just about every year, it was said that rooting for the Yankees was like rooting for U.S. Steel. The same can be said for Woods, which makes Mickelson the Youngstown Sheet and Tube of his era.
But as much as we sit in awe of perfection, we still feel a compelling affinity for mere near perfection since it somehow seems more attainable, a place where perhaps even we could reside. Tiger exists in that Platonic world of the forms where everything is as it was meant to be. Lefty is down here with the rest of us, just trying to be the best possible us.
The Northern Trust Open provided a snapshot of why Phil's fans adore him. After those breathtaking rounds of 62 and 63, Mickelson blew the lead on Sunday by opening with an eagle and then playing a 13-hole stretch beginning at No. 2 in five over par. Still, Lefty finished birdie, birdie, par to chase down Steve Stricker and pick up his 35th PGA Tour victory, three of which have been major championships.
If Woods, who has 65 wins and 14 majors, is doing his part for the golf stimulus package by returning from knee surgery this week, when he is truly needed, Mickelson also carried his end of the deal by winning on the eve of Tiger's return. The storyline for the Accenture Match Play is etched upon expectation. "How will Tiger play?" is the most asked question. "Wouldn't it be cool if Woods and Mickelson met?" is second among the queries.
The only place Woods and Mickelson could square off in the Match Play is the semifinals on Saturday. Woods is the No. 1 seed in the Bobby Jones bracket with Geoff Ogilvy No. 2. Mickleson is the second seed in the Ben Hogan bracket with Vijay Singh No. 1. The top seeds on the other side are Sergio Garcia and Padraig Harrington.
Actually, here would be an interesting way for the week to play out: Woods meets Rory Sabbatini in the Bobby Jones bracket finals. Then he plays Mickelson in the semis and takes on Sergio in the championship match. That way Steve Williams, the Tiger caddie whom makes Mickey Rourke seem warm and fuzzy, won't have to worry about making small talk. None of those guys are on Tiger's Christmas card list.
Mickelson has already pulled off the first segment of his part of this formula for fun. He won at Riviera and set the table with expectation. Tiger's mere presence brings expectation with it. Now, as they say, let the games begin. And perhaps this time the rivalry that almost was will actually produce.