News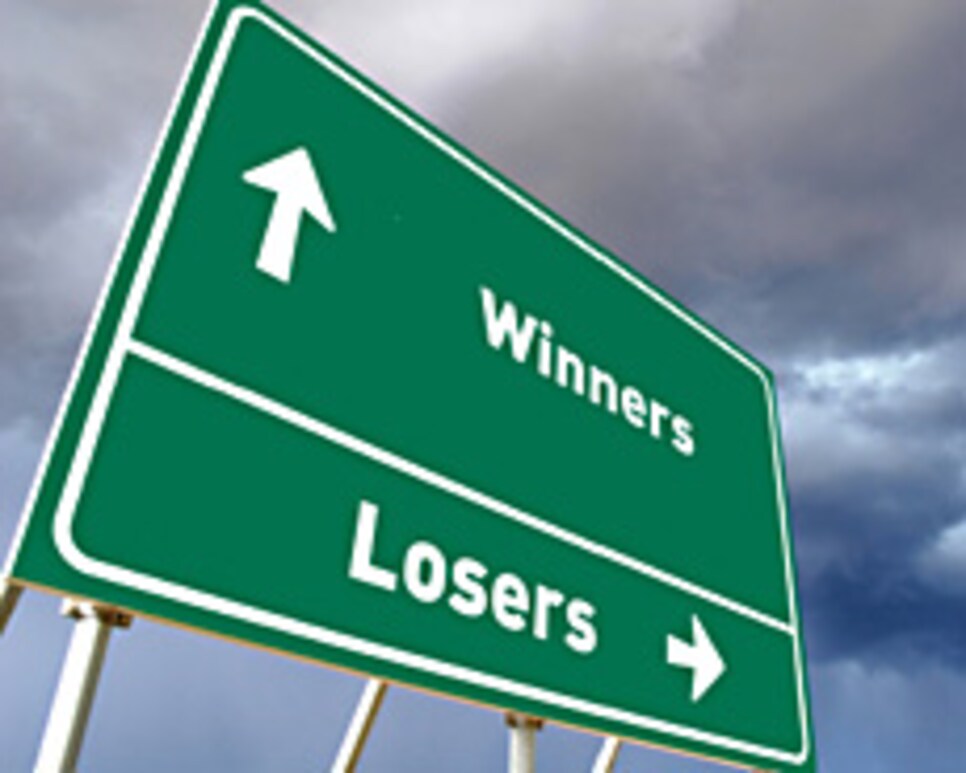 While the cat was away, some dogs had their day, and others just played like dogs. A look at those who profited and plummeted during Tiger Woods' eight months away from the PGA Tour.
Winner: Serious golf fans. Woods' dominance has gotten old to those who crave a more balanced competitive environment. Padraig Harrington, Vijay Singh and Camilo Villegas all won multiple events in Tiger's absence. All seven of those victories came in tournaments Woods likely would have played in.
Loser: Casual golf fans. Television ratings were way down before Woods called it a year. Without him, the numbers fell to staggering levels, largely because viewers outside golf's core audience have no interest in non-Tiger telecasts. Exhibit A: the final round of last September's Tour Championship registered a 1.8, down 55 percent from a year earlier, when Tiger won in a rout. In both cases, the overall FedEx Cup champion had already been decided, making it a fair comparison with a foul conclusion: one guy really is bigger than the tour itself.
Winner: Mr. Double Major. Harrington redefined himself with come-from-behind triumphs at the British Open and PGA Championship, both of which featured superb clutch shotmaking on Sunday's final nines. Three major titles is often thought of as the standard of greatness. Harrington reached that level without Tiger around and became just the second player besides Woods to claim Player of the Year honors since 1999.
Loser: Sergio Garcia. No one's career aspirations have been undermined by Tiger more often, so Woods' knee surgery became a terrific opportunity for Garcia to make headway on the brilliance expected of him. As fate would have it, Sergio played well in the final seven weeks of the regular season but couldn't win a tournament. He stumbled down the stretch at the PGA and lost to Harrington, then was beaten twice in extra holes during the FedEx Cup playoffs. Will the lost summer strengthen his resolve or weaken it?
Winner: Rory McIlroy. The European Tour's latest teen sensation picked up his first pro victory last month at Dubai, an event Woods has made a habit of winning in recent years. His performance prompted playing partner Mark O'Meara, a charter member of Camp Eldrick, to call McIlroy, "the next Tiger." You would think 14-time major champions grow on trees, but give the Irish credit. When opportunity knocks, they go to the door.
Loser: Rory Sabbatini. Woods' prime antagonist, at least in the media center, pulled his own disappearing act after Tiger went down. Last week's T-6 at Riviera was Sabbs' first top 10 in over a year. His best finish in the second half of the '08 regular season was a T-24, which explains why he fell from sixth to 56th in earnings. There was a point maybe 18 months ago when Sabbatini appeared capable of walking the walk, but the mouth has gone south.
Winner: Vijay Singh. Age looked like it had finally chased down the Big Fijian last summer. He hadn't won in 17 months and was one bad week away from falling out of the top 10 of the World Ranking for the first time since 1993. Without Woods around to horde all the hot-weather hardware, however, Singh caught fire. Three victories in a five-week span carried him to the FedEx Cup title and the accompanying $11 million bonus. The least he could do is offer to pay Tiger's medical bills.
__Loser:__PGA Tour. Sinking TV ratings could mean less prize money when Camp Ponte Vedra meets with the networks to discuss a contract renewal. Compounding the tour's dilemma is the widening gap between tournaments Woods does and doesn't play. CBS and NBC are likely to become less interested in paying top dollar for non-Tiger events. The eight-month break didn't necessarily make things worse, but it did amplify the tour's plight.
Winner: USGA. Last year's U.S. Open might have been the best tournament of the modern era, capped by Tiger's heroics in a Monday playoff against Rocco Mediate. It was Woods' last competitive performance, and in his absence, the memories were magnified and glorified. Frequently maligned for hosting golf's most boring major, the folks in Far Hills will take all the positive mojo they can get.
__Loser:__PGA of America. Sure, the U.S. Ryder Cup team won without Tiger, but not having the game's top box-office draw for its two premier events isn't something this organization wants to do very often. The PGA Championship was a snooze until Sunday, when the Harrington-Garcia duel salvaged a week full of forgettable golf. Woods might not have made it more interesting, but he wouldn't have made it worse.
Winner: Jack Nicklaus. Even Woods can't win majors when he's not playing, so he didn't gain on Jack's record of 18 titles.
Loser: Jack Nicklaus. Chances are very good that Tiger will return to action better than ever on two healthy legs. Eighteen never looked so vulnerable.