News
Mickelson Torches Riviera's Back Nine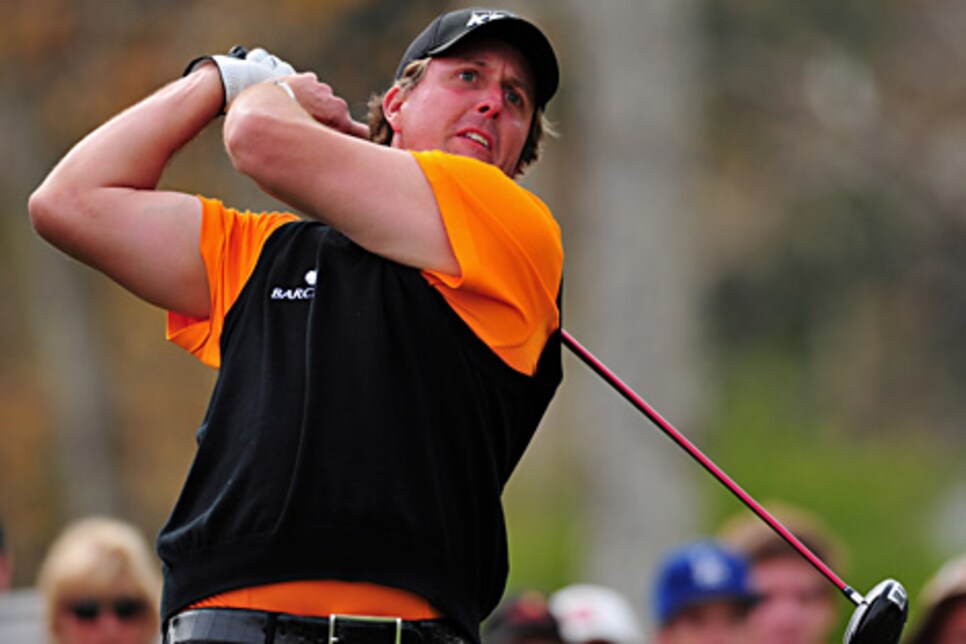 Mickelson's round included four straight birdies on the back nine for a total of seven.
LOS ANGELES (AP) -- Phil Mickelson showed up early Saturday to work with swing coach Butch Harmon, then ran off four straight birdies late in his round for a 9-under 62 to build a four-shot lead going into the final round of the Northern Trust Open.
Five players had at least a share of the lead at one point in the third round, but what had been shaping up as a shootout at Riviera soon turned into a showcase for Mickelson.
It began with a tee shot into 4 feet on the par-3 14th for the outright lead. Mickelson followed that with an 8-foot birdie on the 15th, a 35-foot birdie on the 16th, and an up-and-down from the bunker on the par-5 17th for his fourth straight birdie. He had a 10-foot birdie putt on the 18th to tie the course record, but hit the putt too hard.
Mickelson, the defending champion here, was at 16-under 197.
"I didn't feel confident after yesterday's round and made a phone call to Butch right from the scorer's tent," Mickelson said. "He was able to come into town and fortunately, we had some good work done. I don't want to say I'm back on track, but I have a direction of where I want to go. And my iron play was much better because of it."
Andres Romero of Argentina birdied his last three holes for a 65 and could remain the last obstacle for Mickelson. It was Romero who made 10 birdies in 16 holes during the final round at Carnoustie two years ago when he nearly won the British Open.
They will be joined in the last group by Fred Couples, who was poised to give himself a good chance to win only to have a familiar figure spoil the occasion. Mickelson and Couples were in the last group at the 2006 Masters when Lefty outlasted him over the final five holes.
Harmon was summoned from Las Vegas for a morning session with his highest-ranked client, and they worked on keeping Mickelson's lower body more still to put more feel into his game.
It appears to have worked -- Mickelson was 10 shots better than his second round of 72, turning a three-shot deficit into a four-shot lead, sending him on his way to ending what had been a sluggish start to his season.
Lefty has never finished the West Coast Swing without a top 10 since his first full season in 1993, but Mickelson missed the cut in Phoenix and failed to crack the top 20 at Torrey Pines and Pebble Beach. He had to birdie the final hole at Pebble just to make the cut.
Maybe that's why he wasn't ready to claim the title just yet.
"Let's not get ahead of ourselves," Mickelson said. "I've got a big round tomorrow. I haven't exactly had the performance the last three weeks that just exudes confidence heading into tomorrow. I'm going to have to get some work done tonight.
Even so, take him out of the equation, and the leaderboard would be as bunched as always.
Rory Sabbatini (67), K.J. Choi (67) and Scott McCarron (70) joined Couples in the group at 11-under 202. Another shot behind was Mark Calcavecchia (64), Steve Stricker (69) and Pebble Beach winner Dustin Johnson (67).
Mickelson's late surge of birdies might have killed any hopes of a nostalgic weekend at Riviera.
Couples, at 49 and in his last full year on the PGA Tour, shot 30 on the front nine and briefly held the lead on his favorite golf course east of Augusta. He shot a 65 and walked off the 18th green only one shot out of the lead.
By the time he reached the media center, Mickelson had run off three straight birdies. When Couples finished his interview, Lefty already had made his fourth in a row and posted his 62.
"This is my big day tomorrow to have a shot at winning," Couples said. "I don't want these guys being 19 under. When I was coming down in the cart, I was telling the guy I thought maybe another 6 under might do it. Might need a 9 under."
The way Mickelson is going, even that might not be enough. This is his largest 54-hole lead since he was ahead by eight shots at the BellSouth Classic in 2006, winning by 13.
Calcavecchia, on the 20-year anniversary of his victory at Riviera, opened his third round with an eagle at No. 10, make birdie on all the par 5s and shot a 64 to finish at 10-under 203.
As if Calcavecchia needed a reminder of how long he has been playing, his 19-year-old daughter Brittany -- still in the womb when he first won at Riviera -- is now a freshman at Long Beach State and followed him along during the second round.
"Had not really thought of that, actually," Calcavecchia, at a rare loss for words. "When I was 29, you would think of someone who is 48 as being borderline ancient. Now I can't get to 50 fast enough."
Sabbatini, who won at Riviera three years ago, bogeyed the last hole to fall out of the final group. He was five shots behind, and after playing with Mickelson, realizes what kind of odds he is facing.
"The way Phil played today was amazing," he said. "You can't expect him to fall. The scary thing is he could have gone even lower out there. We just have to keep trying to put some pressure on him."