News
Bonk: Questions, But No Doubts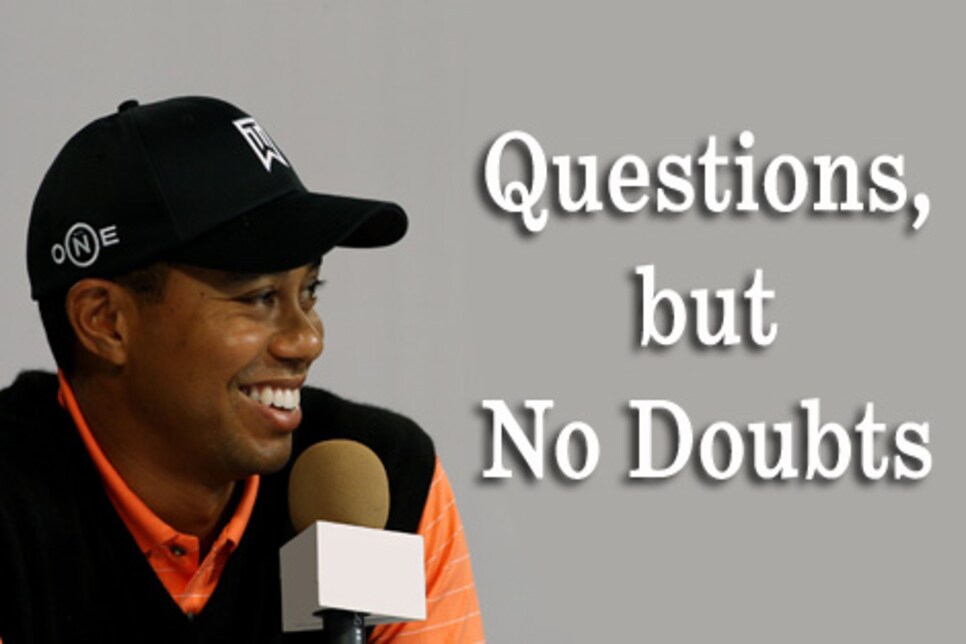 Tiger Woods knows what he wants out of his first tournament back. Beyond that, Thomas Bonk reports, Woods doesn't know what to expect. "I'm as curious as you," he said.
He hasn't played in eight months, but when Tiger Woods shows up next week to compete in his first tournament since last June's U.S. Open, his expectations remain the same as always.
"Nothing changes. It's to win. So that's my intent, to go in there and win."
Woods made his remarks in a 30-minute conference call with certain media today, in which most of the questions centered around the game's No. 1 player's return to the PGA Tour at the $8.5 million Accenture Match Play Championship at Marana, Ariz., outside Tucson. The top seed and defending champion's first-round match in the 64-player event is Wednesday, probably against Brendan Jones of Australia.
Woods said the birth of his son, Charlie, last week and the health of his wife, Elin, enabled him to make the decision that he was completely ready to play competitive golf for the first time since undergoing reconstructive left knee surgery June 24.
When asked his primary concern when he first steps to the tee in competition, Woods answered candidly.
"Whether or not my game is sharp. It's one thing to do it in a practice environment at home...It's totally different in a PGA Tour event againt the best players in the world. "
The first three rounds are all 18-hole matches, but for those who keep winning, 18 holes are scheduled for Saturday in the morning session followed by 18 more in the afternoon; and the Sunday final covers 36 holes. Woods was asked if he would be able to play 36 holes on back-to-back days.
"I'd like to have that problem."
How Woods' game will respond is only one of the questions he hopes to answer. He's also curious to see how his knee will respond after playing, and he said he still doesn't know what the rest of his 2009 schedule will look like.
Woods said his whole year is up in the air. "It's one of the more frustrating things, that I haven't been able to make up my schedule like I normally do. I have to take it tournament by tournament."
As for his knee: "I don't know how this thing's going to behave."
Woods said he was physically prepared to come back before the match play, but discarded that notion because he wanted to be home with Elin for the birth of Charlie, their second child.
"More than anything, it was making sure my family was good with the birth of Charlie, making sure that Elin was OK. Everything was safe and sound on the home front. I would not have played if the baby was delayed."
With his return, Woods will be sporting at least a couple of different looks. His bag will carry an AT&T logo, replacing Buick, which is parting ways with Woods. AT&T is the sponsor of the AT&T National, Woods' tournament at Congressional, played over the Fourth of July; and it is one of the sponsors of his foundation. In addition, Woods said there have been some adjustments to his golf swing after the surgery, in which his torn anterior cruciate ligament was replaced.
"One of the great things about coming back with the ACL, my bones aren't moving anymore. It's a very comfortable feeling hitting a golf ball and not having your bones sliding all over the place."
Woods said he's going after the ball pain-free for the first time in years. In acknowledging that it's been a long time since he last played, Woods said he hopes the condition of his game is up to par in the win-or-go-home match play format.
"I'm as curious as you. Getting out and competing again. I haven't done that in awhile. Hopefully, I can get into the flow of the round very quickly."
Woods was asked whether the hallmark of his comeback is that he will be better than ever. "I'm looking forward to that challenge. I haven't been able to test it in a competitive event. It's just a matter of doing it in a tournament and the pressure of a tournament, and that's something I haven't been able to do in awhile."