News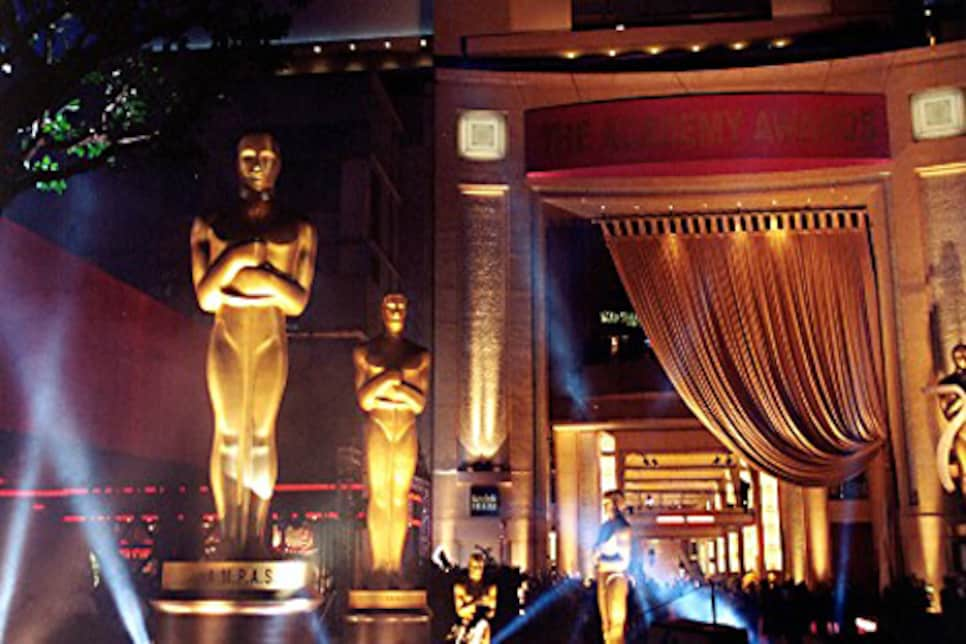 No Tiger? No big deal. As Sir Eldrick lays a final coat of preparation on his long-awaited return to competitive golf, we present this unofficial PGA Tour starter kit, an unabashed glance at the best and worst in a Woods-free universe. No animals were harmed in the assembly of this product, nor was Tiger eligible in any category. It's more fun that way.

Biggest overachiever: For my money, nobody gets more out of his ability than K.J. Choi, the most successful Asian player in PGA Tour history. He doesn't have the prettiest swing, and though he was a powerlifter as a teenager in his native South Korea, Choi consistently ranks outside the top 100 in driving distance. Seven career victories, five of them in the last four years, have elevated Choi to the cusp of the game's elite. I don't know if he'll get there, but then, I didn't see him being this good, either.
Biggest underachiever: Plenty to choose from, all terrific college players who simply haven't performed in the big leagues. Charles Howell III and Ryan Moore are near the top of any list. So is Paul Casey, who still hasn't won in the United States, but nobody has done less with more than Bill Haas. Back-to-back finishes of 104th on the money list are inexcusable when you're 30th in driving distance, 19th in GIR and 51st in putting, as was the case with Haas in 2008. The guy missed 13 cuts in 31 starts last year and had just two top 10s, yet Haas still made $1,000,939. Do you think something's wrong with that? You're not alone.
Biggest surprise: Camilo Villegas was, like Haas, a three-time, first-team All-American. Both finished school in 2004, the difference being that most knowledgeable observers figured Haas was a can't-miss prospect, while Villegas had a swing full of moving parts and a problem with short putts. Five years later, Villegas is on the verge of superstardom by virtue of the best work ethic among the under-30 crowd. He could stand to hit more fairways and greens, but if Spiderman learns how to manage his power off the tee, he'll win a lot of golf tournaments, at least a couple of them majors.
Biggest bust: John Daly. That video of him hitting golf balls shirtless last year laid any doubts to rest.
Best driver: Not one of last year's top-nine money winners finished better than 120th in driving accuracy, a frightening indicator of how the tour feels about growing rough. In terms of the power/precision combo, Kenny Perry remains the best. He's still competitive at age 48 because he can manhandle golf courses with his mega-altitude draw, because most tree-lined doglegs are easy pickins for him. Sergio Garcia is a close second, although his prowess tends to fail him at crucial times, and Vijay Singh certainly makes the short list.
Worst driver: You had to finish among last year's top 100 money winners to qualify here, which gives this award a bit of luster. Brandt Snedeker and Frederik Jacobson are the co-honorees. Both are short and crooked, which is a distinct oddity on today's tour, and both earned more than $1.5 million in '08 despite their frequent forays from the short grass. Snedeker could become a star if he overcomes his driving issues. Jacboson, also known as the junkman, has the world's tidiest short game and a swing best left unwatched.
__Best long putter:__If my life depended on a 50-footer and I could pick anyone not named Tiger to make it, I'd call Steve Stricker. He's excellent from any distance, and though his numbers fell off a bit last year, putting stats can be awfully misleading. That's a nice way of saying Stricker's scoring average rose a full stroke in 2008, a year that began with him hitting Daniel Chopra's mark from long distance in a playoff at the Mercedes Championship.
Worst short putter: As much as I love Fred Couples, I need to look away every time he stands over a three-footer. Sergio isn't exactly money in the bank, either, but dang, Freddie can barely get the putter back.
Best quote: It's not even close. If quips translated into major titles, Paul Goydos would have blown past Jack Nicklaus years ago. My personal favorite came last August while I was gathering material for a story on the U.S. Open playoff between Tiger Woods and Rocco Mediate. "A classic David-vs.-Goliath matchup," Goydos assessed. "Except in our game, Goliath is the smart one with the slingshot."
Worst quote: A lot of innocent trees have been chopped down for the paper that ultimately becomes the transcript of a Retief Goosen interview. Many players are capable of spending 20 minutes in the media center without saying anything substantive. Goosen has turned the worthless answer into an art form.
Best long-club swing: Previously owned by Ernie Els, although he still hasn't regained that wonderful tempo and fluidity since returning too quickly from knee surgery in 2005. Trevor Immelman has a great move. Geoff Ogilvy looks like he was born to hit a golf ball, but I'm going old-school here and picking Davis Love III. Zero wasted energy, perfect balance, a nice little pause at the top and exquisite rhythm throughout, which is why Love can hit it a mile even when it looks like he's barely going after it. Goosen may be boring, but he's got a beautiful swing, too.
Best short-club move: Anthony Kim's speedy, compact action makes him a superb wedge player, and when he's really on, he can knock it inside 10 feet all day. His merciless destruction of Garcia in their Ryder Cup singles match last fall was an absolute clinic from inside 150 yards. If the kid can hit more than 58 percent of fairways, his ability to control spin and distance will produce more scoring opportunities, at which point he'll be ready for anyone in the world. Including You Know Who.
Best bunker player: They don't get any better than Tom Pernice Jr., who played a bunch of practice rounds with Seve Ballesteros, the master of the sand, during his stint on the European Tour years ago. When other tour pros come to see you for help, you must know what you're doing, and Pernice does. Others on the short list: Phil Mickelson, Pat Perez and Mike Weir.
Best conversationalist: The middle-aged version of Paul Azinger is a man's man with plenty of opinions and an excellent set of ears. It's no accident that Azinger was such a successful Ryder Cup captain. He has a deft ability to connect with all types of people and has three times more personality than the average tour pro. A lot of players won't return your phone call. Azinger is even money to pick up by the third ring.
Best sense of humor: A slight shortage of entries here, as professional golf is a very serious business. Mark Calcavecchia may not be a ton of laughs after he misses a four-footer on the 18th green, but otherwise, he's good fun, a guy who takes a jab even better than he gives one. When you hang around Tiger for any length of time, you'll do plenty of taking.