News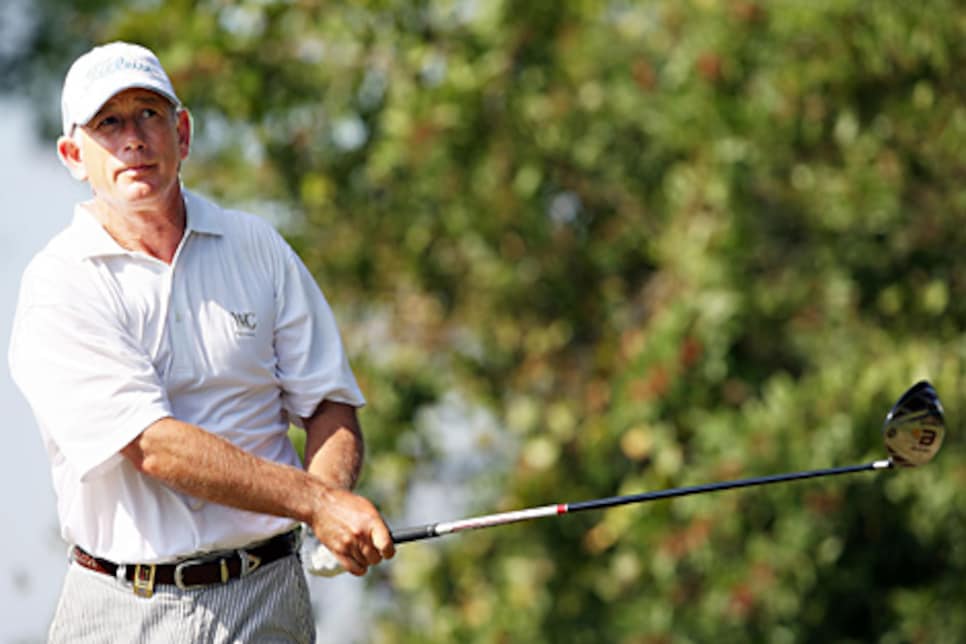 Goodes was a top North Carolina amateur who didn't turn pro until he was 50.
BOCA RATON, Fla. (AP) -- Mike Goodes, who turned pro two years ago, shot a 66 Sunday to win his first career Champions Tour title at the Allianz Championships.
The 52-year-old Goodes finished in 15-under 201 at the Old Course at Broken Sound, beating practice partner Fulton Allem by one stroke to pocket $255,000 in his 32nd career event.
"In any dreams I had of this, I feel better than I thought I would," said Goodes, who played top amateur golf while growing the plastics recycling business he co-owns before joining the Champions Tour in 2007.
Bernhard Langer, the 2008 Champions Tour leader and Rookie of the Year, struggled with his putting throughout to finish third with a 12-under 204.
"I didn't play well enough this week and that's really what he came down to," said Langer, who was 5 under in the final round. "I never made any lengths of putts at all."
Goodes, whose best previous Champions Tour finish was second at the 2008 Jeld-Wen Tradition, was thrilled to beat a 79-man field that combined for victories at 100 majors on the PGA and Champions Tour.
"You look at the field -- Hall of Famer, Hall of Famer, Masters winner, Open winner, British Open winner -- they're everywhere out here and it's pretty cool," Goodes said. "I get to eat lunch with them, breakfast sometimes, and play with them. I like it.
"These guys have accomplished things I don't even dream about, but I enjoy playing with them now."
Goodes, from near Greensboro, N.C., closed out the win with his seventh birdie of the day on the par-5 18th -- he birdied four of the first six holes as well.
"I never looked at the scoreboard," Goodes said. "I knew I was 14-under and I knew I was playing good. I asked my caddie: 'Do I need to birdie to tie?' and he said, 'No, you need a birdie to win.'"
Goodes overran the green on his second shot, but received a drop when his ball landed on a sprinkler head.
From the fringe he two-putted for his first career title -- an up and down 25-footer and then a final putt from a foot out.
Goodes credited divine intervention for a flock of squawking seagulls that caused him to briefly back away from his final putt.
"I was thinking the good lord was saying, 'You're going to make a birdie here," said Goodes, who had to tell his wife, Jeanine, and sister, Betty, who ran out on the course to hug him that they weren't allowed up on the green.
Allem, who came through Monday qualifying to finish with a 14-under 202, never thought Goodes would miss the final birdie to allow him a playoff.
"It's fantastic for Mike and I'm so happy for him," Allem said. "After the practice rounds I said, 'Let's go Mike, you and I, one and two this week.'"
Goodes, who believes persistency is the reason he's been successful in going from amateur to the pros later in life, thought Allem's script for the weekend was perfect.
"I told him, 'I'm with you," Goodes said. "At that time I would've taken either. Both sounded pretty good."