News
Johnson In Position For Win No. 2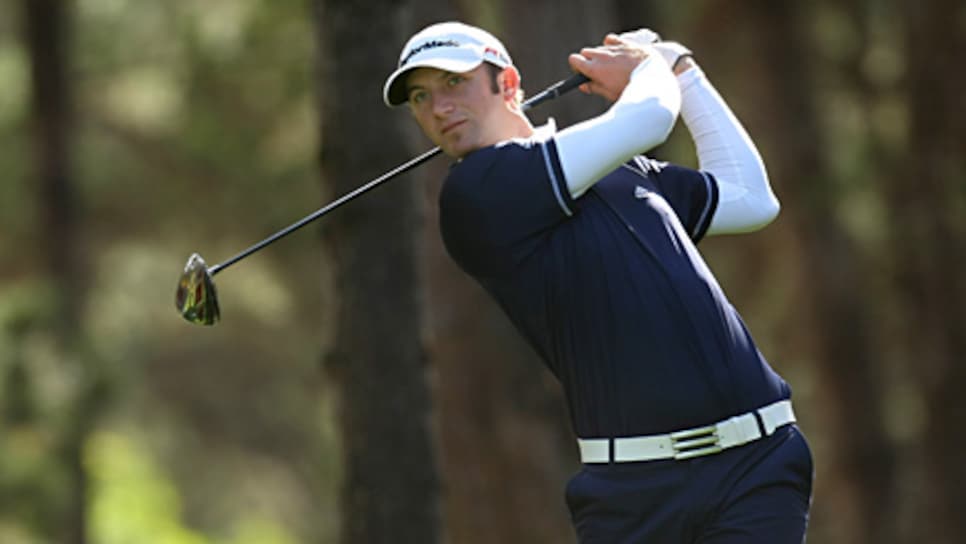 In three rounds, Johnson has one bogey against 16 birdies and one eagle.
PEBBLE BEACH, Calif. (AP) -- Dustin Johnson followed his plan by overpowering the par 5s at Poppy Hills on Saturday for a 5-under 67, giving him a four-shot lead over Mike Weir heading into a final round of uncertainty at the AT&T Pebble Beach National Pro-Am.
The question is whether he gets to play.
Spots of sunshine returned to the Monterey Peninsula for the third straight day as the celebrities and their follies took over Pebble Beach, but the forecast is gloomy for the final round -- an 80 percent chance of rain, expected to be heavy at times.
Pebble Beach has not had a Monday finish since Tiger Woods' great rally in 2000, and it was 10 years ago this week when the late Payne Stewart birdied his final hole for a one-shot lead after 54 holes, which turned into victory when rain shortened the tournament.
Johnson appears to be in good shape either way.
Weir was plodding along at Spyglass Hill until he holed a 25-foot birdie putt on the par-3 fifth hole, then hit the ball as well as he ever has. The former Masters champion hit a hybrid for his second shot to 8 feet on the sixth, a 3-wood to 6 feet on the par-3 seventh, and a 5-iron to 5 feet on the eighth. Trouble is, he missed all the putts.
But he knocked in a 20-foot birdie putt on the last hole for a 69 that will put him in the last group Sunday.
Retief Goosen was not so fortunate. Even after opening the tournament with rounds of 68-64, the two-time U.S. Open champion was concerned about how poorly he was hitting the ball, especially off the tee. That caught up to him at Spyglass, where he shot a 74 to fall five shots behind.
Johnson was at 15-under 201 with plenty at stake on Sunday.
Another victory would put him in the conversation of rising young stars, put him into the top 50 in the world to qualify for the Accenture Match Play Championship and make him eligible for the first two majors, including his first trip to the Masters.
He was overlooked because his victory came at Turning Stone, part of the Fall Series, and his rookie season lacked consistency. The only other time he finished inside the top 10 was a tie for seventh at Pebble Beach.
Getting overlooked his not a concern.
"I think I proved I can play with these guys," Johnson said. "If I play better a few more times, I'll get all the credit I need."
He certainly was overlooked on Saturday, but that was a product of being on Poppy Hills, the bronze medalist in this three-course rotation. Most of the fans -- and certainly the stars -- were at Pebble Beach.
Bill Murray strutted to the hole after a birdie putt, wearing a feather and a heart in his cap in honor of Valentine's Day. Perhaps the most fitting scene was eight-time national surfing champion Kelly Slater going down to the beach -- with a wedge, not a board -- to play back toward the green. The next shot wound up in some kelp.
There were some shots by the pros that didn't look much better.
Phil Mickelson was quietly putting together a good round and looked as though he would break 70 for the first time this year until he hooked a 5-iron off a cart path and out-of-bounds on the par-3 12th, leading to a triple bogey. Lefty rallied, however, smoking a tee shot with the wind at his back on the 18th, leaving him a 5-iron into the green for a two-putt birdie to make the cut on the number.
His comrades in the top five of the world ranking were not so fortunate. Padraig Harrington broke par for the first time this week with a 71 at Spyglass, but he missed the cut. So did Vijay Singh, playing for the first time since minor knee surgery the week after Kapalua.
Johnson's lead is the largest at Pebble Beach since Mickelson had a seven-shot margin in 2005.
"It's probably been in college since the last time I had a pretty big lead," Johnson said.
But he doesn't plan to be conservative, which is not a bad idea. Weir has seen how quickly fortunes can change at Pebble in any weather. It was three years ago when Weir was tied for the 54-hole lead with Arron Oberholser, and three holes into the final round he was five shots behind.
"You don't really go away from your game plan at all," said Johnson, who began the tournament with a 65 at Pebble Beach. "I played well here the first day, and looking forward to tomorrow. Not going to change the game plan at all."
Divots: David Toms, who was No. 66 in the world and hopeful of moving into the top 64 to qualify for the Accenture Match Play Championship, missed the cut by four shots. Had he taken the week off, Toms likely would have moved into the top 64. ... Davis Love III shot a 70 at Poppy Hills and was at 5-under 211, but he'll have to go it alone on Sunday. He and his amateur partner, PGA Tour commissioner Tim Finchem, did not make the pro-am cut.