News
Langer Collapses, Morgan & Jenkins Lead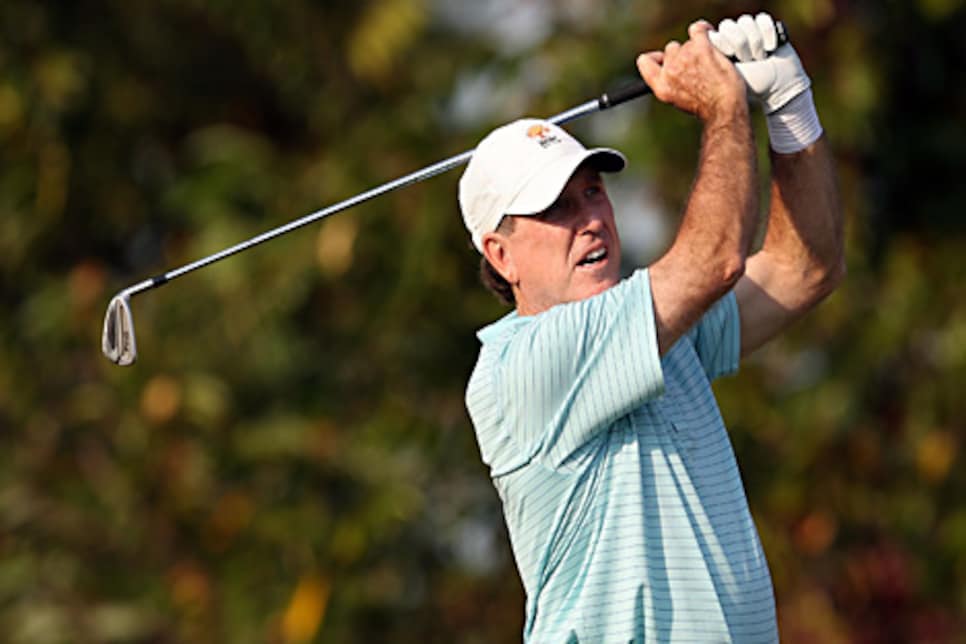 Morgan played bogey-free with seven birdies on his way to a 63.
BOCA RATON, Fla. (AP) -- Maybe it's fitting that in a city filled with retirees, a pair of sixtysomethings are in the lead entering the final round of the Allianz Championship.
Gil Morgan, 62, shot a flawless 7-under 65 on Saturday and is tied with 61-year-old Tom Jenkins after two rounds. Both got to the top of the leaderboard at 10 under after Bernhard Langer -- a mere youngster at 51 -- simply collapsed over the final four holes.
Fourteen different Champions Tour players have won after turning 60, with Morgan the last in September 2007. He would become the third to do it multiple times, joining Hale Irwin (three) and Jimmy Powell (two).
And Morgan knows, with a new influx of talent joining the 50-and-over series every year, chances like these won't come with regularity.
"At some point in time, we're going to be too old to play. Our games aren't going to be good enough to play," Morgan said.
Clearly, that time hasn't come yet.
Morgan -- once a dominant player on the Champions Tour -- started off with two birdies and kept rolling from there. His only mistake so far on The Old Course at Broken Sound was a double-bogey on the par-4 7th hole Friday. Other than that, 12 birdies, 23 pars.
"You know you're probably not going to be there as much as you were in the past," Morgan said. "So if there's an opportunity, you want to try to take advantage of it if you can."
Even as he said that, Langer was leading at 11 under, and Morgan surmised that he would have to do some Langer-chasing on Sunday.
In a stupefying three-hole stretch, Langer gave back four shots, two bogeys and a double knocking him from the lead and souring his mood.
"I should be three ahead," said Langer, who shot 73, nine strokes off his sizzling opening round, and was in a tie for ninth in his adopted hometown -- where about one in every four residents is 65 or older. "And I'm three behind."
All told, 13 players will start Sunday within four shots of the lead.
Jenkins shot 67 for the second straight day. If that wasn't newsy enough, he added to the Tiger Woods rumor mill following the round, saying Mark O'Meara told him the world's No. 1 player plans to return at the Accenture Match Play Championship. If Woods doesn't begin his comeback from knee surgery there, Jenkins said, he'll be playing the CA Championship at Doral and then Bay Hill.
Woods has until Friday to decide whether to enter Match Play.
"I understand his leg is great and he's stronger than ever," said Jenkins, who, like Woods, recently underwent knee surgery. "I'm looking forward to seeing it."
Jenkins is a seven-time winner on the Champions Tour, the last victory coming in 2006.
"I feel stronger now than I did at 50, and I'm 61," Jenkins said. "I'm determined to keep going. As long as I can keep touching the ground with my palm, I'm going to keep playing."
Mike Goodes (68) and Jerry Pate (71) were one shot off the lead, while Dan Forsman (65), Mark James (69), Larry Mize (69) and Fulton Allem (70) all were at 8 under.
Morgan's was the round of the day, matched by Forsman and Jay Haas, who was runner-up at the Allianz two years ago.
Haas figured his even-par 72 on Friday pretty much knocked him out of contention for the win, but will start Sunday alongside Langer, three shots back of the leaders.
"You can't give Bernhard two a side for two straight days. It just doesn't work," Haas said. "Out here, very rarely do you see a guy shoot an even-par round and still have a chance to win."
Notes: Morgan would be the third-oldest (62 years, 4 months, 22 days) winner in Champions Tour history. Mike Fetchick (on his 63rd birthday) won the 1985 Hilton Head Seniors Invitational, and Gary Player (62 years, 9 months, 22 days) won the 1998 Northville Long Island Classic. ... If Jenkins were to win, he'd be the eighth-oldest on the 50-and-over tour to do so. ... Craig Stadler withdrew with back spasms. ... Loren Roberts started Saturday with four straight birdies, then gave it all back with a quadruple-bogey on the par-5 1st, his 10th hole of the day. ... Andy Bean (69) has nine straight rounds in the 60s, dating to last season. ... Jeff Sluman (71) shot his 30th straight round of par or better, coming within seven of Roberts' Champions Tour record.