News
Wie Tied, In Position To Win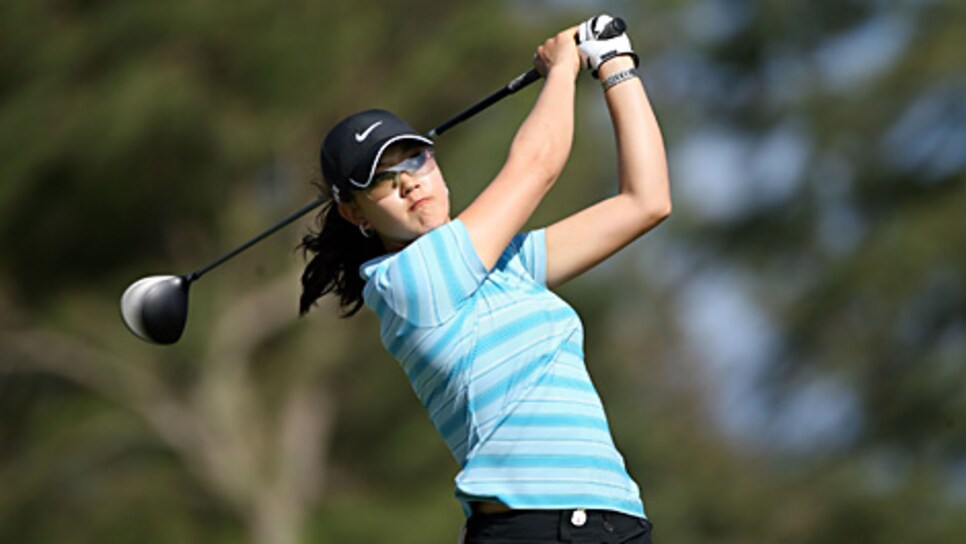 Although the SBS Open is technically her rookie debut, it's Wie's 49th LPGA start.
KAHUKU, Hawaii (AP) -- Michelle Wie has been playing LPGA Tour events for the past seven years, starting when she was just 12.
With an effortless swing, tremendous poise and limitless ability, Wie was heralded as the future of women's golf with many believing it was just a matter of time before she would win. In her 49th LPGA start, her time might have finally arrived.
Wie shot a 2-under 70 in difficult conditions in the second round and used a three-birdie run to surge to the top of the leaderboard and finish with an 8-under 136, where she was tied with Angela Stanford (71).
She entered the tournament just wanting to leave her past struggles behind. She's been able to do more than that.
"I'm starting with a clean slate," she said. "I earned my way here. I'm a rookie. ... And I've been through a lot, so I'm just going to start fresh, start new and just have a great year."
The 19-year-old Wie will be in the final group for the first time since the 2006 Evian Ladies Masters, where she tied for second and picked up the biggest tour paycheck of her career.
The last time she led going into the final day was at the 2006 U.S. Women's Open where she was tied with Annika Sorenstam and Brittany Lincicome. Wie finished tied for third.
There's no question that Wie is hungry for a win. She hasn't hoisted a trophy since claiming the USGA Women's Amateur Public Links Championships at age 13 to become the youngest USGA champion in history.
"There's still a day left. I just want to do the same thing and play as hard as I can," she said. "Obviously (a win) would mean a lot, so I'm just going to try and have fun out there."
There were consistent winds of 25 to 30 mph at Turtle Bay that bent the flagsticks and had players switching clubs and fans holding their caps. Winds are supposed to be stronger Saturday.
Wie chipped in from about 35 feet on No. 2 and drew a roar from the hometown gallery, which included a woman who wore a T-shirt that read, "Wie Believe." The chip sparked the three-birdie run.
"All day I was hitting such good shots and such good putts and didn't really get in the hole, and finally it kind of burst the door open, so it felt really refreshing," Wie said.
While Wie seemed to make all her long putts, she couldn't seem to handle the short ones late in the round. She three-putted for bogey on No. 8, lipping a 3-foot par putt.
The Stanford sophomore, who has struggled the past two years with wrist injuries that contributed to her missing cut after cut and shattered her confidence, earned her tour card in December with a seventh-place tie at Q-school.
Wie is now healthy, confident and trying to show that she not only belongs on tour, but has the ability to win.
She's always played well at Turtle Bay, located about an hour-drive from where she grew up. Wie played the first SBS in 2005 as a 15-year-old amateur and tied for second, two strokes behind winner Jennifer Rosales.
It also was at Turtle Bay in 2006 that she became the first female player to win a local qualifying tournament for the U.S. Open.
And Wie will have home-field advantage Saturday.
"I like it," Stanford said. "It's fun because you know they're pulling for her, but that doesn't mean they're puling against me. They'll be great."
Stanford is seeking her fourth title and has emerged as one of the top golfers in the world. She finished no lower than tied for sixth in the final six events of 2008 and is ranked No. 8.
She is coming off a career-best season where she won two events, broke $1 million for the first time and finished ninth on the money list.
Stanford believes there's definitely an art to winning.
"But (Wie) is a little different in that she's such a great talent. So the curve for her gets smaller because she's so talented," Stanford said. "There are ways to win a golf tournament and there's certain things you have to do to win. She makes up for what she doesn't know with her talent."
Stanford said she was a late bloomer and needed to go through the bad and good to learn how to win. And she's still learning.
"I know that I need to get off to a quick start, and a quick start doesn't always mean 2 or 3 under. It means not going backwards," she said. "For me, I just need to go out there and get a couple of pars, maybe birdies, under my belt and go."
She began the day at 7 under and quickly caught Wie for the lead by sinking a 6-foot birdie putt on the par-5 third hole before running off 15 straight pars for her second bogey-free round.
Brazilian-born Angela Park had the best second round with a 68. She was at 7 under, two strokes ahead of Japan's Momoko Ueda (71).
Rookies Stacy Lewis (70), the Q-school medalist, and 18-year-old Vicky Hurst (71) were at 3 under, with 2008 rookie of the year and second-ranked Yani Tseng (75).