News
Stanford Leads; Wie One-Stroke Back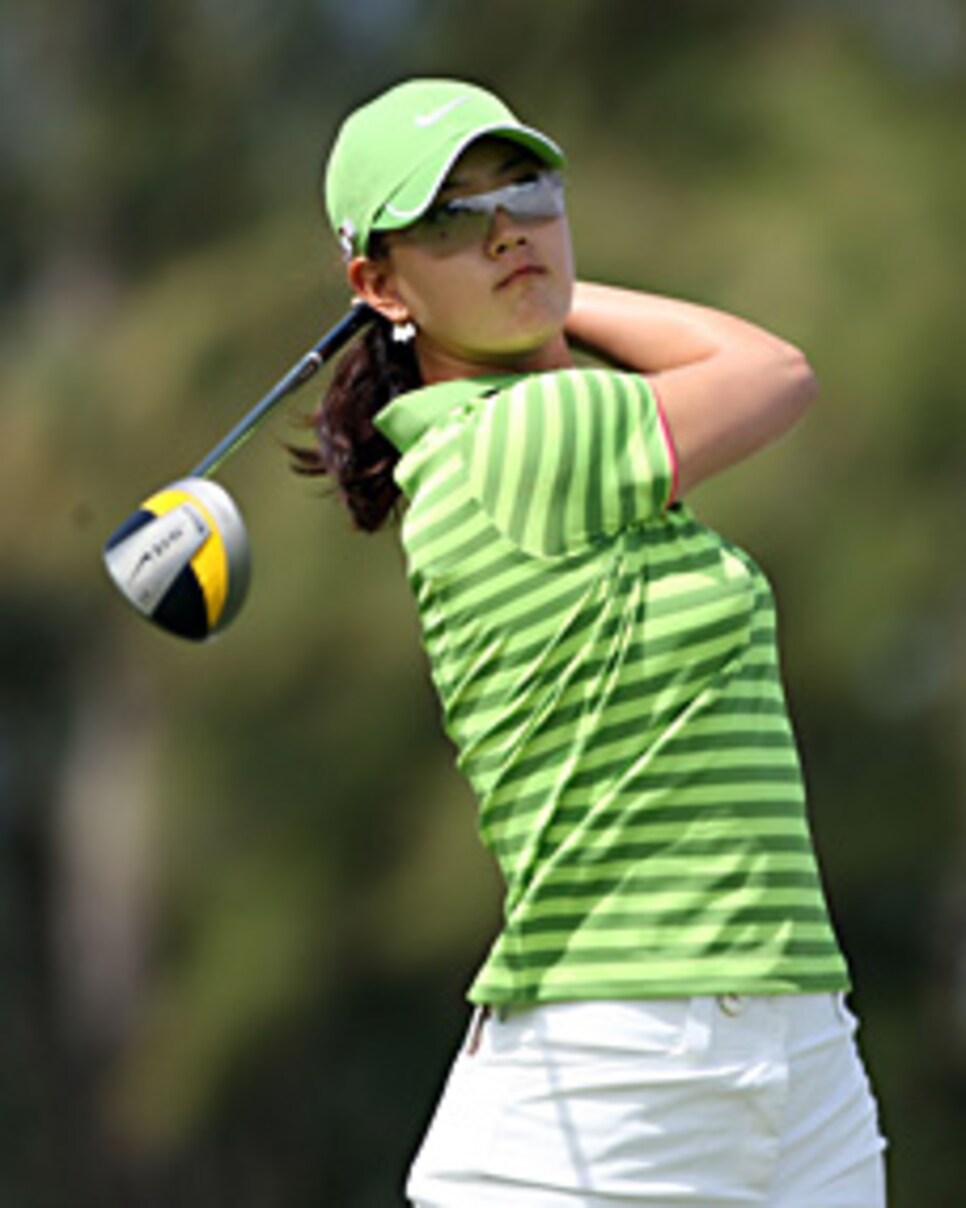 Wie opened with a birdie and closed with birdies on three of her last six holes.
KAHUKU, Hawaii -- The latest stage of Michelle Wie's unique career is off to a rousing start.
The 19-year-old Wie was a stroke behind leader Angela Stanford and tied with rookie of the year Yani Tseng, who was ranked 133rd a year ago and is now No. 2. South Korea's Kyeong Bae had 67, and Japan's Momoko Ueda shot a 68.
Wie looked comfortable playing in front of the largest gallery and on her home island of Oahu. It was her first U.S. start since July when she was disqualified from the State Farm Classic after opening with a 67. She earned her tour card in December with a seventh-place tie at Q-school.
"There were so many familiar faces out there," Wie said. "Just to see them rooting me on. Just to know they've been rooting me on for the last how many years. I just felt really comfortable, really grateful and happy to see all of them."
With the sun setting over the churning Pacific Ocean, Wie closed the round with three straight birdies. They were each set up by a 3-wood off the tee and an aggressive wedge shot onto the greens, where she was perfect.
"I hit a couple of good shots in there, made a couple of good putts," she said. "It didn't feel any different from the rest of the round, it just all clicked together fortunately."
She went birdie-bogey-birdie to open the day and crawled up the leaderboard with consecutive birdies, including a curling 20-footer on No. 9, to make the turn at 3 under.
She lost a stroke on the par-4 11th when her tee shot sailed left and found the heavy rough and her 8-footer for par hung on the lip. But she quickly recovered on the next hole after nearly chipping in for eagle.
Turtle Bay has been good to Wie, who is looking for a new beginning after her wrists and confidence took a beating in 2007.
Now, she's feeling healthy and looking like the player in year's past that had limitless potential and dazzled the golf world with her big swing.
"I just realized you don't gain confidence over night," she said. "It's definitely a work in progress. Especially after Q-school and all of that, when things started going my way, I got a lot more confident."
Wie played the first SBS in 2005 as a 15-year-old amateur and tied for second. It also was at Turtle Bay in 2006 that she became the first female player to win a local qualifying tournament for the U.S. Open.
Wie is one of the headliners in a remarkable rookie class. But Wie isn't the typical rookie. She already has millions in the bank and is making her 49th start on the LPGA Tour, where she's been playing since she was 12.
Taylor Leon, In-Kyung Kim, Jimin Kang, Teresa Lu and Juli Inkster had 69s, while 2007 champion Paula Creamer was at 70, with Cristie Kerr, rookie Vicky Hurst and several others.
Starting on 10th, Stanford got off to a hot start and finished strong on a calm, overcast, cool day at Turtle Bay that began with intermittent showers. Winds picked up later in the day, making it difficult to catch Stanford.
She birdied the first two holes and made the turn at 4 under. She birdied two of her final three holes for the outright lead.
"I've always kind of struggled playing this golf course, so I really wanted to be more patient today," she said. "So I feel like just starting out, I was in the right frame of mind."
The 31-year-old Stanford, ranked No. 8 in the world, is coming off a career-best season where she won two events, broke $1 million for the first time and finished ninth on the money list. The former TCU star had six of her 10 top-10 finishes in the final six events, including wins at the Bell Micro LPGA Classic and Lorena Ochoa Invitational. She also finished sixth in the season-ending ADT Championship.
Stanford, from Saginaw, Texas, credited the success but more mentally. She is now content with par.
"I used to get upset with par. But I think it's just maturing a little bit and just mentally trying to be better on the golf course, not beat myself up so much," she said.
Tseng, who just turned 20 last month, is hoping for a big sophomore season after winning the LPGA Championship and recording five runner-up finishes en route to rookie of the year honors. With all the success last year, she doesn't feel any extra pressure to succeed this season.
But she does want to supplant Ochoa in the rankings.
"No. 1 in the world has always been my dream. My goal when I was very young," Tseng said. "But I think I have a long way to go. It's just step by step. Just do what I'm doing now and just see the results."
The Taiwanese star played the first eight holes at 2 under before making her move. Behind a sharp iron game, she birdied four of the next six holes to reach 6 under. She lost a stroke on the par-4 17th by pushing a 3-wood into the bunker and missing a 4-footer for par, but tapped in for birdie on the 539-yard 18th.
Tseng wouldn't give a precise number of events she aims to win this year. Her goal is simple: "I want to be a birdie machine."
That should get her at least a few more titles since she led the LPGA last year with 388 birdies.