News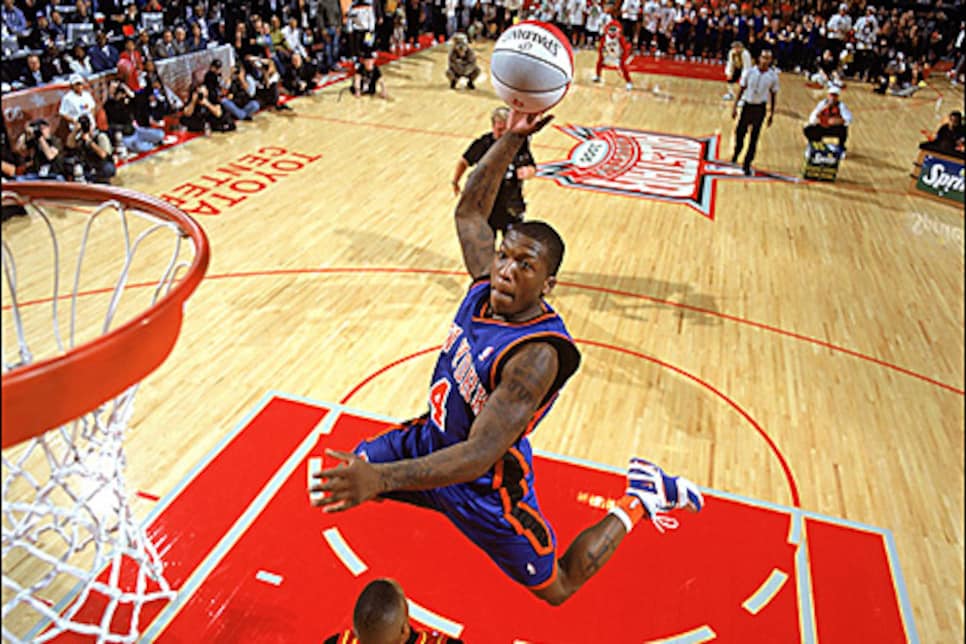 It's no slam dunk, but there's lessons for the PGA Tour in how the NBA sells itself.
Sitting through back-to-back Martin Lawrence movies on a rainy night in Los Angeles last week, the notion hit me like a sucker punch in a formula comedy. The PGA Tour isn't all that different from the NBA in terms of product identity. Both leagues rely heavily on superstars to drive public interest. Both are victims of mercilessly long regular seasons and struggle to expand their core audiences, not only because of their niche status, but the pangs of old-world public perception.

As a middle-aged white guy, I've had numerous friends and colleagues tell me they despise pro basketball because it's filled with thugs and hoodlums, when in fact, the NBA has very few off-court disciplinary problems compared to the NFL. Invariably, the dissenter will clear his throat and revise his point -- college basketball is simply more interesting. Fouls are called, the rules of the game are honored with greater consistency, and if LeBron James had played college ball, he wouldn't need to take six steps without a dribble and break three tackles every time he goes to the hoop.
That's cool. You don't have to watch and you certainly don't have to care, but the NBA and PGA Tour also share a very positive trait: they are home to the best pure products in sports. The size/skill quotient in pro basketball is almost dumbfounding, and if the world's best golfers are guilty of anything, it's the ability to make an exceptionally difficult athletic task look simple, over and over.
I mention all this because the NBA All-Star Game will be played this weekend, and if there is a more successful marketing mirage on the planet, I cannot think of it. The game itself is nothing more than a two-hour advertisement for the league, its most talented and popular players, and has absolutely no competitive value whatsoever. Still, commissioner David Stern and his fleet of New York hotshots have transformed the meaningless affair into a weekend-long extravaganza, a celebration of all things fun, exciting and NBA-friendly.
What began in the 1980s with the slam-dunk and three-point-shooting contests has mushroomed into a medley of volume-raising activities. There's a celebrity game one night, a rookies-vs.-second-year guys exhibition the next, and in recent years, a game of H-O-R-S-E has been added to the mix. Cable network TNT could not do a better job of waving the NBA flag on this project: viewers are bombarded by two months of aggressive All-Star weekend promotion, although ESPN bought into the festivities a few years back and will televise Friday evening's bounce-and-giggle with the celebs.
How many singular sporting events, even the ones that aren't utterly insignificant, have two networks investing in the rights? In recognition of his crafty leadership, Stern's smiley round mug should be painted on the floor of every NBA arena. His league gets awful TV ratings, but he has the ABC/ESPN powerhouse in his pocket. Overseas, especially in Asia, the NBA is trending north with a bullet. The grotesque brawl in November 2004 between the Pistons and Pacers, which began on the court, moved into the stands and subsequently led to criminal charges, has fully disappeared from the league's economic profile.
Stern is, by any rational measure and a considerable margin, the best commissioner in sports. What does that have to do with the PGA Tour? Plenty. Professional golf does not come close to maximizing its popularity and visibility potential, even with the world's greatest athlete on its roster. Its demographics are superb, which explains the hearty corporate commitment, and though its fan base is relatively small, it is a loyal, commercially appealing group.
From there, however, the game clearly underachieves. In this, the tour's third season without ABC/ESPN, it remains difficult to gauge the impact of the divorce. The Golf Channel has absolutely no chance of attaining the same mainstream reach, but with TV ratings down across the board, you can't blame those weak numbers on the new Thursday-Friday carrier or the departure of the previous partner.
When the LPGA and Champions tours are added to the picture, the outlook darkens even more. Even among golf's hardcore followers, neither circuit has much presence. With the seniors downsizing their schedule and the ladies continuing to fight the endless battle for more attention and credibility, it's anyone's guess how both tours will fare if the nation endures a prolonged economic slump.
Neither will vanish entirely, but with pro golf so reliant on corporate America to fuel its financial engine, it has become more vulnerable than it should be, and that has to change. After years of prosperity and solid growth, the men's tour continued generating wealth even after the game stopped expanding from a recreational standpoint. Now we're looking at a potential crisis, a problem that really isn't fixable unless Camp Ponte Vedra is prepared to drastically alter its mentality.
Right after last year's Ryder Cup, I heard from dependable source that the PGA Tour was exploring the possibility of seeking compensation from the USGA, R&A, and PGA of America, all of which generate immense profit from tour pros' participation in the major championships. We're basically talking about a licensing fee based on the premise that the tour claims ownership of the players, which only slightly contradicts the argument that these guys are independent contractors.
Whether the tour pursues those stipends remains to be seen, but in any context, the concept does a nice job of underscoring much of what threatens pro golf in the 21st century.
Too much emphasis on money. Too many governing bodies. No guilty pleasure that hits the man on the street like one of those sucker punches.
A little more Martin Lawrence, a little less Lawrence Welk.