News
Garrigus And Johnson Tied After Day One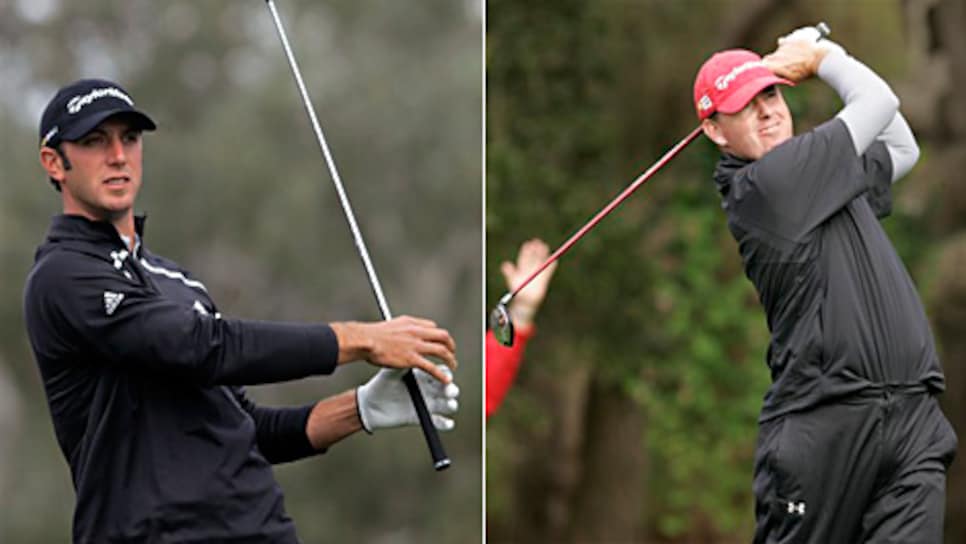 Dustin Johnson (left) lead the field in driving distance while Robert Garrigus was perfect out of the bunkers.
PEBBLE BEACH, Calif. (AP) -- Sunshine and tranquil conditions turned the AT&T Pebble Beach National Pro-Am into paradise Thursday, and it was particularly ideal for big hitters Robert Garrigus and Dustin Johnson.
Garrigus reached the uphill, 529-yard seventh hole at Spyglass Hill with a 5-iron and holed a 50-foot eagle putt, then closed out his first round with consecutive birdies for a 7-under 65.
Johnson, another natural athlete with height and power, holed out a 9-iron from 151 yards for eagle on the first hole at Pebble Beach and played bogey-free for a 65.
Such scores are rare at Spyglass and Pebble except when the wind and rain go on hiatus, which was the case on a gorgeous afternoon on the Monterey Peninsula. And there's a big advantage with length on soft courses in chilly weather.
"I look forward to golf courses playing long. That's my game," said Garrigus, who is making his 90th start on the PGA Tour and found his name atop the leaderboard for the first time after any round.
Rich Beem isn't particularly long, but he did practically nothing wrong.
The former PGA champion hasn't been back to the Pebble Beach National Pro-Am since 2000, and he had no intention of returning until he lost his card last year and could no longer choose where he wanted to play. But he was loving it Thursday, opening with three birdies and finishing with two more.
The only drama came early, when Beem felt a few drops of rain on the first hole at Pebble Beach and asked his caddie for the umbrella.
"What umbrella?" Bill Heim replied.
Turns out it had been misplaced, and Beem dashed into the pro shop to borrow one. He didn't need it, as the sun quickly emerged and the birdies started falling.
Also at 66 were Vaughn Taylor (Pebble Beach) and Charley Hoffman (Spyglass Hill).
Vijay Singh, in his first tournament since minor knee surgery after the season-opening Mercedes-Benz Championship, opened with a 72 at Poppy Hills, while double major winner Padraig Harrington struggled to a 74 on the same course.
Phil Mickelson had a 72 at Spyglass.
Garrigus is among the longest hitters in golf, and it's no accident.
His dream of playing baseball ended at age 13 when he threw out his arm on the mound and broke his leg on a dirt bike. His grandfather handed him a driver and told him to swing as hard as he could until he turned 18.
"Sure enough, I was hitting it over 300 yards when I was 15 years old," he said.
The rest of the game has been slow to catch up. Garrigus shot 93 the first time he played and was down to 69 a year later, but against stronger competition, he had to learn to keep the ball in the short grass and make some putts. Changing to a 28-inch putter helped the latter, and he is getting more comfortable on tour.
"It's kind of an ego thing, but I really don't want to be known as the guy who hit it farther," he said. "I want to be known as the guy who makes everything, because that's where the money is."
His finish was on the money at Spyglass, traditionally the tougher of the three courses, starting with his 5-iron into the par-5 seventh green. Garrigus followed that with an 8-iron into 8 feet and another 8-iron into 15 feet on the last two holes for birdie.
Johnson concedes his length helps, especially reaching par 5s that others can't, but his 65 came despite making only one birdie on the par 5. He nearly reached the 18th in two, but chipped to 10 feet and missed the putt.
Even so, he had few complaints about the day.
"It was beautiful out there," he said. "You can't have a bad time on this golf course."
Davis Love III was among the early leaders until he dropped a few shots coming in and had to settle for a 69. As for the pro-am portion of the round, his partner made it sound like a case of "Hit the ball, drag Tim."
PGA Tour commissioner Tim Finchem played for the first time, and while he contributed a few shots along the way, he made double bogeys on two holes when he got a stroke with his handicap, and they were holes were Love made bogey.
Finchem conceded to being nervous, and "if you watched any of my shots, you could tell."
"It was great fun," he said. "As many times as I've been on the fairway with guys talking to them, when you get to observe that close, it does reacquaint you with how good they are. And you get the feeling of being totally inadequate."
Mark Calcavecchia was among those at 67, while Retief Goosen was in the large group at 68. The conditions were so good that 87 players broke par, a group that included Jim Furyk, who shot 71 at Spyglass in his 2009 debut.
Tee times were revised from Tuesday night to Wednesday morning, moving the group including PGA Tour commissioner Tim Finchem and AT&T chairman Randall Stephenson to a different course rotation. It is rare when times are changed, and Finchem said it was a "miscommunication between the tour's staff and tournament staff" over the rotation they preferred. ... Garrigus said his grandfather, Chet Carpenter, introduced him to the game as a teenager and at 96 is still hitting balls. "I got him a big, 65-inch TV so he can see me now," Garrigus said.