News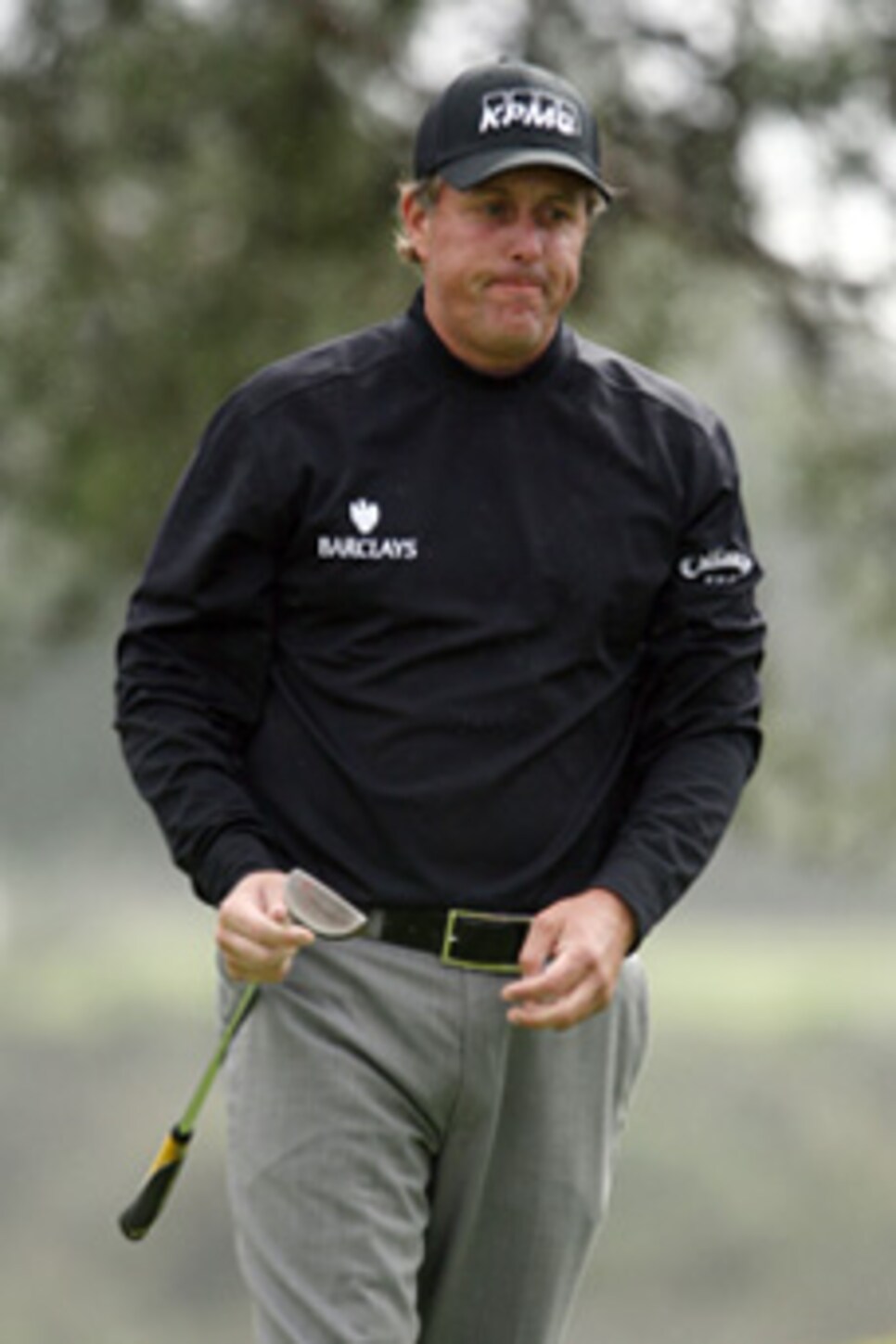 Continued poor results will inevitably spawn specualtion Mickelson's career has peaked.
PEBBLE BEACH -- How do you rebound from a bad start?
Sure, it's early, but Phil Mickelson is getting his season underway by heading in the wrong direction. And he needs a change of course right away before he finds himself even more off line.
He spent his workday Wednesday getting ready for the AT&T Pebble Beach National Pro-Am by tackling Cypress Point, which isn't one of the courses in the rotation. But that doesn't matter to Mickelson because it's the usual way he prepares for the tournament that he has won three times.
Here's what does matter to Mickelson so far this year: He doesn't know where the ball is going.
Of course, that's an oversimplification, because he usually does have a pretty fair clue. But the fact is that Mickelson has some holes in his game and he knows it. His drives are inconsistent, he's not getting to the green fast enough, he's not getting it close enough to the hole and when he does, he's missing the putts.
Other than that, Mickelson is completely sound.
The reality is that it's been shaky going so far. Mickelson's assessment of his start?
"Not what I was hoping for," he said.
He probably was hoping for more than an opening-round 72 at Spyglass Hill, where he shares the course record of 62.
Mickelson missed the cut in his season-opener at Phoenix, a tournament he's won twice and only last year lost in a playoff. He brushed it off. Last week at Torrey Pines, a tournament Mickelson has won three times, he tied for 42nd and actually scored worse every round. He was not a happy camper after that one.
In seven rounds, Mickelson has broken par once. His scoring average of 72.16 coming into Pebble Beach ranked 132nd and it's almost three shots worse than last year's season-long average. The numbers are downright ugly. Mickelson has hit just over 40 percent of his fairways and ranks 170th. He's 147th in hitting greens and 143rd in putting. Those aren't going to cut it by anyone's standards, and Mickelson's are high.
Could be that this is a critical year for Mickelson, who turns 39 in June and has won one major, the 2006 Masters, in the last three years. Especially when you consider this: In the last four years, no one over 40 has won a major. The only players 40 or older to win a major in the last 10 years are Payne Stewart (42) at the 1999 U.S. Open and Vijay Singh (41) at the 2004 PGA Championship.
Mickelson did win twice last year, but without contending in the majors, He counted it as a down year. He doesn't need another one.
There's no time to panic, at least not yet, but Mickelson has to be concerned. He's in the middle week of a schedule that includes five-straight tournaments, which means that Mickelson has an opportunity to play himself out of it. The flip side is that's not all he expects and instead focuses on hitting the ground in stride and holding up a trophy on Sunday.
So maybe the best approach for Mickelson is to pretend it's business as usual, which is probably a good one since it really is only February, right? On Monday, the Corporate Phil taped a commercial for Exxon Mobil to air during the Masters. The Techno Phil tinkered with his Callaway FT-9 driver and had it re-shafted to achieve a stiffer tip.
Maybe the best news is he's won this tournament twice in the past four years. His amateur partner is Charles Schwab, and if it's any consolation, he may be off to a worse start this year than Mickelson.