News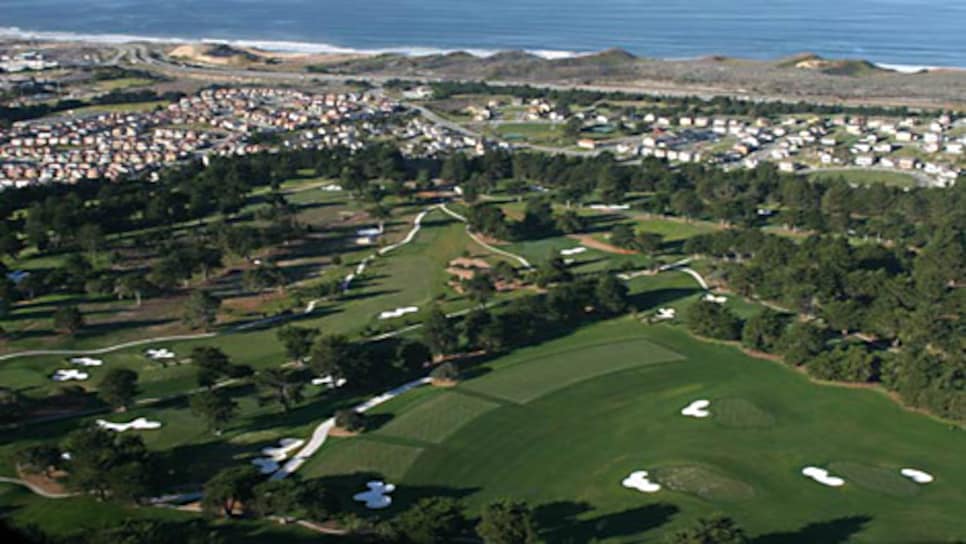 An aerial view of the recently renovated Bayonet and Black Horse 36-hole complex.
PEBBLE BEACH -- The PGA Tour has sent officials this week to study the recently remodeled Bayonet and Black Horse, a 36-hole facility on the Monterey Peninsula, as a possible new site to be used in the AT&T Pebble Beach National Pro-Am.
PGA Tour commissioner Tim Finchem said the overview is being conducted as part of a homework process for the feasibility of an alternate course in the traditional three-course framework of the tournament.
"We just want to be up to speed with what the options are," Finchem said. "You never know.
"We have people looking at it, but it's all part of a process to make sure we have the best courses and we've been in that kind of mode for the last 10 years here. It's part of the plan. I wouldn't read too much into it."
Since Cypress Point dropped out in 1991, the $6.1 million AT&T event has used the same three-course rotation: Pebble Beach Golf Links, Spyglass Hill Golf Club and Poppy Hills Golf Club. Of the three, Poppy Hills has been the most likely subject of player criticism, in large part because of drainage issues. Speculation has centered on Poppy Hills as the course most likely to be replaced -- if one is replaced at all.
Ed Bennett, project manager for Bayonet and Black Horse said that discussions are underway that involve the course as a potential tournament site.
"There have been rumors for years since Poppy Hills came on the scene that some tour players didn't like it. But we are in the middle of an exciting tournament at a different course and talking too much about a different product right now doesn't seem right."
R.J. Harper, senior vice president of golf operations for the Pebble Beach Company, said he was unaware of any move toward Bayonet and Black Horse as a course to be used in the tournament.
"Honest to goodness, I have no clue," Harper said.
The two courses under review are the 7,104-yard Bayonet Golf course and the 7,024-yard Black Horse course, both par-72 layouts and both recently renovated by architect Gene Bates in a $13 million project. Bates' work included alterations to hole routings, new tees, bunkers and green complexes and the removal of non-native trees for better views of Monterey Bay, downtown Monterey and Point Pinos from several holes on both courses.