News
Wie's Next Chance To Begin Anew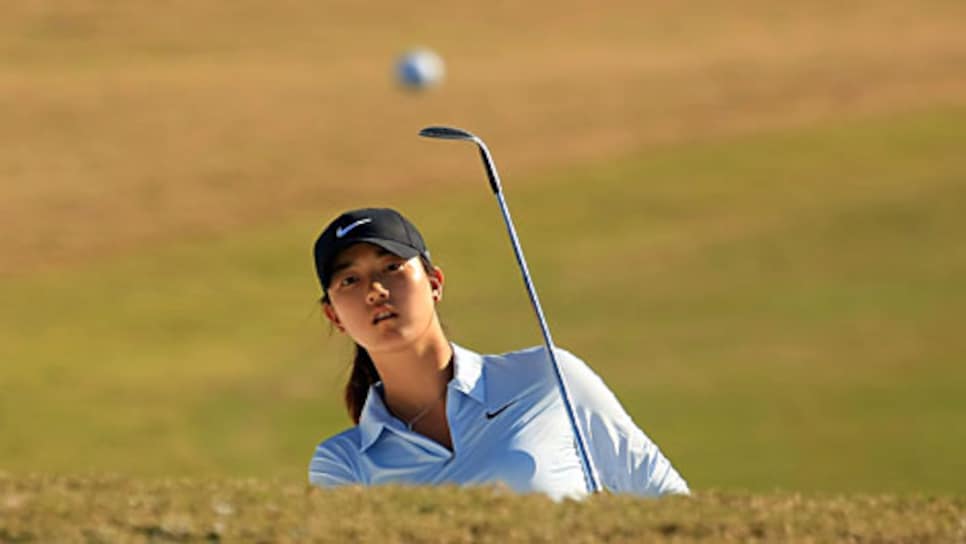 Michelle Wie's first event as an LPGA member is another opportunity to deliver on her vast potential.
When F. Scott Fitzgerald concluded, "There are no second acts in American lives," he probably didn't have in mind that a 19-year-old could have a first act. And in truth, Michelle Wie is more accurately commencing Act III of a five-act melodrama this week at the Turtle Bay Resort in Hawaii, when the SBS Open becomes her first tournament as an LPGA member.
Here are some numbers to consider:
• An amazing seven years ago, Wie played in her first LPGA event at the age of 12, missing the cut at the Takefuji Classic by three strokes.
•Six years ago, she shot a 66 in the third round of the Kraft Nabisco Championship, played in the final group on Sunday and finished T-9.
• Five years ago, Wie shot 71-68 in the Sony Open on the PGA Tour and missed the cut by one stroke. For a 14-year-old girl to come that close to making a cut on the best men's tour secured her credentials as the greatest thing since twist-off beer bottles and squirt cheese.
• Four years ago, she finished second in three LPGA events, including the McDonald's LPGA Championship, turned pro on her 16th birthday in October and was famously disqualified in her professional debut when she signed an incorrect scorecard after taking a bad drop in the Samsung World Championship.
• Three years ago, Wie finished in the top three in a trio of LPGA majors and at the Evian Masters had a two-stroke lead with seven holes to play, was chased down by Karrie Webb, and didn't break par in competition again for another year.
• Two years ago, she hurt her wrist while running in February, withdrew in May from the first round of the Ginn Tribute in the infamous 88-Gate in which many players thought she quit rather than risk not breaking 88 and being banned from the tour for the rest of the year. In eight LPGA events that year, she missed three cuts, withdrew twice and played 367 holes 109 over par for a stroke average of 76.68
• Last year, Wie showed signs of coming back, finishing 6th in a Ladies European Tour event in Germany and finishing T-12 at the Canadian Women's Open. Still, she could not escape controversy, missing the cut at the U.S. Women's Open, where she made a 9, and being disqualified at the State Farm Classic for leaving the scoring area after the second round before she signed her scorecard.
Then, at LPGA Q school, she finished sixth to earn her card. In perhaps the most hopeful moment of all last year involving Wie, in her post Q school news conference she spoke about how satisfying it was to earn a card. Those were encouraging words to hear from a young woman who has had a lot handed to her over the last seven years, from sponsor's exemptions to LPGA events, to special exemptions to two U.S. Women's Opens and spots in fields at men's events.
Ironically, the worst thing that may have happened to Wie over her seven-year never-a-dull-moment ride through professional golf was probably missing the cut by one stroke at the 2004 Sony Open at the age of 14. People thought she was that close to being able to compete against the men.
But upon further review -- and actually anyone playing close attention at the time and not in total denial because they so much wanted her to make the cut would have noticed -- she made about a million miles of putts. It was impressive, but it was also a fluke. The best she did in three more tries at the Sony was miss the cut by four strokes.
But because Wie came that close, she and her parents believed her press clippings, and who can really blame them? She kept playing against the men and, as several swing coaches much smarter than me have suggested, lost her once-glorious rhythm because she was over-swinging, trying to hit the ball as far as the men just like a lot of writers said she could.
That near-miss at the '04 Sony also sealed Wie's fate because it meant she would get more invitations to men's events, and it meant she would accept them. She skipped junior events to play against the pros and women's events to play against the men. Both decisions negatively impacted her development as a golfer.
But now she is 19 years old, has an LPGA tour card and seems satisfied to view it as an honor to compete against the women and not as a step below playing against the men. There are now two things she needs to accomplish: Get her confidence back, and win back the LPGA players she offended by behaving for so many years as if she were too good to play their tour.
Michelle Wie starts this year on Thursday not as a phenomenon whose upward limits know no bounds, but as an LPGA rookie trying to establish that she belongs. The skill is there, of that there is no doubt. Now she needs to show she has the passion and desire to win.
Speaking of winning, let's leave with one more number.
• Six. This summer it will be six years since Wie last won a golf tournament, taking the U.S. Women's Amateur Public Links. The next year she lost in the WAPL finals to Yani Tseng.
And that brings us to this parting trivia question: What do Tseng, Morgan Pressel and Inbee Park have in common? All three defeated Wie in a USGA amateur match play competition, and all three won LPGA major championships as teenagers. And this was the ultimate flaw in the Wie strategy. She wasn't a lone prodigy, but part of a movement of very talented kids.
Seven years after playing her first LPGA tournament, who would have thought we'd still be waiting for Wie to win on the women's professional tour? But this is a new beginning. This truly is Act III.
In Act I, she was the sensation; in Act II, the tragic figure; and now she enters a third act as a somewhat humbled young woman trying to prove she belongs, and maybe live up to her enormous potential. Quite frankly, the LPGA needs her to live up to the hype. Michelle Wie is one of those rare athletes who moves the needle. And in this economy, with the needle stuck somewhere between empty and help, that would be a good thing.