News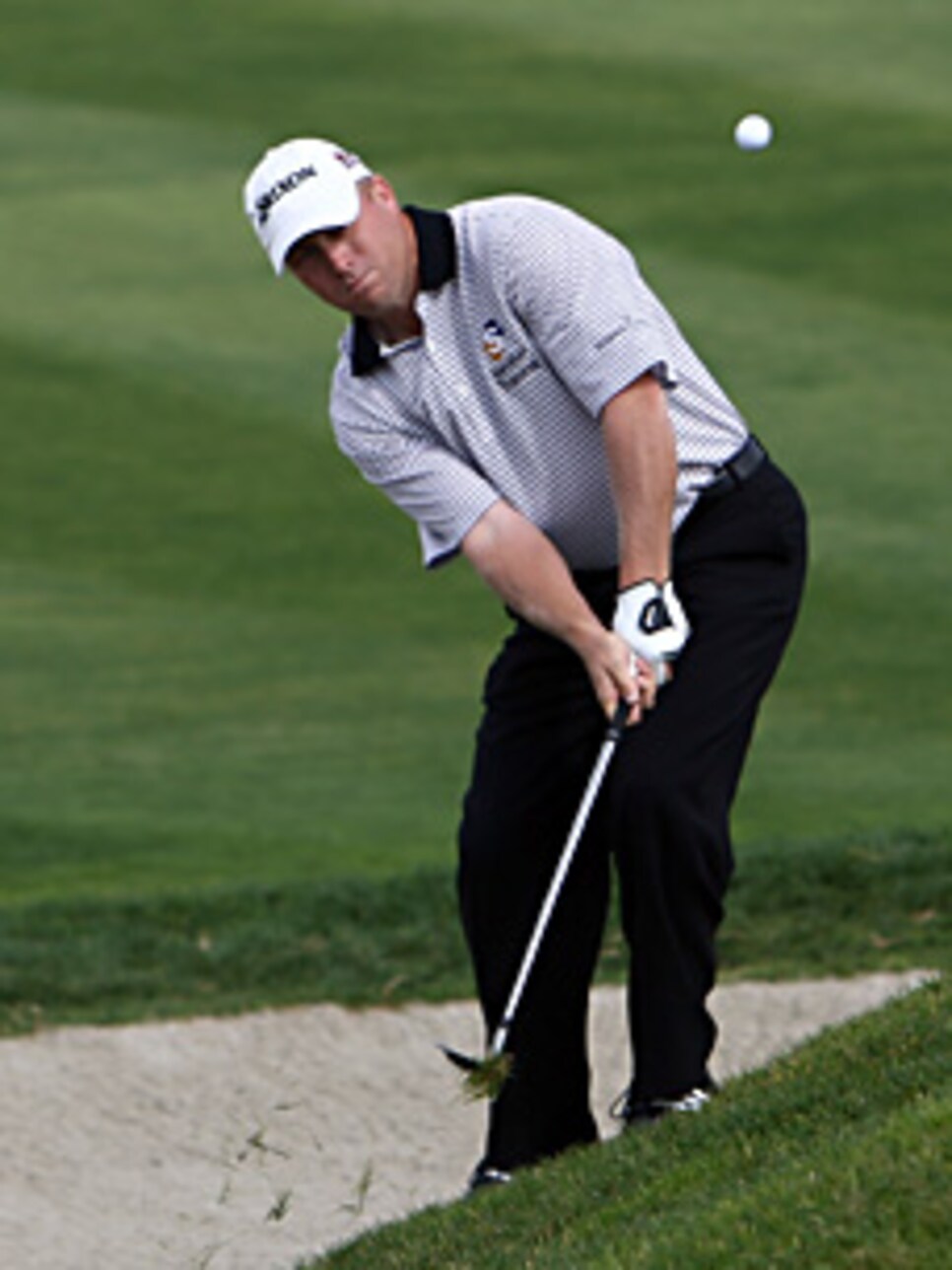 Rollins had a shaky back nine, taking three bogeys over the last seven holes.
Rollins, who lost a share of the lead with a bogey on the final hole of the second round, made up for that quickly with two birdies in the first four holes to take the lead, then surged farther ahead when the Colombian struggled from the sand and on the greens.
The margin could have been even wider if not for three three-putt bogeys by Rollins over the final seven holes, including the par-5 18th that raised hopes of Villegas and a few others who still need some help on Sunday.
Rollins was at 12-under 204, his first outright lead going into the last round in his nine years on the PGA Tour.
Villegas capped off an ugly front nine with a double bogey when his bunker shot sailed over the green, leaving him five shots behind. He steadied himself for a 2-over 74, at least leaving him in range.
Nick Watney had a 71 and was at 7-under 209, putting him in the final group.
Paul Goydos nearly holed out a wedge on the final hole and tapped in for birdie for a 72, putting him at 210 with Luke Donald (71).
The group another shot behind included Charley Hoffman, who grew up in San Diego and provided his hometown fans with the wrong kind of treat when they were able to watch him tee off twice on the opening hole.
Hoffman's first tee shot went into a pine tree and never came out. He spotted one ball with a pair of binoculars, tossed an umbrella to dislodge it from the tree, but it wasn't hit. After five minutes, he had to trudge back to the tee box and reload, opening with a triple bogey. He made up those shots five holes later, but ultimately settled for a 74.
The only disappointment for Rollins came from his three-putts, none stinging as much as the last one.
He only had a sand wedge for his third shot on the par-5 18th, but with the pin on the top ridge and a bunker behind the green, he left his shot on the bottom shelf, then rammed his first putt some 4 feet by the hole. The par putt dipped into the cup and spun back at him.
Rollins has won twice on tour, both times coming from behind on the last day. He has had a share of the 54-hole lead three times without winning, but it helps to have a three-shot margin.
Even so, Rollins knows how quickly that can disappear.
"This course can grab you if you don't pay attention to what you're doing," he said.
He watched that happen to Villegas on the par-5 ninth, when he ran into trouble off the tee and was in the bunker after three shots. Villegas tried to get his bunker shot to the top shelf at the pin, switching from a 53-degree to a 58-degree sand wedge. But he was too aggressive, caught it think and watched it fly into the gallery, leaving him no hope of getting it close.
The 27-year-old Colombian kept from going south, however, with a 3-iron into 8 feet for a birdie on the par-3 11th, followed by a solid par on the 12th hole, where Rollins three-putted down the hill.
That stretch is among the toughest on the South Course, and it enabled Villegas to stay in the game.
"Golf tournaments are four days," Villegas said.
Phil Mickelson's hopes ended on Saturday when he failed to get going and shot a 73, leaving him 11 shots behind.
"Not what I was hoping for," Mickelson said. "I thought a good round would get me back in it, and I didn't get off to the best start, but it was playing tough today, and I just didn't quite put it together."
British Open and PGA champion Padraig Harrington had another 74 and was at 3-over 219.
Charles Warren and Lucas Glover, teammates at Clemson were at 5-under 211, and only one of them expected to be in the hunt when the week began. Warren, who lost his full card last year, began his season on the easier North Course and opened with a 74.
But he stayed alive with a 69 on the South on Friday, then followed that with a 68.
"If you play well, you can shoot a good score," Warren said.
Rollins didn't get much notice from a gallery torn between Hoffman's hometown fans and Villegas with his magazine-cover looks.
But they began paying attention when his 6-iron from a bunker stopped 10 feet away from a dangerous hole location on the fourth for a birdie that gave him the lead, and he never gave it back.
Divots: Jason Gore winced over most of his shots because of severe back pain that he first felt on the opening hole. Starting the round at 5 under, he wound up with an 80. ... Because 85 players made the cut, there was a 54-hole cut to low 70 and ties, eliminating 14 players Saturday. That group included Chris Stroud, who was tied for 12th until shooting an 82.