News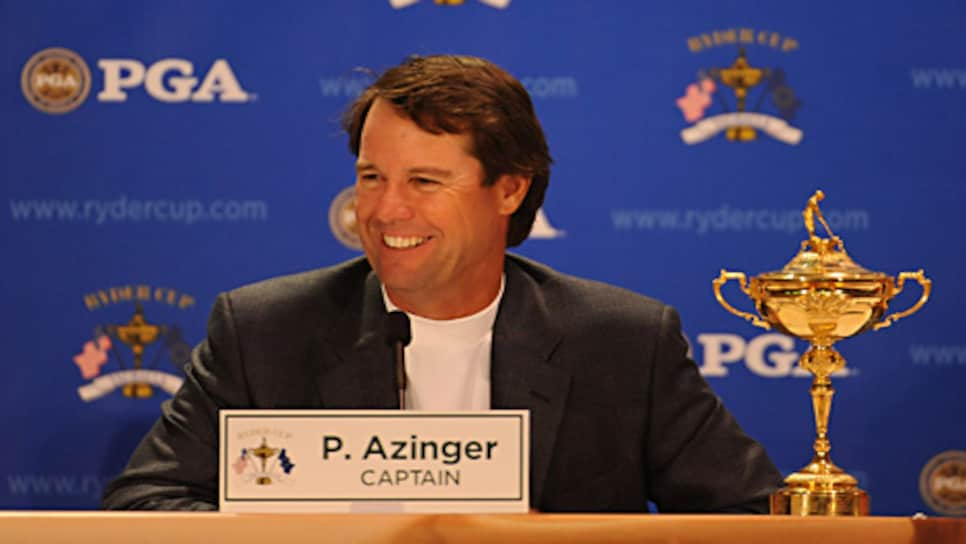 The evening before Paul Azinger took the stage as the keynote speaker at the opening session of the Golf Course Superintendents Association of America's Education Conference in New Orleans, he dined with friends at a modest restaurant, and fretted about his speech. Not one to normally write much down, he felt compelled to jot down ideas on the tablecloth, which, fortunately, was made of paper and not cloth.
By the end of the meal he had several dozen lines, some just a key word or phrase, others forming entire paragraphs. He ripped off a two-foot section of tablecloth crib notes, folded it into a menu, and took it with him.
The next morning, he carried it on stage, and revealed for the first time in open public just a few of what he said were "a zillion little details" that went into his tenure as captain of the victorious 2008 U.S. Ryder Cup team.
Tailoring his talk to the assembled superintendents, he said his role as captain was to "create the best possible environment" for his team, a logical goal for success in any profession. In this case, Azinger revealed that he even took the radical step of leaving some of the responsibility of his captain's picks in the hands of the players who already qualified for the team.
Azinger confessed that he had heavily lobbied for the Ryder Cup captaincy for over a year, promising the officers of the PGA of America that he had a radical plan to bring the Ryder Cup back to America. If they wanted to win, he told them, they needed to change the selection process to automatically qualify the hottest American players during the Ryder Cup year; expand the captain's selections from two to four picks; and let him run the team much in the manner of a Navy Seals training camp, with four-man mini-teams within the greater 12-man team.
Once he got the job, and the 12 hottest American golfers at the close of the 2008 season, he divided his team into three "pods" according to compatible personalities.
He assigned Phil Mickelson, Anthony Kim and Justin Leonard to the Aggressive Pod, and to give them ownership of their pod, he let them choose a captain's pick from six nominees, each a compatible aggressive personality. They chose Hunter Mahan. Azinger was delighted to call Mahan and tell him, "I want you. These guys want you. These guys asked for you."
Stewart Cink, Steve Stricker and Ben Curtis were assigned to the Steady Pod, and from a list of three candidates, their consensus captain's pick was Chad Campbell. Kenny Perry and Jim Furyk (whom Azinger said could have been plugged into any pod) formed the initial Southern Pod (later affectionately renamed the Redneck Pod), joined soon by Azinger's picks of J.B. Holmes and Boo Weekley.
Azinger then spent hours trying to pump his team full of confidence and camaraderie. He toyed with the idea of a quick mini-competition between the pods, just for fun, awarding colored underwear to the winners and runner-ups, and soiled underwear to the losers. But that plan never got beyond the talking stage.
Instead, on the eve of the Ryder Cup, Azinger and the entire team attended a pep rally in Louisville. In front of some 10,000 onlookers, Azinger led the players in chanting, "13th Man! 13th Man!" The crowd got the message, and responded accordingly the entire weekend.
Azinger said there was a "14th Man" at Valhalla, too: superintendent Mark Wilson and his entire crew, who fine-tuned the course to Azinger's precise specifications.
"The European captains had been doing that to their courses for years," Azinger said. "They'd set up their courses to negate the American team's advantages. But I didn't want to neutralize their strengths. I wanted the course to exploit our strengths."
So Azinger insisted the rough be kept short. "Flyer rough," he called it, short enough that a player might sometimes catch a flyer lie in it, a lie that takes an extra bit of skill to control. That played to his team's strength, he said.
Because he had a number of bombers on his team, he wanted virtually no rough off the fairways past the 300-yard mark. Wilson took to calling those areas the "Azinger rough." But because he felt every man on his team was a laser-sharp iron player, he wanted deep rough around the greens. He polled his team and asked what distances they felt most comfortable with on par 3s. All 12 players said between 195 and 210 yards, so all four par 3s played between those yardages all week.
"We crushed the European team on the par 3s," Azinger said.
No detail was too small. Azinger asked Wilson during a practice round to remove a tree limb on the second hole that might come into play for his big hitters. It was gone within an hour. On the eve of the Ryder Cup, he called Wilson with a last minute request.
"J.B. thinks there's a limb on a tree on the 16th, about 300 yards out, about 40 feet up, that could complicate things," he told Wilson.
"Consider it gone," Wilson answered. "By the way, that J.B. . . he's kinda spoiled, ain't he?" (After Azinger's talk, Wilson confirmed that conversation, saying he made the joke because it had been the last of several requests by J.B. Holmes. "And that tree on 16, by the way, wasn't 300 yards off the tee," Wilson added. "It was 380 yards off the tee. And Sunday afternoon, J.B. drove it past that tree.")
Azinger's talk ran overtime, but few in the audience cared. Instead of the usual antiseptic inspirational rhetoric that constitutes most keynote addresses, Azinger's was inside-pro-golf stuff, a look behind the scenes that few, even golf superintendents at major venues, ever get to glimpse. Azinger barely scratched the surface, never mentioning his conversations with Tiger Woods earlier last spring (before Tiger went on the disabled list) and glossing over his feelings about squaring off against his longtime nemesis Nick Faldo, captain of the European team.
That'll come later. Azinger says he's planning to write a book on the whole experience. It ought to be a fun read.