News
Baddeley's Caddie Happy To Be Back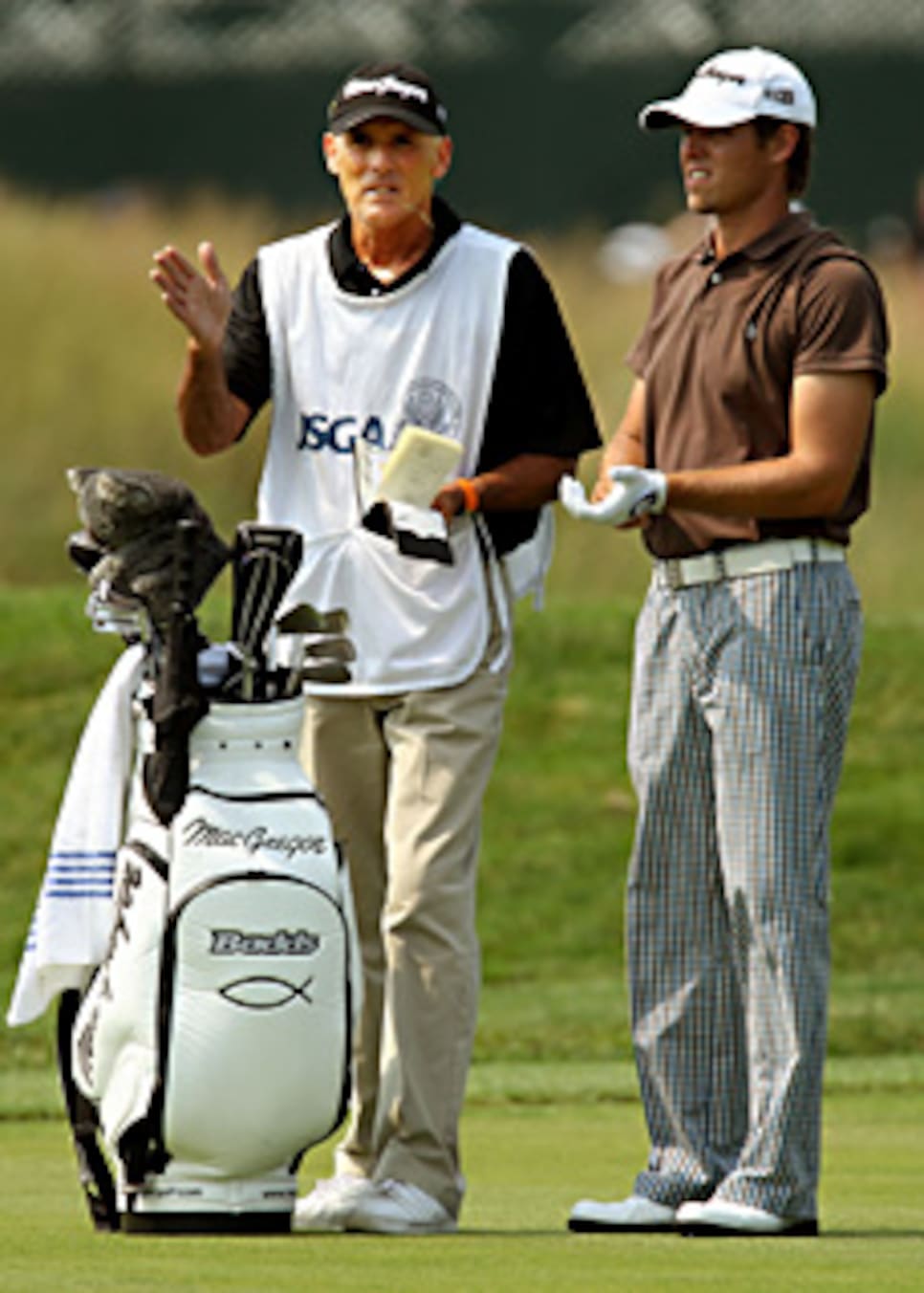 Pete Bender, caddie for Aaron Baddeley, is happy to be back working after a difficult year.
LA JOLLA, Ca. -- Pete Bender graduated from a lightweight carry bag to the full-blown red Adams Golf tour bag this week at the Buick Invitational. Standing behind the scoring trailer on the North course at Torrey Pines on Thursday, the veteran caddie proudly pointed out that his player, Aaron Baddeley, signed for an opening-round 66 in the Buick Invitational. "I'm pretty tired at night, but its so nice to be out here," Bender said, beaming. "I count my blessings."
Diagnosed with throat cancer shortly after Baddeley's loss in 20 holes to Tiger Woods in last February's WGC-Accenture Match Play Championship, Bender lost 50 pounds from the ensuing chemotherapy and radiation treatment. He spent 62-straight days in a hospital near his home in Sacramento, Ca., unable to eat. Baddeley stayed in constant contact while also dealing with his own medical hardship at home; his wife, Richelle, struggled through a tough pregnancy with the couple's first child, and was bedridden for 20 weeks.
But the Baddeleys had their daughter, Jewel, in November. And around Christmas, Aaron called Pete to see if he was ready to go back out on tour. "I said, I don't think I can make it by the West Coast," Bender said. "He really wanted me to come to Phoenix, because it was his hometown. I said I'd come, if you can give me the small bag."
The 59-year-old Bender won British Opens with Greg Norman (1986) and Ian Baker-Finch (1991). He lists 28 tour victories in a 38-year tour career. Ray Floyd, Jack Nicklaus, Lanny Wadkins and Hal Sutton have employed Bender. Last year's U.S. Open at Torrey Pines had special meaning; before Baddeley, he carried Rocco Mediate's clubs for six years.
At that point, a comeback seemed unlikely. He stepped off tour to begin treatments after Baddeley lost to Tiger Woods in 20 holes at the Accenture Match Play last February. "I had second thoughts when I dropped to 128 pounds [in July]," he said. "I knew I had to get out of that hospital though. I went 62 days without eating. I was in a hospital for two months living on IVs. I had to get out of the hospital; I was so depressed."
To live at home, Bender had to live with a backpack and an IV that would circulate liquid food through his system. Every morning he went to a clinic to have it changed out. "It was stuff for fattening and vitamins to put in me to keep me going, because they didn't want me to lose any more weight," Bender said. "I took that for two months and finally I got the urge to eat, and that was scary. I was shaking because I hadn't had any food down me in so long I was afraid I was going to choke. All the skin peeled off my neck. That radiation for eight straight weeks did it to me. I have no taste buds. I can't swallow anything. I live on soup and protein drinks every day."
Now he's back living on adrenaline, too, as Baddeley positions himself on a leaderboard in this country for the first time since a playoff loss in last year's Verizon Heritage. Maybe it's not coincidental seeing how the Australian has his support group around him. Traveling without Richelle and Bender last year, Baddeley admits now he was unhappy. After last week's home game, the trip to California was the first one on tour with his wife and baby.
"It's the same old Pete," Baddeley said. "He hasn't changed. He likes to joke around and he's also good at what he does. He's straight back on the horse."